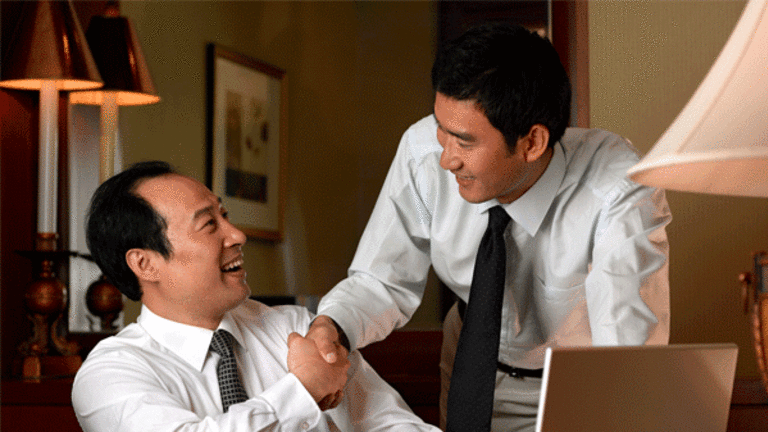 Publish date:
China Primed for U.S. Oil Market in 2012
China, the second biggest oil company buyer, is looking to learn from its oil M&A.
China, the second biggest oil company buyer, is looking to learn from its oil M&A.
NEW YORK (
) - China's energy use has been a key driver for oil prices even while it's remained on the sidelines in the consolidating U.S. oil marketplace.
But that may be about to change in 2012 as energy finds and economic forces will push China to look for inroads into the U.S. market, albeit through less politically challenging joint venture deals.
Recent shale discoveries in the U.S. -- which holds 750 trillion cubic feet of gas and 24 billion barrels of oil resources according to July estimates by the
U.S Energy information Administration
-- will peak the interest of Chinese oil companies looking to tap rock-trapped hydrocarbons, according to Mark Gilman, an analyst with brokerage firm
Benchmark
.
Venture stakes in deepwater oil exploration assets outside of North America may be a sign of what's to come in China's U.S. shale interest.
Earlier in November,
Sinopec
(SHI) - Get Report
bought a 30% stake in Portuguese energy company
Galp Energia's
Brazilian subsidiary
Petrogal Brasil
for over $5 billion. With Petrogal, which is now valued at $12.5 billion, China picked up stakes in the Jupiter and Tupi offshore oil fields -- the largest oil finds in the western hemisphere since the 1970s. The Brazilian oil stakes, trapped under salt domes in deepwaters, add to a legacy of Chinese oil ventures with established players in hard to drill areas.
In 2009, Sinopec did its biggest ever deal, paying nearly $9 billion for
Addax Petroleum
, a Swiss oil company with oil prospects in Iraq, Gabon and Nigeria. The deal barely overshadowed Sinopec's $7.1 billion purchase of a 40% stake in the Brazilian assets of Spain's
Repsol
in 2010.
More recent Chinese venture announcements in sophisticated drilling operations show how companies may get involved with U.S. firms next year.
In October, Sinopec paid $2.1 billion for Canada's
Daylight Energy
, which holds 300,000 acres of shale oil and gas drilling assets. This November,
Bloomberg
recently reported that
Marathon Oil
(MRO) - Get Report
was in talks to sell its Angolan offshore operations to Sinopec and other Asian buyers for $800 million, according to two people with knowledge of the process. Reports also indicated that Marathon may look to sell 30% of a joint venture in its Gulf of Mexico deepwater assets for $1 billion to Asian buyers as part of the Houston -based company's
announced plans of oil asset sales up to $3 billion.
If the deals were to go through, it wouldn't be Marathon's first sales to Chinese buyers. In 2009, state-backed oil companies Sinopec and
CNOOC
(CEO) - Get Report
bought a 20% stake in a promising Angolan deepwater oil prospect from Marathon for $1.3 billion.
Chinese firms, however, aren't expected to do full blown company takeovers in the U.S. that mirror purchases made by Australia's BHP and Norway's
Statoil
(STO)
as a result of political pressures.
In 2005, CNOOC abandoned an $18.5 billion dollar bid for Los Angeles -based
Unocal
after it faced blockage from legislators who cited national security concerns. Similar issues have potentially arisen in Argentina with
BP's
(BP) - Get Report
failed $7 billion sale of
Pan American Energy
and in
EnCana's
(ECA) - Get Report
cancellation of a shale sale to
PetroChina
(PTR) - Get Report
.
About China's ability to takeover oil companies, Fadel Gheit of
Oppenheimer & Co.
wrote to
TheStreet
, "Chinese companies have enough money, through close ties with their government, to buy oil producing assets or companies. However, getting the necessary host government approval could be a problem."
Nevertheless, there are plenty of ventures and exploration assets for Chinese firms to pick from. Tuesday,
deal rumors thickened on what
Kinder Morgan
(KMI) - Get Report
will do with the up to $10 billion in oil & gas exploration assets it's picked up by buying
El Paso
( EP). Those assets, which include oil fields in Egypt and Brazil and generate in excess of $2 billion in revenue, may be of interest to Chinese firms, in addition to other upstream spins from companies like
Williams
(WMB) - Get Report
,
Quicksilver Resources
(KWK)
and Marathon.
For Gilman of Benchmark, the key to deals will be the size of new shale finds and the emergence of new types of drilling methods like fracking. "You have to keep half an eye on the frequency on which new plays are emerging...
In terms of Shale, we are talking about a business that has emerged in the last two to three years and has exploded on the scene," said Gilman.
Recently, the stocks of energy companies like
Petrohawk Energy
,
Brigham Exploration
( BEXP),
XTO Energy
and
PetroCanada
jumped more than 20% when reports of multi-billion dollar blockbuster deals surfaced, but few big oil deals involve Chinese firms.
Even if they're willing listen to buyers as far away as Norway and Australia, North American companies aren't interested in selling outright to Chinese firms. Still, investors should pay attention to the prospect of Chinese oil M&A, which at $71.1 billion since September 2008, is only second to the U.S., according to data compiled by
Bloomberg
.
This fall, energy's been a hot sector with deals like Kinder Morgan's $21 billion takeover of El Paso, Statoil's $4.4 billion purchase of Brigham Exploration, Marathon Oil's asset spins and sales and similar moves by
ConocoPhillips
(COP) - Get Report
, among others.
But deals involving Chinese firms -- like BP's $7 billion sale of an Argentine joint venture to CNOOC and EnCana's $5.4 billion joint venture sale to PetroChina -- have also fallen through. If China can change its M&A approach, 2012 may be a year for deals in North America.
--
Written by Antoine Gara in New York
.
Readers Also Like:
Next Year Will Get Even Uglier for U.S. Investors