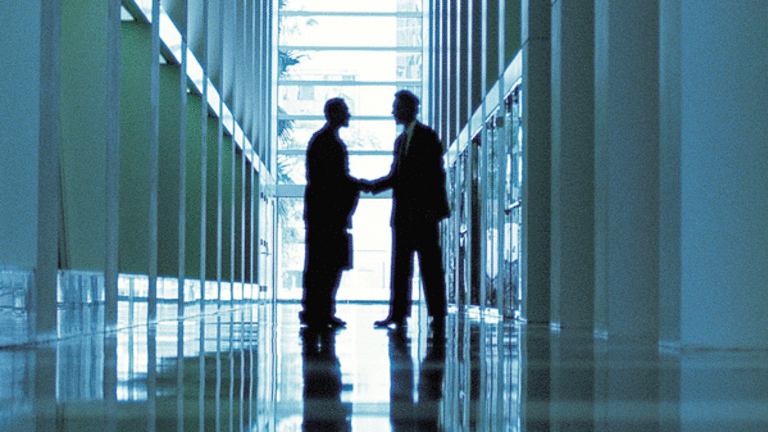 Chesapeake, Devon Kick Off 2012 Energy Deals (Update 1)
Chesapeake Energy's Utica shale spin to Total of France continues its divestiture path.
Chesapeake Energy's Utica shale spin to Total of France continues its divestiture path.
Updated to reflect Devon Energy $2.2 billion shale spin to Sinopec
NEW YORK (
) --
Devon Energy
(DVN) - Get Report
is selling a 33% interest in five shale ventures to Chinese energy giant
Sinopec
(SIPC)
for $2.2 billion, adding to a fast start for shale sales in 2012.
For the one-third shale stake, Sinopec will pay Devon Energy $900 million in cash and a further $1.6 billion in payments for drilling expenditures through 2014, roughly 70% of the projects exploration costs. The deal, along with a similar shale sale by
Chesapeake Energy
(CHK) - Get Report
to
Total
(TOT) - Get Report
of France on Tuesday signals that energy deals may stay hot in 2012 as foreign companies cut U.S. deals to bolster their reserves and build new drilling skills.
Devon Energy's divestiture follows a series of spins, including its deepwater oil exploration portfolio. In 2010, the Oklahoma City -based company sold $7 billion worth of U.S. deepwater assets to BP and it cut similar sales to
A.P Moeller Maersk
of Denmark,
CNOOC
(CEO) - Get Report
of China and U.S. -based
Apache
(APC) - Get Report
among others.
Sinopec's one-third shale asset purchase of Devon Energy shale assets, which include acreage in the Tuscaloosa Marine , Niobrara, Mississippian, Ohio Utica and the Michigan Basin shale formations is indicative of a wider push by Chinese companies into North American shale assets.
In October 2011, Sinopec spent $2.1 billion to buy Canadian shale specialist
Daylight Energy
. China has estimated that there are 1,275 trillion cubic feet of shale gas reserves in the U.S. and Canada,
Bloomberg
reports, which is a higher than a similar assessment made by the U.S.
Energy Information Association
in April.
To read more on U.S. to watch for as Chinese companies cut energy deals in North America, see how
China is primed for the U.S. oil market in 2012
.
For Devon Energy, the shale stake sale to Sinopec will allow the company to consolidate its drilling costs among a diverse portfolio of shale assets. "This arrangement improves Devon's capital efficiency by recovering our land and drilling costs to date and by significantly reducing our future capital commitments," said Devon Chief Executive John Richels in a press release.
Chesapeake Energy's
(CHK) - Get Report
$2.3 billion sale of its stake in a Ohio shale venture to French oil giant
Total
(TOT) - Get Report
earlier on Tuesday gives oil and gas deals a hot start in 2012 after the sector topped M&A activity last year.
Chesapeake Energy's sale of its 25% shale joint-venture stake with
EnerVest
to Total follows previous shale divestitures to foreign oil giants like
BHP
(BHP) - Get Report
,
BP
(BP) - Get Report
and
Statoil
(STO)
.
Meanwhile, after buying $2.25 billion of Barnett shale assets from Chesapeake Energy in 2010, Total is continuing a U.S. energy push, which includes shale, deepwater and solar energy assets.
Oil and gas was the hottest M&A sector in 2011, with $259 billion in deals -- but that amount reflected a 17% year-over-year drop from 2010, according to
Dealogic
.
Kinder Morgan's
(KMI) - Get Report
$37.9 billion acquisition of
El Paso
(EP)
was the biggest deal of 2011 after a $39 billion wireless merger between
AT&T
(T) - Get Report
and
T-Mobile USA
was struck down by antitrust authorities.
Continued energy deals are among some of the boldest M&A predictions for 2012. To read more on M&A to watch for in the next year, see the
5 unexpected deals themes for 2012
.
Devon Energy shares rose over 6% to $65.87 in early afternoon trading on news of the deal. The company's shares fell roughly 20% in 2011 as gas prices slumped to post crisis lows. Meanwhile, Chesapeake Energy shares rose over 4% to $23.20. In 2011, its shares fell over 10% and are less than half of pre-crisis levels above $60 a share.
In the deal, Total will pay Chesapeake Energy $610 million for 619,000 acres in the Utica shale formation in 10 counties in Ohio and EnerVest will receive $290 million. After maintaining its operatorship of the drilling assets -- which the
Associated Press
reports are oil rich - instead of gas - Chesapeake Energy will get a further $1.42 billion to continue drilling operations through 2014.
To date, Chesapeake Energy has drilled 13 wells in the Utica shale and expects a further 25 rigs to be mobilized for exploration. If drilling goes as planned, Total expects to gain 100,000 barrels of oil equivalent per day by 2020 from the Utica ground, according to a press statement.
The announcement marks a spin of Utica shale assets that Chesapeake management outlined on a November third quarter earnings call, without naming a buyer.
"This is consistent with our strategy to develop positions in unconventional plays with large potential and, in this case, with value predominantly linked to oil prices," said Yves-Louis Darricarrère, President of Total's Exploration & Production unit.
Shale drilling, which requires fracturing rock formations with highly pressurized blasts, may cause environmental damage and result in minor earthquakes. In December, a draft report from the U.S.
Environmental Protection Agency
reported on the link between fracking and water pollution - which include possible drilling compounds in drinking waters. The
Wall Street Journal
also reported in December that Ohio courts have filed an injunction against companies drilling wells for fracking waste waters near Youngstown, Ohio as a result of earthquake reports.
About environmental concerns and Chesapeake's continued operations in the Utica shale, Darricarrère of Total said, "Total is conscious of the environmental aspects linked to developing shale acreage and is confident in Chesapeake's capacity to manage the Utica shale operations in a responsible manner, respecting the highest industry standards."
For Chesapeake Energy, the shale asset sale follows many similar divestitures. In 2011, the Oklahoma City -based company sold $4.75 billion of Fayetteville shale assets to BHP Billiton of Australia and over $1 billion in Eagle Ford shale assets to and
CNOOC
(CEO) - Get Report
of China, among many divestures cut last year. Those deals followed similar billion dollar- plus shale divestitures to BP of England, Statoil of Norway and
Plains Exploration and Production
(PXP)
in 2008.
In July, Chesapeake Energy said that its 1.25 million Utica shale acreage was worth between $15 and $20 billion, as a result of logs on over 2,000 wells and full seismic mapping of 200 wells. The company also said that the Utica shale was expected to be "economically superior" to the Eagle Ford shale of Texas.
For more on Chesapeake Energy see
the 5 most crazy company sellers since the financial crisis
and
.
Total has also been an acquirer, taking a 60% stake in U.S. solar giant for over $1.38 billion
SunPower
(SPWRA)
in 2011, in addition to a shale acquisition from Chesapeake Energy and a deep-water drilling partnership in the U.S. Gulf of Mexico with
Cobalt International Energy
(CIE)
. For more on Total, see
TheStreet's
portfolio of
.
-- Written by Antoine Gara in New York