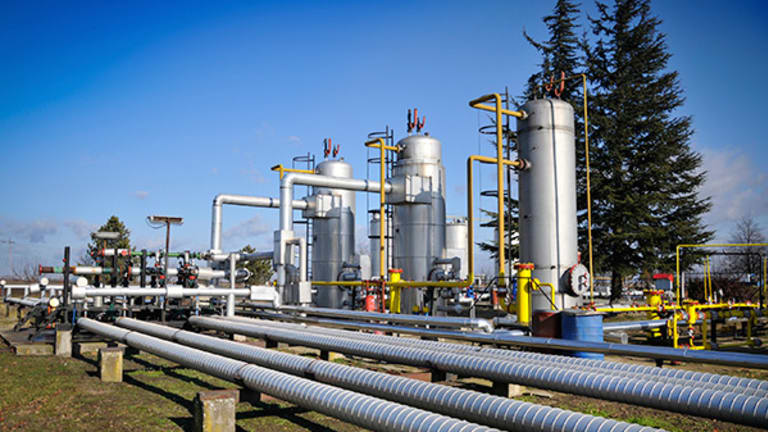 Chesapeake Energy Hires Help to Avoid a 'Lehman Moment'
The oil and gas company hired Kirkland & Ellis to strengthen its balance sheet. Will it be enough?
Chesapeake Energy (CHK) - Get Free Report has hired Kirkland & Ellis to help it strengthen its balance sheet at a time when one energy industry consultant fears a failure of the natural gas and oil company could be this credit cycle's "Lehman moment."
The Oklahoma City-based company announced the hiring of the law firm on Monday after its stock and bonds went into a tailspin on rumors of the appointment.
"Chesapeake currently has no plans to pursue bankruptcy and is aggressively seeking to maximize value for all shareholders," the statement said.
Dallas Salazar, CEO of Austin, Texas, energy consulting firm Atlas Consulting, said talk about Chesapeake working with Kirkland had surfaced as early as September.
"It's in everybody's best interests to make sure Chesapeake doesn't go under," Salazar said.
Salazar fears if Chesapeake fails, the effect could mirror what happened in September 2008 when Lehman Brothers filed for Chapter 11 bankruptcy protection because of crushing losses on mortgage securities. The federal government's efforts to rescue the venerable financial services firm had fallen through and its bankruptcy sent a ripple effect of panic throughout global financial markets, helping spark the 2008 financial crisis.
In Chesapeake's case, he worries a failure could cause a similar domino effect in the energy sector because investment funds could be forced to sell off the shares they hold of other big names in the industry, putting further pressure on those companies' capital structures.
If Chesapeake does file for bankruptcy, Salazar expects the second-lien bonds would be the fulcrum security and those holding them would end up with the reorganized equity.
He said he knew things were heading downhill when he heard the company's credit default swaps had started to price upfront, meaning buyers were required to post a year's worth of collateral in order to purchase credit protection.
Chesapeake is the second-largest natural gas producer and 12th-largest oil and natural gas liquids producer in the U.S. The Deal previously reported Evercore Group's Daniel M. Aronson, senior managing director of his firm's restructuring and debt advisory group, is advising the company.
Chesapeake's New York Stock Exchange-listed shares recently traded at $2.07, up 1.5%.
The bonds were "smoked on high volume" on Monday, Salazar said. Even bonds maturing a mere five weeks from now have dropped massively, highlighting investor fear.

Credit research firm CreditSights said Chesapeake's $500 million in 3.25% senior unsecured notes due March 15 fell about 17 cents on the dollar Monday. "That $500 million is simply too precious for the company to pay out in this commodity environment when it needs every dollar of liquidity," CreditSights said. The firm noted Chesapeake still has the capacity to issue up to $1.6 billion in junior-lien debt without violating its debt covenants.
As CreditSights sees it, hiring Kirkland now "is at the very least designed to either lower the price of the bonds so [Chesapeake] can buy them back cheaper in the market, or bring the holders to the table for an exchange."
Those analysts said it can't be ruled out that Chesapeake might also be considering options for a "strategic" bankruptcy filing. By CreditSights' estimates, Chesapeake had $9.84 billion in total debt and $3.06 billion in preferred equity as of the fourth quarter. The company hasn't released its fourth-quarter financials yet.
Media contacts at Kirkland & Ellis didn't respond to requests for comment.
Chesapeake recently swapped $3.8 billion in unsecured debt for new second-lien notes at a discount.
The company also suspended dividends on its convertible preferred stock on Jan. 22, explaining that the move would provide an additional $170 million in cash annually which would be used to buy back debt at a discount in the near term.