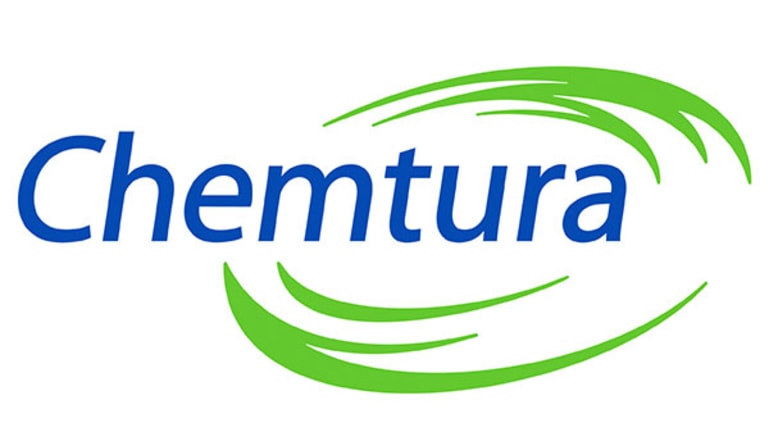 Publish date:
Chemtura Nears Record High Following Agreed $2.7 Billion Lanxess Offer
Germany's Lanxess will pay $33.50 per share for the industrial chemicals maker, ending the target's year-long search for a buyer.
Germany's Lanxess will pay $33.50 per share for the industrial chemicals maker, ending the target's year-long search for a buyer.
Shares in Chemtura (CHMT) hovered near record highs in pre-market trading after German chemicals company Lanxess unveiled a €2.4 billion ($2.7 billion) agreed bid for the Philadelphia-based maker of lubricant and flame retardant additives.
Lanxess on Sunday said it will offer $2.5 billion, or $33.50 per share, for Chemtura's stock, a $5.32, or 18.9%, premium to the target's closing price on Friday. It said the transaction has an enterprise value of about €2.4 billion.
Chemtura shares rose 13.73% in pre-market trading to $32.05, just shy of last year's all-time high of $32.08.
The bid ends Chemtura's more than year-long search for a buyer after CEO and chairman Craig A. Rogerson sold assets including agrochemicals and consumer products to focus on industrial chemicals before admitting his company needed a deal to address a lack of scale and vertical integration.
"For the past year our management team and board of directors have been actively working to identify a transformative opportunity to create value for our shareholders and to enhance the scale, strength and diversity of our business," Rogerson said in a statement. "The transaction we are announcing...delivers on that promise."
Lanxess said it will combine Chemtura's lubricant additive unit and its brominated flame retardant additives business to its Rhein Chemie additives business. The German company has been looking for a deal to give it new direction after it offloaded half of its key synthetic rubber operations to Saudi Arabian Oil Co. in April.
Frankfurt-listed Lanxess shares rose 7.4% to trade at €52.28 on Monday as investors welcomed a deal that will add $1.7 billion of specialty chemical sales to the German-group's €7.9 billion ($8.9 billion) of revenue.
The bid values Chemtura at about 9.1 times its $275 million of Ebitda over the past four quarters, dropping to about 7 times earnings once synergies from the deal are factored in. Cologne-based Lanxess said it expects the deal to boost earnings per share from the first year and is targeting synergies and cost savings of about €100 million annually from 2020.
Chemtura "fits very well (with Lanxess) and provides significant synergies at a reasonable price," noted DZ Bank analyst Peter Spengler.
Lanxess will finance the deal using a mix of senior and hybrid bonds as well as cash on hand. The buyer also cancelled a planned €200 million share buyback. The acquisition is expected to close by the middle of next year following a vote by Chemtura shareholders.