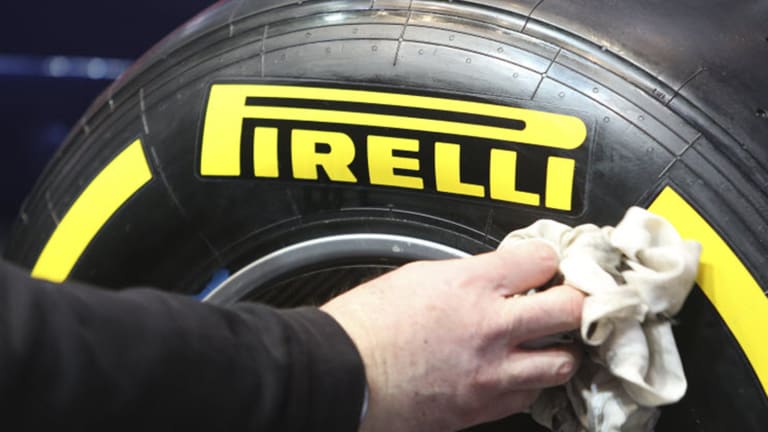 ChemChina to Buy Italy's Pirelli to Improve Grip on Tire Market
The Chinese company will buy a stake first and then launch a bid to take Pirelli private.
NEW YORK (The Deal) -- China's National Chemical on Sunday said it would take control of iconic Italian tire maker Pirelli SpA (PPAMF) & C. in a €7.1 billion ($7.7 billion) offer that will ultimately create a Sino-Italian tire-making joint venture with Pirelli's major shareholders.
ChemChina, as the suitor is known, said it would first buy a 26.2% Pirelli stake held by Italian investment vehicle Camfin SpA for €15 per share and then launch an offer to take the target private at the same price.
Although the approach is a 1% discount to Friday's close, it's a 4% premium to Wednesday's close, the day before rumors of a pending offer surfaced. Pirelli shares gained 2.2%, or €0.34, to €15.57 in morning Milan trading, indicating investors may be hoping for a sweetened or competing bid.
The offer will allow ChemChina, through its China National Tire and Rubber Co., or CNRC, subsidiary, to market Pirelli's upmarket car tires in Asia and tap Pirelli's development expertise. ChemChina will fold Pirelli's truck tire business into its own industrial tires business, doubling industrial tire sales, the companies said.
"We are delighted with the opportunity to team up with (Pirelli Chairman and CEO) Marco Tronchetti Provera and his team to continue to build together a world-class organization and a market leader in the global tire industry," China National Chemical Chairman Ren Jianxin said in a statement.
In addition to leading Pirelli, Provera also owns Cam Finanziaria, known as CamFin, with Russian oil producer Rosneft (RNFTF) . If the approach is successful, China National would delist Pirelli and then team up with Pirelli's former shareholders in the enlarged China National Tire/Pirelli.
Rosneft would ultimately hand off its ownership in CamFin for a direct stake in the new tire company. CamFin also hopes to reinvest proceeds from the tender offer in a direct stake in the new company, as well. China National said it wants to retain a simple majority of the new company with Pirelli's former major shareholders owning the rest.
"The partnership with a global player like ChemChina, through its affiliates, represents a great opportunity for Pirelli. CNRC's approach to business and strategic vision guarantee Pirelli's development and stability," Provera said in a statement. He will remain CEO, while ChemChina will appoint a new chairman for the combined company.
The agreement is the culmination of years of dealmaking at Pirelli, which was founded in 1872 by Giovanni Battista Pirelli. The merger-and-acquisition activity first made the company an Italian conglomerate and then trimmed it back down to its tire-making roots. The company even once moved on incumbent Italian phone company Telecom Italia (TI) but sold its minority stake in 2007 for €4.1 billion.
Its last divestment came last year when Belgium's Bekaert SpA sped away with Pirelli's steel cord business for €255 million.
ChemChina turned to Rothschild and its own ChemChina Finance Corp. for financial advice, while Lazard acted as financial adviser to Camfin. CNRC took financial advice from JPMorgan Chase (JPM) - Get JPMorgan Chase & Co. (JPM) Report.
Read more from: