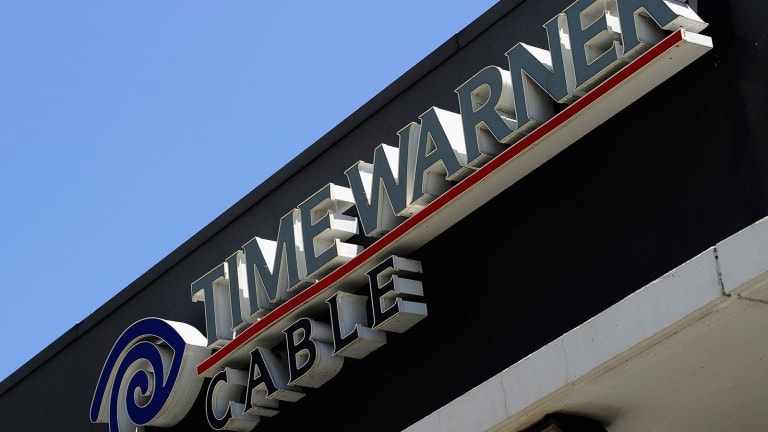 Charter Communications Buys Time Warner Cable for $78.7 Billion
John Malone's conquest of the cable TV market would gain real traction with this deal.
NEW YORK (The Deal) -- With Charter Communications'  (CHTR) purchase of Time Warner Cable  (TWC) for $78.7 billion, including assumed debt, John Malone's conquest of the cable TV market would gain real traction. Malone's Liberty Broadband Corp. (LBRDA) , which will invest $5 billion in Charter as part of the two deals, lost 2 cents to $52.
Under the terms announced Tuesday, Time Warner Cable shareholders will receive $195.71 per share, including $100 in cash. The transaction values Time Warner Cable's equity at about $56 billion.
In conjunction with the deal, Charter would acquire a controlling position in Advance/Newhouse Partnership's Bright House Networks. The cable operators had previously agreed to combine, though their merger collapsed when Comcast's (CMCSA) purchase of Time Warner Cable unwound.
The series of deals has bearing on cable TV companies ranging from Cablevision (CVC) to privately held operators such as Cox Communications, Mediacom Communication and Suddenlink Communications, which telecom group Altice (ATCEY) is acquiring. 
Shares of Time Warner Cable recently jumped 5% to $179.75 while Charter stock rose 60 cent to close to $176. 
Charter made a hostile bid for Time Warner Cable in early 2014, though Comcast emerged with a higher bid. When Comcast dropped its acquisition of Time Warner Cable in April of this year, a Charter bid seemed a forgone conclusion. The price comes to 9.1 times Time Warner Cable's adjusted 2015 Ebitda, and at 8.3 times Ebitda when factoring in savings and other expected financial benefits.
At that valuation, Craig Moffett of MoffettNathanson wrote Tuesday the synergies will affect Time Warner Cable's shareholders more than Charter's. "Recall that the narrative when Time Warner Cable's deal with Comcast dissolved was that Charter would now have an unimpeded path to industry consolidation," Moffett observed in a research note. "By that line of thinking, they would be able to roll up the industry relatively cheaply. Well, no such luck."
The complex sequence of deals comes about a week after Altice, run by Patrick Drahi, agreed to pay $9.1 billion for Suddenlink Communications, the seventh-largest U.S. cable operator. Drahi has ambitions to expand in the U.S., and Time Warner Cable would have added heft to his portfolio.
"While it is still possible that Altice counters on [Time Warner Cable] we do not believe that it can match [Charter's] funding firepower and will ultimately lose out," Macquarie Capital analyst Amy Yong wrote in a Tuesday report. "In our opinion, Altice is more likely to turn its attention to Cablevision Systems ... or privately held Cox or Mediacom in an effort to gain more fixed-line scale in order to compete against Charter and Comcast."
Charter and Time Warner Cable expect to close the deal by the end of the year. Time Warner Cable shareholders would have 44% of the combined outfit. Advance/Newhouse would take a 13% stake in the post-merger company, and Liberty Broadband would hold about 19%.
The merger partners got a call-out from Comcast Chairman and CEO Brian Roberts in a Tuesday statement. "This deal makes all the sense in the world," Roberts said in a press release. "I would like to congratulate all the parties."
Read more from: