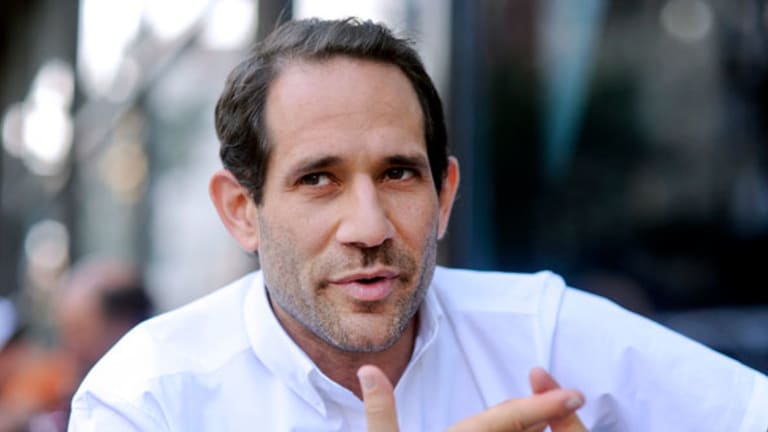 Publish date:
Charney Has 'Mild Interest' in American Apparel, Which Goes on the Block
The Deal, a Street sister publication, confirms that the once-bankrupt retailer has hired Houlihan Lokey, and the company's controversial founder said he would "keep an open mind" about a bid.
The Deal, a Street sister publication, confirms that the once-bankrupt retailer has hired Houlihan Lokey, and the company's controversial founder said he would "keep an open mind" about a bid.
American Apparel LLC is seeking a buyer just six months after emerging from bankruptcy, and the clothing retailer's founder and former CEO, Dov Charney, told The Deal, a unit of The Street, that he has a "mild interest" in making an offer.
A source familiar with the situation, who requested anonymity, confirmed reports that the company, known for its American-made ethos and provocative advertising, has hired Houlihan Lokey to evaluate a sale.
"As we have regularly communicated to employees, vendors and customers, we continuously evaluate strategic alternatives," an American Apparel spokeswoman said, but declined to comment further. A Houlihan Lokey spokesman declined to comment.
Charney had teamed up with Hagan Capital Group and Silver Creek Capital Partners to make a $300 million offer to buy American Apparel out of bankruptcy in January, but the group was rebuffed.
"No one has contacted me," Charney said by phone on Thursday. "I'm not familiar with what the terms are. I would always keep an open mind. I've spoken with various investors both before and after this news came out."
Based on conversations with people currently and formerly involved with the company, Charney believes American Apparel's sales are down 40% year-over-year to a figure under $400 million.
"Based on the timing of the sale, it's a clear indication that there's potentially a large weakness and that the asset is severely underperforming," he said. "I think they're going to face some challenges from a valuation perspective." 
As a private business, Los Angeles-based American Apparel no longer releases financial information, and a company spokeswoman declined to comment on its financial performance.
Charney even before the January offer previously partnered with Irving Place Capital Management LP to make a bid for American Apparel worth $1.30 to $1.40 per share in December 2014.
Charney was suspended as CEO of American Apparel in June 2014, stayed on as a consultant, and was fired for cause in December of that year following allegations of misconduct.
Charney said he is developing a new retail project.
David Tawil, president of distress-focused hedge fund Maglan Capital LP, suggested that other likely bidders could include private equity firms Sycamore Partners LLC and Versa Capital Management Inc., both of which have acumen in distressed retail investing. A spokeswoman for Versa Capital and a spokesman for Sycamore declined to comment.
Brand management companies such as Iconix Brand Group Inc. (ICON) - Get Iconix Brand Group, Inc. Report would be a logical suitor, and retail groups such as Kellwood Co LLC and L Brands Inc. (LB) - Get L Brands, Inc. (LB) Report could take a look, too, Tawil said.
Tawil also suggested that a large retailer such as Target Corp. (TGT) - Get Target Corporation Report might be interested in using American Apparel as an in-house brand.
A source familiar with Target, however, said the retailer isn't considering or looking at American Apparel
Press contacts at Iconix, L Brands and Kellwood didn't respond to requests for comment.
A Target spokeswoman said the company doesn't comment on rumors or speculation.
American Apparel filed for Chapter 11 on Oct. 5 in the U.S. Bankruptcy Court for the District of Delaware in Wilmington, and emerged Feb. 5. Its reorganization plan converted $230 million in bonds into equity. The noteholders agreed to provide $40 million in exit financing and a $40 million asset-backed loan to the company.
American Apparel's shareholders, including Charney, who held 40.9% of American Apparel's common shares as of June 30, 2015, were wiped out in the bankruptcy.
Larry Perkins, founder and CEO at Los Angeles-based turnaround and restructuring advisory firm SierraConstellation Partners LLC, said by phone that the bondholder group that ended up with American Apparel's equity through its restructuring is not a natural owner of the business.
He said the retail M&A environment has been soft as the news of major bankruptcies and failures in the industry keeps coming.
Clothing retailers that have filed recently include teen-focused Aeropostale Inc. and surfwear chains Pacific Sunwear of California Inc. and Quiksilver Inc.
Perkins has visited local American Apparel stores out of curiosity about the turnaround process. He found that shelves were better-stocked than they were during the restructuring, and said the company "is getting away from some of the more tawdry advertising that they had before. It seems like they've pivoted from a strategic standpoint."
Perkins questioned how much the pre-bankruptcy cash burn issues that American Apparel had could have improved in such a short time.
One aspect Perkins will watch closely is whether American Apparel maintains its core focus on domestic manufacturing, one of the factors that differentiates it from the competition, or whether a new owner might cut costs by using cheaper manufacturing sources overseas.
This article was originally published by The Deal, a sister publication of TheStreet that offers sophisticated insight and analysis on all types of deals, from inception to integration. Click here for a free trial.