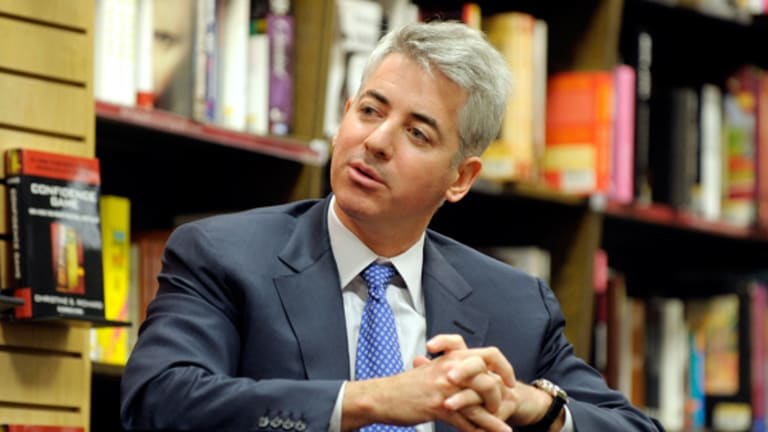 Change Began at Air Products Before Ackman Entered
How Bill Ackman got the change he wanted in Air Products.
NEW YORK (
) --
Pershing Square Capital Management
was instrumental
of the management and board ranks at
Air Products
(APD) - Get Air Products and Chemicals, Inc. Report
, however, sources tell
TheStreet
that change was underway well before the Bill Ackman-run fund took a $2.2 billion stake in the under-performing chemicals manufacturer.
On Thursday, Air Products
three new independent directors to its board and said current CEO John E. McGlade would retire in 2014. Those changes were accepted by Pershing Square and the fund will now vote in favor of directors nominated by Air Products at its 2014 annual shareholder meeting.
Air Products named Seifi Ghasemi, CEO of
Rockwood Holdings
(ROC)
, Edward L. Monser, COO of
Emerson Electric
(EMR) - Get Emerson Electric Co. Report
and Matthew Paull, a former CFO of
McDonalds
(MCD) - Get McDonald's Corporation Report
to replace three directors that will retire starting in 2014. The company also said it will begin a CEO search to replace McGlade upon his retirement in 2014.
The board overhaul and pending management change at Air Products were taken as a
for Ackman, after a large investment in
J.C. Penney
(JCP) - Get J. C. Penney Company, Inc. Report
left Pershing with significant losses and sharp criticism by business luminaries such as
Starbucks
(SBUX) - Get Starbucks Corporation Report
CEO Howard Schultz.
While Pershing did help to impart change at Air Products and was characterized by sources close to the matter as driving a helpful dialogue, the company was already in the process of making many of the changes announced on Thursday.
Air Products had hired executive search firm
Heidrick & Struggles
on retainer to find replacements for board directors reaching their retirement age before Pershing disclosed a 9.8% stake in the company in July, according to one source familiar with the situation.
Another source said John E. McGlade was likely already considering a retirement, after decades with the company that culminated in his appointment as CEO in 2007 and chairman in 2008.
"None of this was a tectonic shift," that source said of Pershing's impact on Thursday's announced management and board change.
"
Ackman was pushing on an open door," another source said.
Air Products and Pershing Square declined to comment for this article.
Pershing Square unveiled a $2.2 billion stake in Air Products in late July, the biggest single investment in the hedge fund's history. In a July 31 SEC filing, the fund said it intended to engage with the company about its governance, board composition, and management, in addition to strategic discussions.
Prior to Pershing's disclosure, Air Products enacted a so-called "poison pill" amid heavy buying activity in the company's shares by a single investor. At around that time, Ackman also publicly said Pershing was poised to unveil its next big investment, after taking a highly public and controversial short position in supplements seller
Herbalife
(HLF) - Get Herbalife Nutrition Ltd. Report
last December.
All sources who spoke with
TheStreet
said Pershing's discussions with Air Products centered on board and management change and not the company's operations or assets. Those sources characterized discussions as amicable and productive.
In the wake of a highly critical campaign for change at J.C. Penney, one source said Pershing Square may have chosen to adopt a less aggressive posture in his newest activist investment.
"I think the bad Ackman could have showed up, but the good Ackman showed up in this case," that source said.
As with a successful activist campaign with
Canadian Pacific
(CP) - Get Canadian Pacific Kansas City Limited Report
, Pershing focused on board change, with the caveat that Ackman is now an independent director at the Canadian railway and could press additional change, while Pershing will have no direct representation on the board of Air Products.
"With a heightened focus on returns and efficiency, we believe APD has the potential to improve its performance over time to drive better returns that have been below peers for the past 5-6 years," John P. McNulty, a Credit Suisse analyst, wrote in a note to clients.
Even under outgoing CEO McGlade, Air Products was already in the process of reviewing certain business lines.
The company is expected to take restructuring charges of approximately $100 million to $150 million pretax, or $0.30 to $0.50 per share, in the fiscal fourth quarter, according to Bank of America Merrill Lynch analyst Kevin W. McCarthy. Commensurate cost savings could flow through Air Products earnings in the first quarter of 2014, the analyst said in a Thursday research note. McCarthy highlighted that Air Products could consider additional restructuring in its electronics business if cyclical headwinds remain.
"More detailed plans are expected," the analyst wrote, while rating shares 'underperform' as a result of a weak operating environment.
Air Products generated $9.6 billion in 2012 revenue, split between $3.7 billion in sales from its merchant gasses unit, $3.2 billion form its tonnage gases unit and $2.3 billion from its electronics business. The company also has an equipment and energy business that generated $420 million in 2012 sales.
The company faces the challenge of trying to convince investors such as Pershing Square that its management can execute on their guidance, even as some business lines, particularly those in Europe, suffer from weak macroeconomic fundamentals. On the flipside, if European markets revive, Air Products appears poised to recognize an over $3 billion backlog of long-term projects.
No source said they expected additional restructuring measures or strategy changes before a replacement is found for outgoing CEO McGlade.
For now, Pershing Square and Bill Ackman may have only needed a light touch to impart change that was already underway at Air Products. If cyclical conditions don't improve, Ackman has the opportunity to take a more active role. Pershing Square will have the ability to wage a proxy campaign in 2015 .
"In recent weeks, we have been delighted to get to know John and the rest of the board working with them on their mission of continuous improvement and long-term shareholder value creation. We look forward to a successful long-term partnership," Ackman said in a Thursday press release.
-- Written by Antoine Gara in New York.