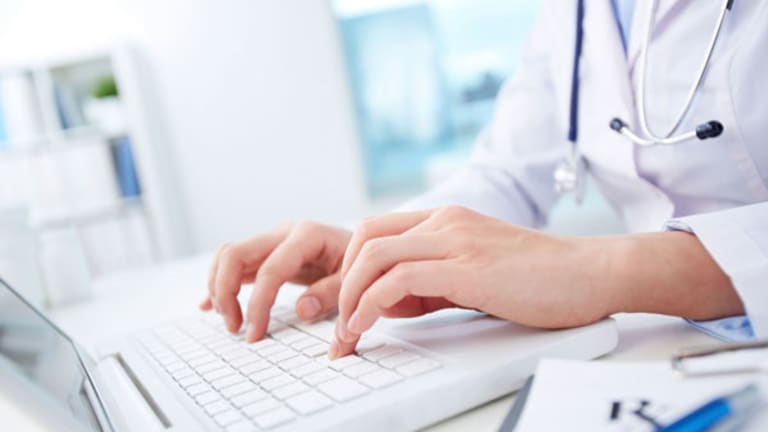 Cerner Could Be a Prized Asset for IBM
The health care IT firm is viewed as a 'crown jewel' but may still be too large of an asset for logical buyers to get comfortable with.
Cerner (CERN) - Get Report —among the largest publicly traded health care information technology companies—could emerge as an appealing takeout target to major IT companies looking to bulk up in health care. While much, as always, depends on what its most logical acquirer would be willing to pay, the big question at the moment is whether now is the time for it to pull the trigger.
To date the only active buyer on the health care front when it comes to large mega cap companies is IBM (IBM) - Get Report , though its one missing link is access to hospitals, explained Mohan Naidu of Oppenheimer on Tuesday.
While Cerner would fill that gap, Naidu cautioned that the likelihood of a potential deal comes down to both timing and how much IBM would be willing to pay. The health care IT firm's scarcity value would likely require a pretty hefty premium, he said. 
Morningstar Inc. analyst Vishnu Lekraj added on Tuesday that Cerner is viewed as a "crowned jewel" in the health care IT space, describing its software assets as top tier in the industry and a "big prize" to gain: "To a company that's lacking in servicing health care it would be a prime target," he said.
But as another industry source noted, despite making a great target for a lot of potential strategics—whether that's IBM or someone the likes of Alphabet (GOOGL) - Get Report —it seems like a deal in the health care IT sector would be mistimed, as the market is perceived to be at a top.
Alphabet is a holding in Jim Cramer's Action Alerts PLUS Charitable Trust Portfolio. Want to be alerted before Cramer buys or sells GOOGL? Learn more now.
"I think everyone's been burnt in health care," this person said, noting the recent moves taken by McKesson (MCK) - Get Report to leave the health care IT space. 
Headquartered in Kansas City, Mo., Cerner is considered to be the largest standalone health care IT company in the world, with software and services in the electronic health record, revenue cycle and population health arenas. The company has a presence in more than 20,000 facilities across 40 countries. 
Cerner and its privately held rival, Epic Systems Corp., are the two companies that still have significant potential to take market share, noted Naidu. 
Notably, Cerner's CEO, co-founder and Chairman Neal Patterson disclosed with the Securities and Exchange Commission in January that he is undergoing treatment for cancer. While the executive assured shareholders, clients and colleagues at the time that his diagnosis is curable and he intends to remain involved in the business, Neal was not present at the company's annual meeting earlier this year. 
"If there was ever an opportunity or a case where there is a change of ownership, it might be now, presuming Cerner might not be what Patterson wants to focus on," Naidu noted. 
Despite its size and scale—Cerner's market capitalization currently lies close to about $21 billion—the company is currently less expensive than it has been historically, noted Lekraj. 
After a rough to start the year—shares stumbled to around the low $50 range in February and March from as high as $73.40 in July 2015—Cerner has regained some of its value. The stock closed at $62.25 Tuesday, though that's still about 15% below last July's high.  
"Among IT firms in general it may not seem that expensive," Lekraj said. "It depends on how much a buyer is willing to pay."
Naidu and the unnamed source suggested Cerner might command a premium of about 30%, which even for an IBM, would still be a pretty sizable premium.  
Still, the Armonk, N.Y.-based company has scaled aggressively in health care since entering the sector less than two-and-a-half years ago.
The company in February announced a $2.6 billion deal to acquire Truven Health Analytics Inc. from Veritas Capital Fund Management, bulking up its health care data and analytics business, IBM Watson Health.
Watson Health was created by IBM in April 2014 via its acquisitions of Phytel Inc. from Polaris Venture Partners LP and cloud-based health care intelligence company Explorys Inc. from Heritage Group. The technology giant continued to beef up the Watson unit in August, shelling out $1 billion for Chicago medical imaging company Merge Healthcare Inc.
Buying Cerner would be a "perfect match" for IBM, Naidu said, explaining that while it already encompasses various newer solutions, hospitals will ultimately be one of its largest customers.  
As IBM continues to bulk up its health care assets, software giants that have entered the vertical haven't been as successful.
Microsoft (MSFT) - Get Report earlier this year quietly sold its 50% stake in its Caradigm joint venture to GE Healthcare, four years after the health care IT entity's creation. Even so, a Microsoft spokeswoman told The Deal, a sister publication of TheStreet, at the time that the transaction did not mark an exit from the health care vertical, so if it wanted to do something transformative, Cerner could be a way. 
Meanwhile, Google in 2011 announced its plans to turn off the lights on Google Health, its personal health record system. 
While Cerner company has fallen short of revenue projections in recent quarters, its bookings and cash flow have remained strong. Cerner finished its first quarter with a cash balance of about $503 million, $203 million in long-term investments and $596 million in total debt. 
Cerner, like Epic, hasn't tended to bulk up through M&A, though it did spend $1.3 billion for Siemens AG's health care IT unit in an all-cash deal that closed in February 2015.
Outside of the Siemens deal, Cerner has been relatively quiet on the acquisition front. But if the company did want to expand in the telecommunications arena, it might want to think about a deal with players the likes of Vocera Communications Inc. (VCRA) - Get Report , The Deal reported earlier this month. 
Representatives of Cerner and IBM declined to comment on Tuesday.
- This article was originally published by The Deal, a sister publication of TheStreet that offers sophisticated insight and analysis on all types of deals, from inception to integration. Click here for a free trial.