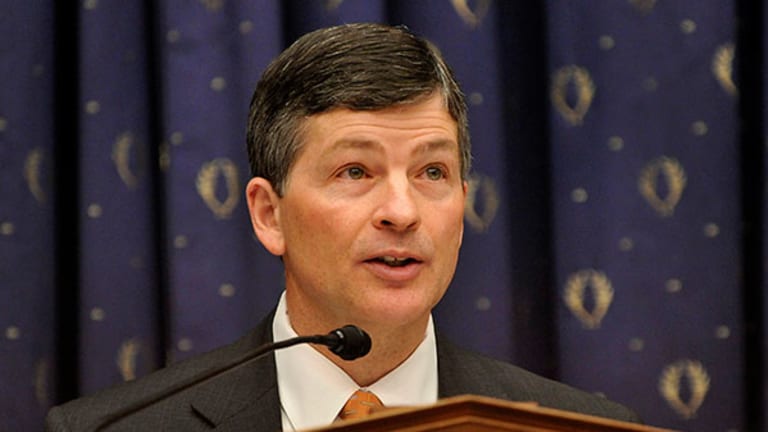 CEO pay Clawback Rules in the Crosshairs as Republicans Urge SEC's White to Stand Down
Republicans clashed with Democrats over the future of Dodd-Frank, with conservatives charging that the outgoing SEC chief may be rushing to adopt rules before the Trump Administration takes over.
Republican and Democratic lawmakers on Tuesday clashed over the future of the Dodd-Frank financial reform law with conservatives charging that the outgoing chief of the nation's securities watchdog may be rushing to adopt yet-to-be-finalized rules based on the statute -- including an executive pay clawback measure -- before the Trump Administration takes over in January.
"Absent an emergency and given your current reputation and legacy, I would strongly urge you to respect the results of last week's election and resist the temptation to finalize any regulations," House Financial Services Committee Chairman Jeb Hensarling, R-Texas, told outgoing Securities and Exchange Commission chief Mary Jo White at her final hearing before the committee, which has jurisdiction over banking issues. 
Hensarling's comments were echoed by other Republicans - and they come as the SEC is set Tuesday afternoon to adopt a rule to create a so-called "consolidated audit trail," a tagging and data collection system that would help the agency track information about trading orders so it can better understand the fast-paced markets. The proposal, along with a few others, has been stagnating at the SEC for several years.
White announced Monday, not surprisingly, that she will step down at the end of the Obama administration. She pushed back on assertions that the agency is rushing to adopt rules before the Trump Administration takes over. However, she also said that it is a priority of the agency over the next two months is to adopt a few rules, including one that would allow more investors to receive mutual fund reports electronically. "Why don't you just withdraw that rule?" asked Rep. Bruce Poliquin, R-Maine, about the mutual fund measure.
GOP lawmakers also put a spotlight on an SEC proposal addressing incentive-based compensation, also mandated by the Dodd-Frank Act, that would require executives to wait much longer to cash out bonuses and give corporations several years to claw back pay connected to misconduct. Rep. Bill Huizenga, R-Mich., repeatedly urged White not to adopt the measure but she wouldn't say whether the agency would OK a rule before her departure.
Democrats, for their part, urged White to adopt more rules required by Dodd-Frank, with Rep. Brad Sherman, D-Calif., suggesting that the rule for electronic disclosure of mutual fund documents to customers would save millions of trees. The top Democrat on the panel, Rep. Maxine Waters, D-Calif., questioned whether Trump was interested in breaking up large banks by reinstating a version of The Glass-Steagall Act, which would separate investment and commercial banking units at large financial institutions including Bank of America (BAC) - Get Free Report and JPMorgan Chase (JPM) - Get Free Report .
Trump included a provision in his party platform recommending that lawmakers reinstate Glass-Steagall. However, many observers contend that the measure was included to help drive left-leaning supporters into his camp. "Does he mean breaking up the banks by reinstating Glass-Steagall?" Waters asked. "In that regard I'm sure we can find some common ground."
Democrats also expressed concerns that the rise of Wells Fargo's (WFC) - Get Free Report stock price in recent days suggests that the incoming Trump Administration won't effectively oversee the bank in the aftermath of revelations in September that its employees set up as many as two million unauthorized customer accounts. Wells Fargo, one of the largest six U.S. banks, was fined $185 million by the nation's consumer protection agency over the unauthorized accounts.
"I am appalled that the reaction on Wall Street to Tuesday's election was a record high for bank stocks," said  Waters.  Waters put a specific focus on Wells Fargo, pointing out that its stock closed at its highest price this year on Monday on the expectation that a Trump administration and Republican Congress "will erase its culpability."
Rep. Carolyn Maloney, D-NY., said she was terribly concerned that Republican administration would roll back the Dodd-Frank Act and remove rules she argued were critical for the safety and soundness of the markets. "I feel that if we get into another financial crisis that Congress would not vote for any restructuring," Maloney told TheStreet. "I think it was very important that we restructured the markets afterwards. Otherwise banks would have closed and we would have gotten into a deeper recession. Maybe a depression."
With White on her way out, discussion in the halls on Capitol Hill turned to who might replace her. Trump's team tapped former Republican SEC Commissioner Paul Atkins as his top adviser on financial regulation. Atkins served as an SEC commissioner between 2002 and 2008 and was an at times abrasive and outspoken critic of the agency's effort to hike regulation on hedge funds and mutual funds.
Outgoing Rep. Randy Neugebauer, R-Texas, told reporters that another departing member of the House Financial Services Committee, Rep. Scott Garrett, R-N.J., would make a great candidate to replace White as SEC chairman. Garrett, who chaired the panel's capital markets subcommittee, lost his re-election bid last week. "Absolutely. Mr. Garrett is a very talented and smart individuals and he could fill a lot of different roles in a Trump administration," Neugebauer said.
Garrett for his part said that if the opportunity presented itself to continue in public service he would "give it very serious consideration." However, Mark Calabria, director of financial regulations at the Cato Institute and an ex-senior staffer on the Senate Banking Committee, said that Garrett did a lot of work on efforts to reform government-seized housing finance giants Fannie Mae and Freddie Mac and could be tapped to head their regulator, the Federal Housing Finance Agency.
"I think Atkins gets the SEC job," he said.