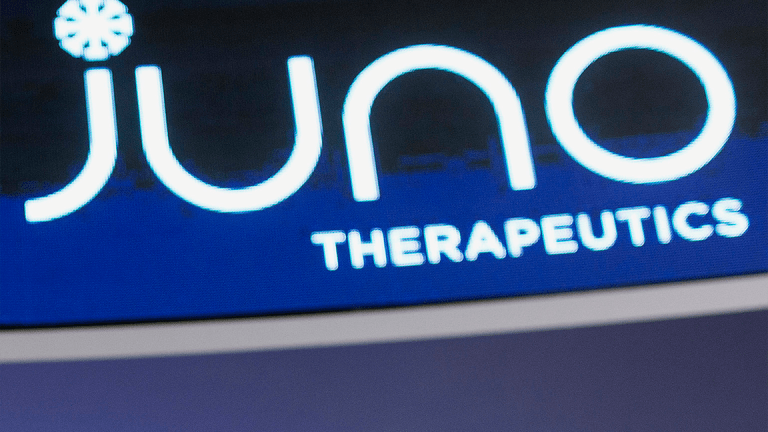 Celgene Makes $9 Billion Cancer Treatment Play for Juno Therapeutics
Celgene inks the Summit, N.J.-based group's biggest-ever takeover with a $9 billion play for cancer treatment specialist biotech Juno Therapeutics.
Celgene Corp.  (CELG) - Get Celgene Corporation Report  agreed to buy the rest of Juno Therapeutics Inc. (JUNO)  it doesn't own for around $9 billion, a move that gives Celgene access to a lucrative portfolio of CAR-T cancer treatments.
Celgene will pay $87 a share for Juno's outstanding shares, using a cash and debt combination to finance the $9 billion deal that will likely trim 2018 earnings by around 50 cents a share before being "incrementally additive to net product sales in 2020." Juno's flagship JCAR017 cancer treatment line is expected to have global sales of around $3 billion beyond that date, the companies said, while reiterating financial targets for that year of between $19 billion and $20 billion in overall net product sales and adjusted earnings per share of more than $12.50.
"The acquisition of Juno builds on our shared vision to discover and develop transformative medicines for patients with incurable blood cancers," said Celgene CEO Mark Alles. "Juno's advanced cellular immunotherapy portfolio and research capabilities strengthen Celgene's global leadership in hematology and adds new drivers for growth beyond 2020."
"The people at Juno channel their passion for science and patients towards a common goal of finding cures by creating cell therapies that help people live longer, better lives," added Juno CEO Hans Bishop. "Continuing this work will take scientific prowess, manufacturing excellence and global reach. This union will provide all three."
Celgene shares rose 0.28% in premarket trading, indicating an opening bell price of $102.94 each and trimming their three-month decline to around 15.1%. Juno shares, by contrast, surged 27% to indicate an opening price of $86.14, a gain of nearly 100% since late October.
Summit, N.J.-based Celgene "has been for many years on a path to find $10 billion or more of pipeline drugs to offset the [erosion of Revlimid revenue] starting in 2022," Jefferies LLC analyst Michael Yee told TheStreet last week.
Beginning that year, Celgene will face generic competition for Revlimid, which treats diseases affecting the soft tissue in bones and generated net sales of $8.19 billion last year.
Alles "is tasked with the responsibility to ensure that the company has consistent growth over the 2020 to 2030 time frame in the face of [the upcoming decline in Revlimid revenue]," Yee said. "His success or failure will be defined in part by his ability to successfully execute on business development and M&A."
More of What's Trending on TheStreet: