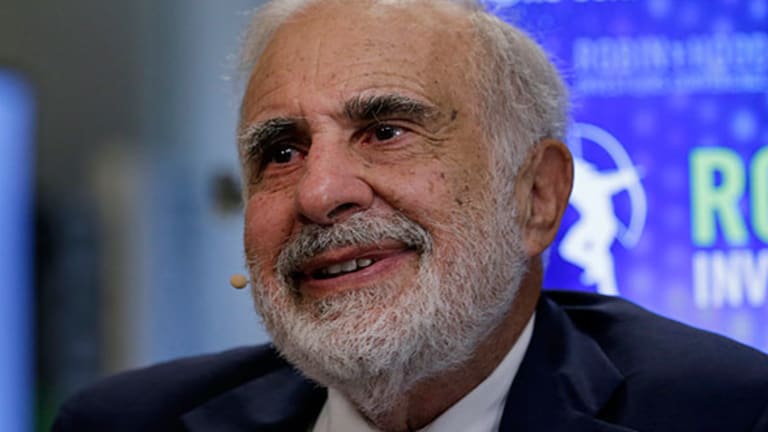 Carl Icahn's Playing a Risky Game in the Energy Sector
When it comes to energy, the corporate raider-turned-activist investor has lately employed an age-old strategy known well to traders in crude and other commodities: hedging.
NEW YORK (The Deal) -- Carl Icahn likes to bet big. Apple (AAPL) and eBay (EBAY) have both felt his activist ire -- and eventually done things he recommended, including share buybacks in Apple's case and spinning off Paypal Holdings (PYPL) into its own publicly traded company by eBay.
Because of the huge market caps of the companies involved, the strategy has mostly meant trading on the Icahn brand to push the companies to get off the dime on moves analysts have said should be considered as a way to return value to shareholders.
But when it comes to energy, the corporate raider-turned-activist investor has lately employed an age-old strategy known well to traders in crude and other commodities: hedging. The most recent example came on Aug. 27, when Icahn revealed an 8.46% stake in mining company Freeport-McMoRan (FCX) in a 13D filing with the Securities and Exchange Commission.
The corporate raider said that he intends to talk to management about a number of matters, including its capital expenditures, executive compensation, capital structure curtailing some of what Icahn called the company's "high-cost production operations."
Icahn accumulated his stake in the company through hedging, in this case, forward contracts that allowed him to place his bet with less upfront cash than the value of his stake. Of course, the contracts also may mean that if he and Freeport-McMoRan aren't successful in raising the stock price, the activist will lose out. That scenario is particularly worrisome in the case of mining companies that have been adversely affected by the slowdown in China's economy and the general fall-off in commodity prices.
Whether the Freeport bet and others succeed given the continued drop in prices remains to be seen. Icahn and his representatives didn't respond to requests for comment. But filings with the Securities and Exchange Commission give some glimpses of how he's carrying out his energy strategy.
Take, for example, Icahn's nearly $900 million investment (give or take a few hundred million) in Talisman Energy.
In late 2012, the Canadian oil and gas explorer had brought back former CEO Hal Kvisle to arrest its slumping share price, which was driven lower by poorly timed acquisitions and disappointing returns from its North American shale gas operations and its mature North Sea oil assets. He promised to sell peripheral and nonperforming assets worth $2 billion to $3 billion, find partners for the company's North Sea business and sell down or exit Canadian gas fields. But the executive drew criticism for the slow pace of sales and his rejection overtures from Spanish oil and gas company Repsol SA.
Icahn originally appeared as an activist investor at Talisman in October 2013, mostly building up his better than 5% stake through options that allowed him to buy the stock at $8 a share, options which expired on May 15 of this year.
Icahn's motive was simple: Push Talisman to reconsider the Repsol offer or some other buyout. When Talisman ended up closing the sale to Repsol on May 8 for $8.3 billion, Carl Icahn presumably got the same $8 per share that other shareholders received. The deal was quite a comedown from the $13 per share offer Repsol had tendered twice before plunging commodity prices made that price imprudent.
The investment wasn't necessarily in cash, since some unspecified part of the price was based on margin borrowing, the filing said. Icahn also had some unspecified number of put options as a way of hedging his bet on the energy company. Activists often use calls and puts to build up a stake unnoticed with as little upfront cash risk as possible.
Icahn's raised stake was revealed at the same time as he said Talisman had agreed to put two of his lieutenants on the company's board: Samuel Merksamer and Jonathan Christodoro. Kvisle had already announced his intent to step down "at an appropriate time" in 2014. By December of that year, Talisman agreed to be bought by Repsol for $8.3 billion and by May the deal had closed.
Icahn filed his requisite amended 13D with the SEC in May showing that he had sold out his stake at the agreed-on price of $8 on May 8, the closing day for the transaction, a week short of when his options expired.
Although it seems that Icahn took quite a bath on the bet, there is no transparency into how he placed his hedged bets. Depending on what kind of contracts were written for the hedges, he may have even made off with a modest profit, according to one industry observer.
What's clear from the filings is that Icahn was making a bet on Repsol coming back with something more than his exercise price. But oil continued its slide from well over $100 per barrel for Brent crude in the summer of 2014 to $58 by year's end to about $44 as of late August. And even if Repsol thought Talisman's fields were worth more, the original $13 per share price would be fiscally hard to justify to the Spanish company's shareholders.
Despite a continued decline in commodity prices, Icahn is back, this time at Cheniere Energy (LNG) where, on Aug. 6, he revealed an 8.18% stake in the Houston company, saying that its shares are undervalued. He added that he intended to meet with representatives of the company's management and board to discuss "operations, capital expenditures financings and executive compensation" and might seek a board seat and buy more shares.
But almost all of Icahn's stake is in call options and the (likely) parallel put contracts. Icahn's options are due to expire on Nov. 15. In addition, perhaps figuring that volatile markets demand still more hedges, 15.5 million of the full stake of nearly 19.4 million shares are in forward contracts-private agreements between Icahn and a counterparty that govern how much will be paid at some point in the future for the underlying equities. Those forward contracts, the security filing notes, were for $60 per share, for an aggregate forward price of $930 million (plus a financing charge).
Icahn's playbook at Cheniere, at least according to the Aug. 6 filing, looks remarkably similar to the one at Talisman, complete with the quick settlement with the company that put the same two Icahn directors on the board.
The game plan is likely to be different, however, and potentially more complicated, which means both a downside and an upside that need more hedges.
Cheniere is building large-scale projects to turn natural gas into liquids so it can be exported, the first company in the U.S. expected to do so. It has lost money every year since its 1983 founding, including $142 million in the second quarter, but is expected to generate billions of dollars in annual cash flow once the projects are up and running, starting next year. It has a market capitalization of $14.3 billion.
There are two potential strategies here. Cheniere's two businesses-transportation and storage, and marketing-could be split up. But there's also a possibility to accelerate the use of its affiliate, publicly traded Cheniere Energy Partners (CQP) , as a dropdown for more assets.
However Icahn's representatives seek to push Cheniere to restructure, they are likely to have backing from other shareholders.
At its annual meeting in September, investors rejected the 2013 pay packages for company management, including $142 million in salary and stock grants for CEO Charif Souki, which made him one of the highest paid executives that year.
While say-on-pay votes are advisory only, the board took note. On Dec. 23, the company said in a regulatory filing that Souki's base salary was $1 with a notional salary of $1 million to be used for purposes of calculating his benefits and bonus. However, they didn't say what would happen to his stock options, which made up most of his compensation. Still, it had to be disappointing for the executive, who was awarded a $2.4 million bonus for 2014.
In March, a Delaware state judge approved a settlement with shareholders that put restraints on the company's stock-based compensation through 2017. Executives and employees will be able to keep shares already awarded to them, which some stockholders have called excessive and improper, but grants that hadn't yet been paid out under the 2011 plan will have to pass a shareholder vote before they're issued. And Souki himself can't get more than 1 million shares.
Since then, Cheniere has progressed on its business plan. Last month the company said that Trains 1 and 2 of its Sabine Pass project in Louisiana were 92% complete as of June 30 and Train 1 is expected to produce LNG as early as late 2015. Trains 3 and 4 are 69% complete, ahead of schedule, and should begin operating in late 2016 and 2017; construction of Train 5 began June 30 and it should begin operating in 2018; and Train 6 is under development. It also said it had signed a 20-year agreement with a Chilean power project to purchase LNG from its $16 billion Corpus Christi liquefaction project beginning in 2019.
There was more good news earlier this month, when Cheniere announced a deal to sell up to 26 cargoes of LNG to Electricite de France through 2018 linked to European spot pricing. Analysts at Tudor, Pickering, Holt & Co. Securities believe it's the first U.S. LNG deal linked into European spot prices and implies that Cheniere thinks it can make money at current European gas futures of $7 per thousand cubic feet equivalent prices over the next few years and that U.S. gas prices will stay low. Global Hunter Securities analyst Sunil Sibal thinks Cheniere's marketing arm will need more shipping capacity to meet the additional demand-furthering the case that the two businesses need to be separated so they can potentially raise more financing as standalone entities.
Andy DeVries and Charles Johnston, analysts at bond research firm CreditSights, wrote in a report earlier this month that they don't see much risk from Icahn holding a 8.2% stake. "Given Cheniere has only $250 million in revenue and $15 billion of debt ahead of revenues finally ramping up in late 2015/early 2016, we don't see Mr. Icahn calling for any debt-funded buybacks of any sort," they said. "Instead, he might press for the company to stop announcing growth plans beyond the current Sabine Pass and Corpus Christi LNG export facilities that won't fully come online until around 2019-20."
Icahn got caught on the wrong side of oil price history with his sustained involvement in Chesapeake Energy (CHK) . After teaming up with Memphis-based Southeastern Asset Management, the investors wrangled four board seats and eventually, at the beginning of 2013, ousted founder Aubrey McClendon from his CEO seat. Under CEO Doug Lawler, Chesapeake began selling off the assets McClendon had built up, including Marcellus and Utica shale assets to Southwestern Energy (SWN) last October for $5.4 billion.
At the time of that sale, Lawler assured investors that Chesapeake's production growth targets, which he estimated at 7% to 10%, were still doable.
But in less than a year, with the price of oil cut in half, Lawler said in July that the company was suspending its dividend in an attempt to keep a cash cushion available for its production program. On Aug. 5, the debt-laden Oklahoma City company reported a nearly $4.2 billion loss and adjusted EBITDA of $600 million in the second quarter, versus net income of $145 million and adjusted EBITDA of nearly $1.3 billion in the same period last year.
With the company's shares dropping, Icahn has gone shopping. In March, he raised his stake from the nearly 10% share he held in 2013, which he purchased at an average of around $19 per share, to almost 11% at an average price of around $17.65 per share. But besides losing out on the dividend, Icahn's shares have already lost a significant amount of their value -- Chesapeake's stock is down around 65% year-to-date to a recent $6.92.
Unlike Talisman, where the Repsol deal was already expected, and Cheniere, where there is room for restructuring, Chesapeake may have to wait for a rebound in oil prices or for a takeover -- which SunTrust Robinson Humphrey analyst Neal Dingmann thinks is a real possibility, as it's the most asset-rich of the companies he follows, with a net asset value well north of his $15 price target.
Which means, at least for his Chesapeake stake, Icahn had better accept that he's a long-term investor-or cut his losses when he can.