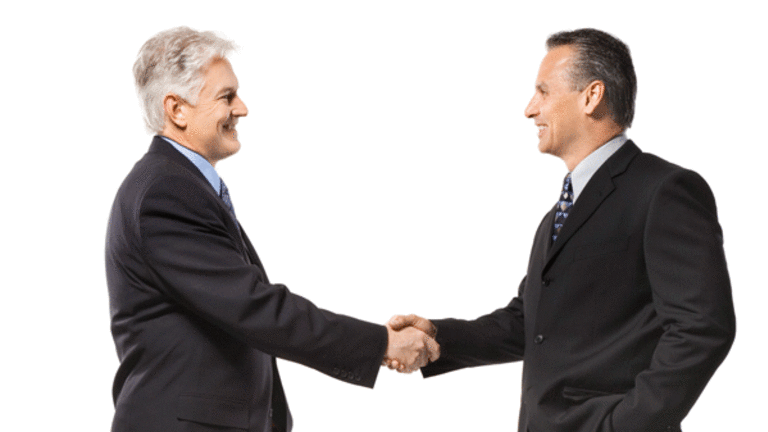 Carl Icahn's Billion Dollar Problem
Carl Icahn may have a $1 billion dollar plus takeover problem.
NEW YORK (
) - Though activist investor Carl Icahn launched a new buyout arrow Monday, bidding $1.73 billion or $15 a share for
Commercial Metals
(CMC) - Get Report
and lifting the company's shares over 22%, investors should consider his billion dollar problem with company takeovers.
Four out of Icahn Enterprise's biggest five takeovers deals since 2005, each over $1 billion, have failed or collapsed, according to data compiled by
Bloomberg
. Those deals, including
Clorox
(CLX) - Get Report
,
Reckson Associates
,
Dynegy
(DYN)
and
Lear
(LEA) - Get Report
signal that Icahn may overextending himself in billion dollar sized takeovers.
In a hostile letter to company management, Icahn said he will bid on Commercial Metals at a 31% premium to bolster his existing 10% stake in the company and a majority-owned
PSC Metals
investment. The question is whether, like previous attempts to convert a large minority stake in companies such as Clorox,
Lions Gate Films
(LGF)
and Dynegy, Icahn will fail at an over $1 billion takeover attempt. Those recent deals signal that Icahn is more effective in agitating company sales using minority stakes, not in being an outright buyer.
Monday's takeover announcement in a loss making company with an ineffective business mix may also prove to be an unnecessary challenge. "The track record established by the current Board and management team over the last several years is dismal. Unfortunately, a below average operating performance fueled by a distracting and misguided international growth plan, combined with a disastrous investment record, has become the defining characteristic of Commercial Metals," wrote Icahn a letter to Commercial Metals' board.
The Commercial Metals bid most closely resembles Icahn's recent $12.6 billion bid for Clorox where he tried to convert a large minority stake using hostilely appointed directors. As Clorox's largest shareholder with an over $5 billion investment, Icahn tried to appoint a slate of directors to replace existing directors, adding to chances that his takeover bid would be accepted.
In Monday's bid, Icahn is pursuing a similar strategy. Icahn said he would nominate three board directors at its 2012 general meeting. "As a 10% shareholder of Commercial Metals we are extremely concerned about the capabilities and behavior of the current Board and management, and therefore, we intend to nominate three individuals as directors," wrote Icahn.
On Nov. 23, Commercial Metals issued a proxy vote to shareholders for its 2012 annual meeting regarding three directors up for vote stating, "We have a strong and independent Board, comprised of highly experienced professionals." Monday, in a press release Commercial Metals said that while it will review Icahn's proposal, the letter "did not constitute a formal offer and, as such, stockholders do not need to take any action." It's hired
Goldman Sachs
(GS) - Get Report
to advise on the offer letter.
If the unraveling of Icahn's Clorox bid is any indication, a takeover attempt may not be so easy to pull off. In September, Icahn withdrew his board nominations conceding that the directors wouldn't garner "a considerable base of shareholders." After failing to get shareholder support for his director appointments or board support for his "neither credible nor adequate" bid, Icahn subsequently began liquidating his Clorox position.
Similar issues plagued Icahn in an even more ferocious but miscalculated takeover attempt of Lions Gate Films, which started in 2009 and ended in failure this August when he began liquidated a 33% stake in the company. As with Lions Gate, Icahn was unable to get shareholders to approve an activist slate of board directors, or the company's board to approve his bid.
Icahn's strategy in making a bid for Commercial Metals is also a mirror to his Lions Gate bid because he's seeking to bolster an existing large scale investment using a hostile takeover.
With Commercial Metals and its near $8 billion in annual revenue, Icahn will increase his existing metals division called PSC by over tenfold. Icahn bought PSC for $335 million in 2007. Of the deal Icahn wrote in his letter, "When the acquisition is completed IEP intends to combine Commercial Metals with IEP's own metals recycling assets." If the merger were to be completed, Icahn said he would sell the company's non-core assets and appoint new management to run its existing steel business, according to the letter.
After taking an over 30% stake in Lions Gate Film, Icahn tried to boost an existing multi-billion investment in MGM Studios, which he made as the legendary film studio veered towards bankruptcy.
In 2010, Icahn simultaneously built an over 30% stake in Lions Gate and was active in MGM takeover talks with Lions Gate, which would have created a to $5.5 billion movie making partnership. The merger wasn't completed and in November 2010, MGM decided to enter a pre-packaged bankruptcy sale to
Spyglass Entertainment
and convert its debt holders into shareholders. It turned Icahn into one of MGM's largest holders. Afterward, Icahn aggressively pursued an outright takeover of Lions Gate to add to his MGM stake in a bid that failed this August.
While Icahn may be unlucky in billion dollar acquisitions, he's seen big gains in large minority stakes that aren't a takeover ambition. Recent similar-sized minority stakes by Icahn in
El Paso
( EP) and
Motorola Mobility
(MMI) - Get Report
netted the investments mogul impressive returns when
Kinder Morgan
(KMI) - Get Report
and
Google
(GOOG) - Get Report
paid big premiums for the respective companies.
By taking smaller minority stakes in El Paso and Motorola Mobility this summer, Icahn pushed for increased shareholder returns through a spinoff of El Paso's exploration business and a sale of Motorola Mobility's patent portfolio. That understated activist role led both companies to undergo a strategic review of their businesses, which eventually led to outright sales to competitors, netting Icahn significant windfalls.
With today's takeover announcement, Icahn may be looking for a similar result. "The reality behind this is maybe he is pushing for a sale of the company to an international steel company," said Louis Meyer a special situations analyst at Oscar Gruss & Sons in an phone interview with
TheStreet
. According to Meyer, the proposal may be a way to drum up takeover interest from large international steel players as big as
ArcelorMittal
(MT) - Get Report
and other conglomerates in related metals industries-- a scenario he counts as more likely than an eventual Icahn acquisition.
Still to be seen is whether shareholders will approve Icahn nominated directors, not to mention whether they or the board will accept his takeover bid. Equally uncertain is whether Icahn's recent takeover appetite, an added complexity to his investor focus, will reap the same rewards as less aggressive minority bids.
-- Written by Antoine Gara in New York