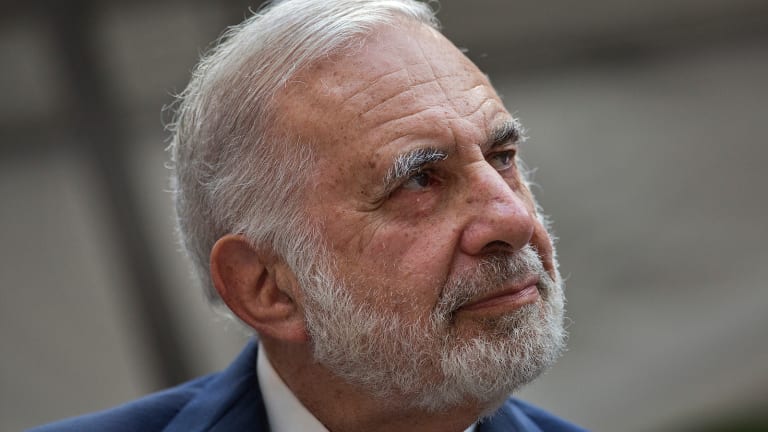 Carl Icahn Targets AIG With 'Large Stake' and Call for Breakup
The billionaire activist investor asserts that if insurance giant AIG divides itself into three new companies, it could escape costly regulatory oversight and return more cash to its stockholders.
Carl Icahn on Wednesday called on American International Group (AIG) - Get American International Group Inc. Report to split into three independent companies, arguing such a move would reduce the insurance giant's regulatory burden and allow it to return more capital to shareholders.
The billionaire activist, who said on Twitter that he holds a "large stake" in AIG without detailing his holding, said in a letter to AIG CEO Peter Hancock that he has heard from several large shareholders in the company who support a split.
"I cannot fathom how you could ignore repeated requests from shareholders to execute a plan that would release billions of dollars of capital, free the company from onerous excess regulation, and leave shareholders owning three separate, market leading insurance franchises," Icahn wrote.
AIG in a statement confirmed it received the letter, with Hancock saying that the company "maintains an open dialogue with all our shareholders and welcomes their feedback and ideas." The company said that it has "taken important and significant steps" to revamp its business, saying it would discuss those efforts and other strategies when it discusses quarterly earnings on Nov. 3.
Icahn is hoping a move by AIG to separate its life and mortgage insurance subsidies would convince regulators in Washington to allow it to de-register from a so-called "Systemically Important Financial Institution" or SIFI categorization imposed upon it by a council of regulators.
AIG, considered the poster child of the 2008 financial crisis, was designated as a SIFI in 2013 by the council of regulators set up to identify emerging threats to the economy. The group of regulators, known as the Financial Stability Oversight Council, argued that the big firm was so large and interconnected that it required additional supervision. The council and SIFI designation process were set up under the post-crisis Dodd-Frank Act.
Once de-registered, each former AIG unit would no longer be subject to time-consuming and costly Federal Reserve Board-run stress tests to see if it can survive a future financial crisis or obligated to prepare living wills explaining how they would dismantle themselves if they were to collapse. It also would free AIG from central bank-mandated capital buffer obligations, liquidity and risk-management rules.
The move by Icahn comes after General Electric (GE) - Get General Electric Company Report launched a major initiative in April to divest most of its financing business as part of its own effort to convince the council to de-designate it. The industrial conglomerate is expecting a decision from the council next year.
Icahn argues that upon the AIG divestitures, "all three companies would be small enough to avert the increased capital requirements and regulations" associated with the SIFI designation. "In the face of a changing and potentially punitive regulatory framework, you must realize that insurance businesses of AIG's caliber are more valuable to shareholders if held directly than they are as part of a SIFI conglomerate," he wrote.
AIG under Hancock, who took over as CEO last year, has been focused on reorganizing its businesses into commercial and consumer facing units that each offers a variety of products.