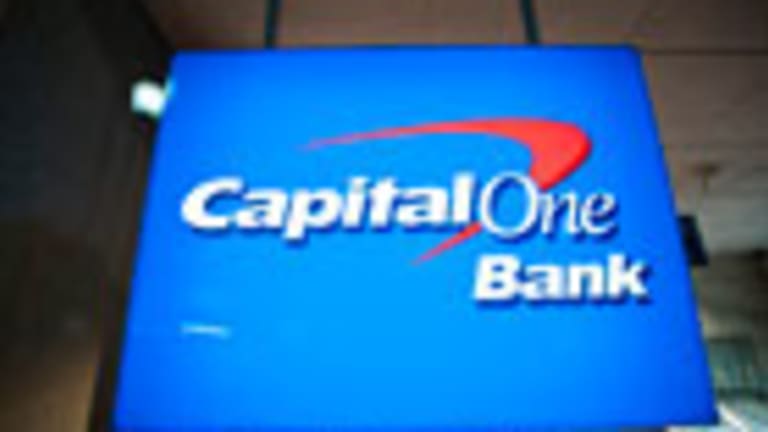 Publish date:
Capital One to Acquire GE's U.S. Health Care Finance Unit for $9B
General Electric sells yet another business as it winds down GE Capital.
General Electric sells yet another business as it winds down GE Capital.
NEW YORK (The Deal) -- Capital One Financial Corp. (COF) - Get Report agreed to acquire about $8.5 billion in health care-related loans along with the U.S. health care lending business of General Electric Co. (GE) - Get Report in an all-cash deal valued at roughly $9 billion, the McLean, Va.-based financial holding company announced on Tuesday. The deal is expected to close in the fourth quarter. Capital One anticipates that the deal will provide a strong platform for growth and returns, the announcement said.
The deal comes as General Electric attempts to sell off the assets of GE Capital and focus on its core industrial operations. General Electric is "on track to reduce ending net investment by $100 billion by the end of 2015" and expects to be "substantially done" with its exit strategy by the end of 2016, GE Capital chairman and CEO Keith Sherin said in the announcement. The company believes that market conditions are favorable to pursue disposition of these assets. With this transaction, the total for announced sales is about $78 billion.
The Healthcare Financial Services unit of General Electric provides financing to U.S. health care companies, sponsors, investors and developers in sectors including senior housing, hospitals, medical offices, outpatient services, pharmaceuticals and medical devices.
GE Capital Healthcare Financial Services president and CEO Darren Alcus will become president of Capital One's health care financial business.
Wells Fargo & Co. (WFC) - Get Report senior analyst Matt Burnell said Capital One's acquisition will add 4% to its loan portfolio, which is relatively small, although it does catapult the financial institution into a leadership position within health care lending. This is a business that Capital One and other large regional banks have been trying to get into for some time, he said. Capital One had built a health care finance vertical with loans of approximately $2.5 billion as of June 30.
Among recent deals as part of GE Capital's wind-down is General Electric's sale of around $26 billion of real estate assets to Wells Fargo and Blackstone Group LP (BX) - Get Report and its private-equity lending portfolio to Canada Pension Plan Investment Board (CPPIB) for approximately $12 billion in June.
General Electric retained Citigroup Global Markets Inc. and JPMorgan Securities LLC for financial advice, and Paul Manca, Mike Gilligan, Andrew Felton, Deborah Staudinger and Phillip Brown of Hogan Levells US LLP for legal counsel.
Capital One retained Credit Suisse Inc. and Wells Fargo Securities for financial advice, and Matthew M. Guest, Brandon C. Price, Damien G. Didden, David E. Kahan, Gregory E. Pessin, Joshua M. Holmes, Patricia A. Robinson, Raaj S. Narayan, Kevin S. Cooper, Chelsea N. Darnell, Michael J. Schobel, Neil K. Chatani, Tijana J. Dvornic, and Michael B. Love of Wachtell, Lipton, Rosen & Katz for legal counsel on the deal.
Capital One and General Electric were not immediately available for comment.
Read more from: