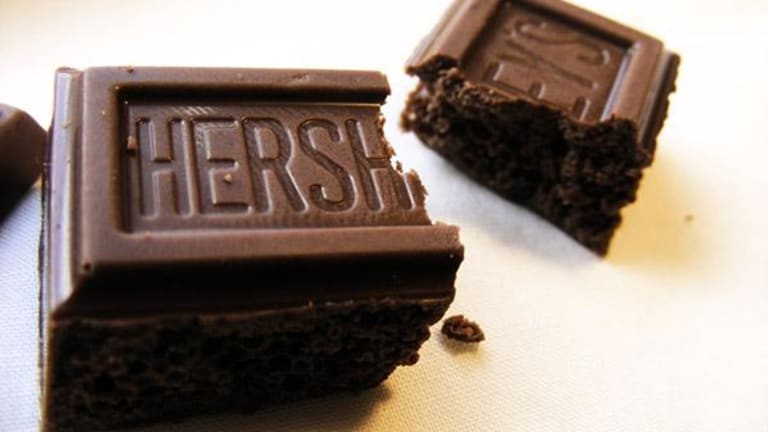 Publish date:
What's Next in the Merger Saga of Confectionery Giants Mondelez and Hershey
Two months after Mondelez called off its bid for Hershey, here's the latest thinking on confectioners' marriages.
Two months after Mondelez called off its bid for Hershey, here's the latest thinking on confectioners' marriages.
The approach of Halloween represents an opportune time to check in on the confectionary business. Just as you can be assured that somebody ringing your doorbell the last day of this month is going to be outfitted as Donald Trump, the final two months of the year are going to see the resuscitation of talk of mergers in the branded products sector, including among candy makers.
In fact, just last month rumor mongers and tweeters revived the talk that Mondelez (MDLZ) - Get Report was once again sniffing around Hershey (HSY) - Get Report , chatter that analysts at JPMorgan moved to quickly shut down, with an analyst insisting the suggestions had no basis. That the recitation of the popular Mondelez/Hershey
The market doesn't seem to have put much stock into the suggestions that a Mondelez/Hershey hookup is inevitable. Hershey shares, buoyed much of the summer by anticipation of a takeover, dropped 15% after Mondelez officially retracted its bid. Hershey share price hasn't notably budged since its late summer downdraft. Meanwhile, price to earnings multiples for both companies -- confoundingly high throughout the summer on anticipation of deal making -- have edged off their best levels of the year.
Mondelez ticked up about 2% Wednesday morning after posting EPS of 35 cents, down from $4.46 per share in 2015 and below analysts expectations of 43 cents. Revenue, meanwhile, decreased about 7% to $ 6.4 billion.
Still, both companies continue to command remarkably high P/E readings -- about 22 times for Mondelez and Hershey -- for enterprises in the typically slow growth branded products business. Candy sales actually softened in early October.
Still, Halloween is approaching, and Americans are expected to spend $2.5 billion on sweets to pass out to trick or treaters, according to the National Retail Federation.
Nevertheless, the seasonal uptick in spending on Kit Kats and Reese's would seem to be well anticipated by investors, and appears to be baked into the share price of Hershey.
All of which isn't to say that there isn't going to be further consolidation in the branded products space. Corporate deal makers have a lucrative currency in the conflated prices of their shares. And, despite P/E's that would look more appropriate on developers of cloud based software products, branded products' growth will be lucky to keep pace with the anemic GDP levels, leaving acquisitions as the only way for management to convince shareholders they're intent on top line expansion.
"You can argue that acquisitions are the only path to growth," Gaurav Gupta, principal at leadership consulting firm Kotter International, who has worked extensively with food and beverage companies -- as well as in other industries -- said in a recent interview.
But in the Hershey versus Mondelez breakdown, there's a binary realization: the former is more likely to be a suitor, the latter -- perhaps -- a target.
Mondelez has been chatted up periodically as the takeover target for a global stalwart such as Nestlé. Handicappers said that Mondelez's push for Hershey was posited on the argument that, for Mondelez, getting bigger was the best way to insulate itself from being a takeover target. There was even some criticism on Wall Street of the seeming clumsiness of the Mondelez approach to Hershey, as if the takeover plan had been rather hastily constructed.
After all, Hershey is something of the fortress of solitude of confection companies. The Hershey Trust, the financial contraption that founder Milton Hershey himself constructed, owns 20% of the outstanding shares. But it's got 81% of the voting power. Any entity making an advance on Hershey the corporation would have to win over Hershey the trust.
The Hershey Trust, with a $12 billion endowment that is mostly tied to its stake in Hershey itself, is tasked with operating the educational facility that Milton Hershey prized. But the trust has been plagued with criticisms of its board members: intimations of profligacy, self dealing and term limits -- issues that attracted the attention of the attorney general of Pennsylvania, which has some dominion over the Trust. There are suggestions that the state could blunt any takeover of Hershey.
Hershey could be a buyer, in transactions modeled on its purchase earlier this year of jerky maker Krave -- i.e., smaller, tuck-in assets. Any big push, such as moving into premium confections, where it doesn't have much of a footprint, would move the company away from its core competency.
The dilemma for Mondelez, though, is that those kind of tuck-in acquisitions don't do enough to move the needle on sales, or do anything to make the company too big to swallow, especially while its focused on a margin improvement initiative. "This cost cutting effort is a significant part of its supply chain strategy, and might make it difficult to take on a sizable acquisition," Gupta said.
Which might mean a stalemate for two of the leading parties in this summer's branded products M&A drama. Hershey, Gupta said, might spend the next several quarters both doing what it can to realign the trust that is its effective guardian, as well reenergizing customers and, importantly, employees, who have been effectively divorced from the culture that Milton Hershey tried to instill in some relative backwater west of Philadelphia.
For Mondelez ....? There's been some scuttlebutt in the market that Kraft Heinz (KHC) - Get Report could be interested in pursuing a purchase of the company, effectively reconstituting the former Kraft business with the additional assets that Heinz brings. But any transaction of that magnitude might have to hold off until the Kraft Heinz management feels that it has properly aligned itself after its own marriage, meaning that Mondelez might have some time to see if it can rationalize its business through margin improvement alone.