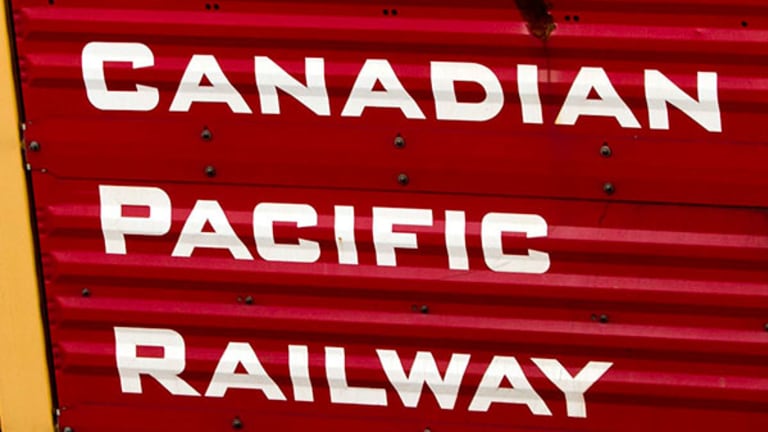 Canadian Pacific Turnaround Under Ackman a Sign of Next M&A Wave
It increasingly appears that mega-deals can be the final step in corporate turnarounds.
NEW YORK (TheStreet) -- Corporate restructurings through asset sales, management change and operational improvement may be laying the foundation for a new wave of large acquisitions, as C-suites look to M&A as the final step in a turnaround. Deal making, it appears, is well-suited for companies that have already tightened their belts. 
Bill Ackman-backed railroad Canadian Pacific (CP) - Get Canadian Pacific Railway Limited Report may be the latest example, after the Wall Street Journal reported on Sunday evening that the Canada-based company is exploring what might be $60 billion merger with U.S. competitor CSX (CSX) - Get CSX Corporation Report .
Other companies deep into restructuring efforts like Hewlett-Packard (HPQ) - Get HP Inc. Report , Adobe (ADBE) - Get Adobe Inc. Report , Microsoft (MSFT) - Get Microsoft Corporation Report , Yahoo! (YHOO) , Air Products (APD) - Get Air Products and Chemicals, Inc. Report , Rackspace (RAX) , eBay (EBAY) - Get eBay Inc. Report , Akamai Technologies (AKAM) - Get Akamai Technologies, Inc. Report , CBS (CBS) - Get CBS Corporation Class B Report and Time Warner (TWX) may eventually follow the trend.
Historically M&A has been used to establish a new strategic vision for a company, but these days large M&A may be more appropriate and palatable to shareholders at the end of a turnaround for a handful of reasons.
A restructured company will often trade at a premium to its peers, making its stock a strong acquisition currency. Firms operating at industry-leading margins in the wake of a turnaround also have credible synergies to offer in their acquisition efforts, justifying the risks inherent in M&A. Finally, firms that move to a focused business model in their industry and away from a conglomerate structure may see a bigger financial benefit from consolidation.
Those factors are likely a key to Canadian Pacific's calculus as it targets CSX.
Since Ackman's activist fund Pershing Capital Management challenged Canadian Pacific's old management in 2011, shares in the railroad have tripled. A new team of executives and board members improved efficiency on rail lines and cut unnecessary costs, leading to a doubling of net income margins, and an over 25% increase in EBITDA margins. With CSX, Canadian Pacific would now see its annual revenue triple to about $19 billion.
Railroad mergers have a spotty track record; however, Canadian Pacific may have the ability to improve performance at CSX. Revenue for Canadian Pacific is forecast at a 43.6% EBITDA margin in 2014, according to analyst estimates compiled by Bloomberg, while CSX is only forecast to operate at a 37.2% margin. Earnings per share is only growing at low single digit rates at CSX, a sharp contrast to Canadian Pacific, which is on pace to double its EPS every three-to-four years.
Canadian Pacific won't be the first company to restructure and then become an acquirer. The same can be said for Valeant Pharmaceuticals (VRX) , Burger King Worldwide (BKW) , Anheuser Busch InBev (BUD) - Get Anheuser-Busch InBev SA/NV Report and Dollar General (DG) - Get Dollar General Corporation Report .
Other companies deep into turnarounds may take note of Canadian Pacific's restructuring. Hewlett-Packard, which has been restructuring for three years under CEO Meg Whitman, indicated it may become more acquisitive as the company splits its enterprise software division from its PC and printer unit and tries to make use of a repaired balance sheet. 
Adobe, after years of transition away from PC-oriented licenses and toward a cloud-based subscription business model, appears to be one of the software industry's crown jewel assets, putting it in a position to consider acquisitions or a large merger. The company's turnaround, supported by activist fund ValueAct Capital, is in many ways also being replicated by Microsoft (MSFT) - Get Microsoft Corporation Report under new CEO Satya Nadella.
"Similar to Adobe's success with 'Creative Cloud,' we see the potential for significant migration of Exchange/Office 365 to the cloud, with pricing upside and positive implications for the way investors perceive and value Microsoft," ValueAct said when investing in Microsoft in 2013. Perhaps, as both Adobe and Microsoft continue their turnaround efforts, deals are on the horizon. 
Competitors of CBS, Yahoo! and Air Products might do well to keep their bankers on speed dial given rising confidence in each of those firm's prospects. However, restructurings may also make them the targets of M&A bids.
Some turnarounds ultimately lead to a takeover. Companies like Fortune Brands, Forest Labs and Time Warner have all been acquired or received takeover offers as their prospects improved in recent years amid the spinoff of non-core businesses and rising operating margins. eBay's Marketplace and Payments businesses may generate takeover interest once they are spun independently and each company will also likely have a war chest for acquisitions to enhance their respective businesses. 
Rackspace and Akamai, after years of speculation on consolidation, are working on strategic changes that could ultimately drive their stock multiples higher and make a takeover more acceptable to management and shareholders. 
Bottom Line: Large M&A has often laid the ground for corporate breakups. In an age of activist hedge funds and increased corporate focus on shareholder value, deal-making appears to be the increasingly logical culmination of turnarounds.
-- Written by Antoine Gara in New York