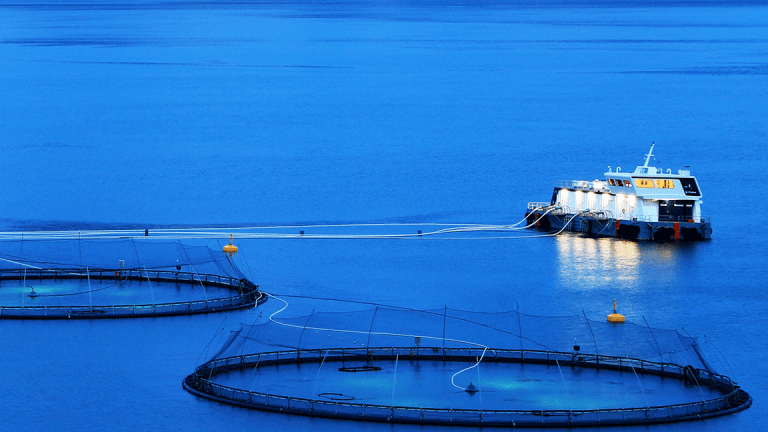 Canada's Cooke Lands Whopper With Omega Protein
The target's $500 million sale comes after two activist campaigns and a shelved auction in 2016.
After two activist campaigns and one cancelled auction, nutritional products maker Omega Protein Corp. (OME) is finally hooked. 
On Friday, Oct. 6, Canadian aquaculture company Cooke Inc. said it would pay $500 million, or $22 per share, in cash for Houston-based Omega Protein. 
The moves comes barely more than a month after hedge fund BLR Partners LP, led by activist investor Bradley Radoff, along with Joshua Schecter, disclosed jointly owning nearly 6% of Omega Protein and said they'd like to see the company sold. 
Radoff and Schecter's demands followed a long battle between Omega Protein and activist Nelson Obus of Wynnefield Capital Inc., which resulted in the company adding two insurgent nominated dissident directors to its board last year. 
Radoff and Schecter were invested in Omega Protein when Wynnefield was pressuring the company to sell, but seemingly backed down as soon as the menhaden fish oil maker announced it hired an investment bank to review strategic alternatives. 
That review concluded in May 2016, with the company opting not to pursue a sale of assets or the business—a move that may have provoked Radoff and Schecter into reengaging Omega Protein this summer as the company's stock has continued to suffer over the past year. 
In early 2016, when Omega Protein shares were trading around $17 apiece, Obus told The Deal he thought the company could receive $25 per share in a sale, or about $550 million. Omega Protein share's closed Thursday's trading session at $16.60 apiece, giving the company a market capitalization of about $373 million.
Obus' biggest criticism of Omega Protein came from the company's decision to invest $160 million in the human nutrition space, including its $71 million acquisition of Bioriginal Food & Science Corp. in Sept. 2014.
Following the shelved review last May, the activist launched a proxy battle that resulted in two dissident directors, Michael Christodolou and David Clarke, being added to Omega's board. Clarke filled an empty seat, while Christodolou replaced incumbent director Gary Ermers, who was criticized by Obus for being a "hospital executive" with no prior experience at an agricultural products company. Obus liquidated his position in Omega Protein in May, according to data compiled by FactSet Research Systems Inc.
Meanwhile, Radoff and Schecter can now add their relatively uneventful campaign launched in August to the win column. The pair are fresh off a victory at struggling Philadelphia-based staffing and IT company CDI Corp. (CDI) , which agreed in August to sell itself to AE Industrial Partners LLC for $154 million after persistent agitation by the activists who were seeking to elect six new director candidates onto the company's board.
Radoff comes from Third Point LLC, a hedge fund led by well-known activist investor Dan Loeb, while Schechter is an alum of Warren Lichtenstein's Steel Partners LP. 
To assist in their latest effort at Omega Protein, the pair engaged Antarctica Advisors LLC, a seafood industry-focused investment banking boutique headquartered in Miami, and activist-focused legal adviser Olshan Frome Wolosky LLP.
Antarctica Advisors represented Oceana Group Ltd. in May 2015 on its $382.3 million deal for Daybrook Fisheries Inc., then the second-largest U.S supplier of Omega-3-rich fish oil and fish meal. Antarctica Advisors' managing partner Ignacio Kleiman told The Deal then that Oceana's deal for Daybrook could open up the seafood sector for consolidation, with Omega Protein being among the most likely targets.
On Friday's transaction, Cooke is receiving financial advice from BMO Capital Markets, legal counsel from Kelley Drye & Warren LLP's Tim Lavender, Jane Jablons, Courtney Kleshinski and tax due diligence advice from Deloitte LLP. The buyer's in-house legal effort was handled by chief legal officer Rod Gould. 
Jones Day is serving as legal counsel to BMO. BMO also is providing committed financing to Cooke for the transaction, and Morgan, Lewis & Bockius LLP is providing legal counsel to Cooke in relation to the committed financing. K&L Gates LLP's Jorge Romero served as maritime counsel to Cooke. 
Omega Protein is receiving financial advice from JPMorgan Securities LLC, which led the company's auction process in early 2016. Vinson & Elkins LLP's Jeff Floyd, Brittany Sakowitz, Mike Marek, C.J. Murray, Key Hemyari, Jason McIntosh, Brian Russell, Curt Wimberly, Stephen Jacobson, Gina Hancock, Kristy Fields, Sean Becker, Paul Knettel, Billy Vigdor, David Smith, Evan Miller, David Wicklund, Larry Nettles, Matt Dobbins, Devika Kornbacher and Sean Hill. 
Omega Protein also received legal counsel from Holland & Hart LLP's David Garcia in regards to Nevada law and maritime counsel from Liskow & Lewis plc's Blake Bennett. The seller's in-house legal effort was led by general counsel John Held. 
Cooke, which operates a seafood division and various fish farms in Canada, the United States, Chile and Scotland, expects the deal to close in late 2017 or early 2018 pending Omega Protein shareholder approval and certain regulatory approvals. 
More of What's Trending on TheStreet:
Editors' pick: Originally published Oct. 6.