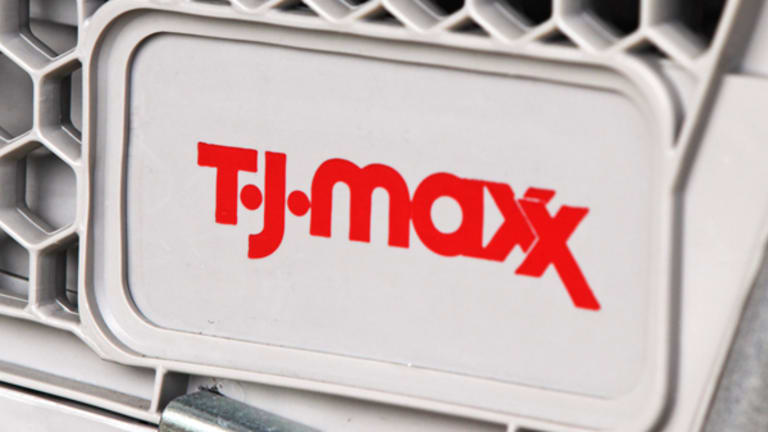 Can TJX Stay on Top as Rivals Launch New Off-Price Stores?
The parent of T.J. Maxx was already being challenged by Nordstrom's Rack, Saks' Off 5th and Neiman Marcus' Last Call. Next, it will face Macy's off-price entry, called Backstage.
This article was updated to correct the name of HRC Advisory.
NEW YORK (The Deal) -- Macy's (M) - Get Macy's Inc Report launch of its own chain of off-price discount stores under the name Backstage is but the latest entry to both mirror and challenge TJX Cos. (TJX) - Get TJX Companies Inc Report, the dominant player in the space. That fight could end badly -- for Macy's.
Framingham, Mass.-based TJX operates several chains, including T.J. Maxx, Marshalls and HomeGoods.
TJX's stock has ridden its market-leading position and growth over the years to close at $76.78 per share on Tuesday, not only near its 52-week high, but also close to its all-time high of $76.93, due to solid second-quarter results. Those results included a 6% increase in both comparable store sales and net sales, and a boost in earnings for the quarter ended Aug. 1.
The off-price retailer has reached this lofty status while its department store rivals have largely struggled in recent years. Macy's and its brethren clearly see the discount category as a growth area. But it is one in which TJX enjoys several important advantages.
The competitors include Nordstrom (JWN) - Get Nordstrom, Inc. (JWN) ReportRack, Saks' (a unit of Hudson's Bay Co.) Off 5th, and Neiman Marcus Group's Last Call. Macy's own Bloomingdale's chain introduced an outlet-style version of itself. 
Then there is TJX's chief rival, Ross Stores (ROST) - Get Ross Stores, Inc. Report, a chain of more than 1,200 off-price stores.
Even Kohl's (KSS) - Get Kohl's Corporation (KSS) Report, which has been offering price-competitive merchandise via its large private-label component, is getting in the game. The retailer is testing an off-price concept that will sell returned merchandise that is "like-new" under the banner Off-Aisle.
The increase in competition raises the question of whether TJX can continue to perform as it has in the past.
TJX's numbers in the second half this year will likely reveal if it is being affected by the intensifying competition and its long-term growth trajectory, according to UBS Securities analyst Michael Binetti.
What gives Macy's, Saks, Nordstrom and Neiman Marcus an advantage is that those retailers sell brands at full price, and therefore have some leverage with wholesalers to get them to provide merchandise for their off-price channels.
But don't expect competition from Macy's to have an impact on TJX immediately, said Antony Karabus, CEO of HRC Advisory, a retail consulting firm. Karabus said it will take a few years for Backstage to have enough locations to be a meaningful competitor to TJX.
He also noted that the slow-growth economy is creating relatively low-paying jobs. Wage stagnation continues to support demand for discounted goods, meaning the market will continue to grow, leaving enough room for TJX even alongside established rivals such as Nordstrom Rack.
TJX's biggest advantage, however, is that it can contact a label and offer to take all its unsold inventory in one swoop, Karabus explained, with the brand having the added comfort of knowing its merchandise will only appear in one discounter instead of many. That helps prevent brand dilution.
TJX has a stable of nearly 3,500 stores, so its ability to buy large amounts of surplus merchandise in largely unmatched.
In addition to buying power, TJX also has an excellent balance sheet, with about $1.9 billion in cash and roughly $1.6 billion in debt, meaning that it can access financing to make acquisitions or to buy back shares.
Industry watchers have even suggested that TJX would be capable of acquiring Macy's.
Altogether, TJX poses more of a threat to Macy's and its upstart discount chain than the other way around. Macy's is joining the race several laps behind.