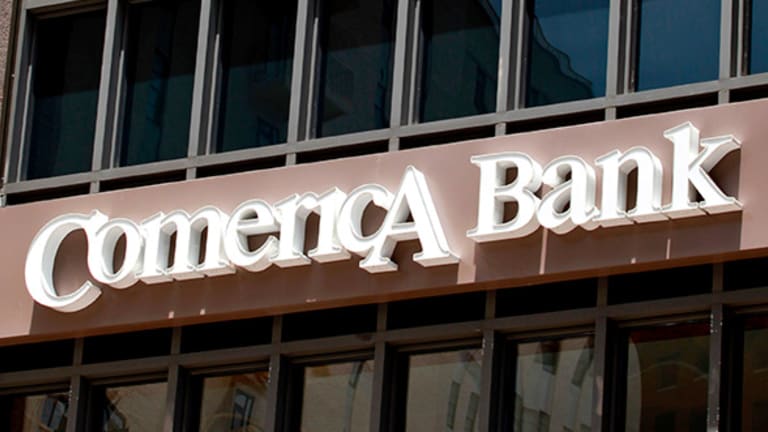 Can Hudson Executive Capital Activists Remake Comerica?
With limits on distributions, buyers in the wings and what appears to be an amenable regulatory environment, look for midsize bank Comerica to consider what its activists have to say.
Activist fund Hudson Executive Capital's campaign at Comerica (CMA) - Get Comerica Incorporated Report will be a key test of whether its unusual collaborative and CEO-backed approach to activism works.
The activist fund was formed last year by Wall Street veterans Douglas Braunstein and James Woolery. They have assembled a stable of current and former CEOs, many of whom worked at Fortune 500 companies, to advise them on their targeted companies.
On Monday, Feb. 1, Hudson Executive revealed a list of seven investments, including its accumulation of a 0.8% stake in Comerica. According to investors familiar with the situation, the activists would like to see the bank consider selling itself to another midsize regional bank as part of an effort to reduce its substantial regulatory burdens, which they believe are disproportionately large when compared to the bank's size.
However, unlike other major activists including Carl Icahn, Starboard Value's Jeff Smith or Elliot Management's Paul Singer, Hudson Executive will not consider launching a proxy contest to elect directors on its targeted boards. According to investors familiar with the fund, the activists believe the capital markets are shifting lately with previously passive institutional investors becoming more active in behind-the-scenes conversations with companies. The more influential investors, they say, coupled with shareholders like Hudson, can drive investor-friendly outcomes without resorting to hostile director-election campaigns.
Advisors to activist funds aren't so sure. Andrew Freedman, partner at Olshan Frome Wolosky in New York, suggests that Hudson Executive will likely be successful in some cases where the companies they seek to collaborate with are amenable to their involvement and adopt their ideas and strategic vision. However, he contends that the firm also will face situations where their approach will hit a wall.
"In theory and on paper it's a great idea. But when it comes down to it, if a company knows that their backs won't be up against the wall facing an election contest, then the changes may not come as quickly or at all," Freedman said. "You will find boards and management teams who are advised to go along with the collaborative recommendations, but others won't feel compelled to make any changes at all."
Already, another Hudson Executive target, CIT (CIT) - Get CIT Group Inc. Report , appears to be pushing back on a campaign the New York-based fund launched at that financial institution.
Nevertheless, analysts believe Comerica could be ripe for the kind of M&A that activists have in mind. The Dallas bank is one of a group of about 40 large banks and other financial institutions that have been designated by regulators as "Systemically Important Financial Institutions," or SIFIs, that subject it to tough capital and liquidity requirements.
One of the smallest SIFIs, Comerica is a bank that was on The Deal's watchlist for potential activism since February 2015. It has been considered a potential target for activists who have an eye on its regulatory issues. With $68 billion in assets -- not much above a $50 billion minimum required to be considered a SIFI -- Comerica finds its regulatory costs excessively large when compared to its size.
And the bank's stock price has struggled lately, partly over energy concerns. Comerica said on Jan. 19 that it has about $3.1 billion in energy-related loans as of Dec. 31, as well as about $625 million in loans in other businesses that have a "sizable" portion of their revenue related to energy.
The combination of concerns around oil-sector loans coupled with Comerica's SIFI designation, undervalued stock price and activism could make it a potential M&A target. The insurgents, investors say, believe that the Federal Reserve Board is focusing its energy on overseeing the largest six banks and would be comfortable approving the combination of two smaller SIFIs because the transaction would allow their larger size to help cover mounting regulatory costs.
Analysts agree. Brian Klock, an analyst at Keefe, Bruyette & Woods, argues that the Fed would likely be open to a SIFI-to-SIFI merger as long as the combined bank has under $500 billion in assets.
In addition, Klock argues that Comerica CEO Ralph Babb at 66 is nearing retirement age. And while Babb hasn't suggested he plans to retire, the potential for him to step aside could make Comerica a possible acquisition target.
In addition, Klock notes that Comerica faces Federal Reserve limits on its capital distribution to shareholders. And since buybacks and dividends are a major response executives employ when faced with activists, those limits could put pressure on Comerica to sell.
In addition there are a number of interested buyers, Klock said, including a handful of larger midsize SIFIs: U.S. Bancorp (USB) - Get U.S. Bancorp Report , BB&T (BBT) - Get BB&T Corporation Report , PNC Financial Services (PNC) - Get PNC Financial Services Group, Inc. Report and MUFG Americas Holding, which owns Union Bank in the U.S. These all could acquire Comerica and still stay below a $500 billion level. In addition, Canadian banks, including Royal Bank of Canada (RY) - Get Royal Bank of Canada Report and Bank of Montreal (BMO) - Get Bank of Montreal Report , could be interested.
It is likely for example, that Hudson's chief executive partners William Harrison, former CEO of JPMorgan Chase (JPM) - Get JPMorgan Chase & Co. Report , and Richard Kovacevich, former CEO of Wells Fargo (WFC) - Get Wells Fargo & Company Report , have provided strategic advice on the fund's efforts at Comerica.
"When you have top-level CEOs on your roster who have relationships with other public company executives, directors and institutional investors, it helps to drive meaningful strategic moves and traction," Freedman said.
With limits on distributions, potential buyers in the wings and what appears to be an amenable regulatory deal environment, Comerica may seriously consider what Hudson and its CEO partners have to say. But without a director election threat it's not clear Comerica will listen.