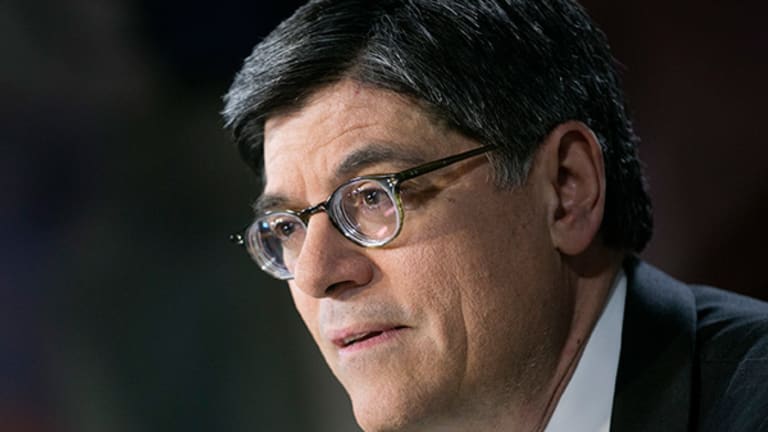 Can Allergan-Pfizer Survive Treasury's New Crackdown on Inversions?
The latest rules are seen likely to prompt a rethink of the $150 billion pharmaceuticals deal.
The Obama administration late Monday, April 4,  expanded efforts to make it more difficult for U.S. corporations to merge with foreign rivals when they seek to reduce their domestic tax bills in a move that is expected to further complicate cross-border deals, including drug companyPfizer's (PFE) $150 billion combination with Allergan (ACT) .
At issue are so-called inversions, where U.S. companies combine with foreign businesses so they can switch tax domiciles to avoid the comparatively high 35% U.S. corporate tax rate. The new measures are the third installment of administrative actions targeting inversions. They build on steps taken to clamp down on inversions issued by the Treasury Department in November and follow up on the government's efforts in 2014 to close some loopholes companies have been able to exploit.
"Today we are announcing additional actions to further rein in inversions and reduce the ability of companies to avoid taxes through earnings stripping," said Treasury Secretary Jacob Lew, in a statement. 
The latest action by the Treasury Department focuses partly on so-called "earnings stripping," a term referring to the practice of reducing taxes by the structuring of business relationships between foreign subsidiary corporations and parent domestic entities. As part of "earnings stripping," a U.S. unit reduces its tax bill by borrowing funds from its foreign parent and deducting the interest payments.
In the administrative action announced Monday, the Treasury Department said it was targeting these kinds of transactions by making it more difficult for foreign-parented corporations to load up their U.S. subsidiaries with debt following an inversion, or foreign takeover, without financing new investment in the U.S. Instead of treating a particular financial instrument as debt, the administrative action treats it as stock, a move that makes it harder to pile up debt on the U.S. subsidiary that would otherwise be subject to interest payment tax deductions.
The new regulation is intended to make it harder for cross-border deals. Of particular focus is New York-based Pfizer's cross-border merger with Allergan, which is based in Ireland. That deal was announced last year but is only expected to close later this year. The regulations apply for all mergers that close after Monday.  They also apply to debt issued between related parties that result from inversion deals, though the provisions wouldn't impact debt issued to fund actual business investment, such as a building or equipping a factory.
The announcement came after the markets closed Monday, but Allergan's stock dropped roughly 22% in afterhours trading, on the news.
The Treasury Department also targeted foreign companies that acquire multiple U.S. companies in stock-based deals. The measure seeks to prohibit these firms from using their resulting increase in size to avoid existing inversion thresholds when it comes to subsequent U.S. transactions.
David Peck, partner at Vinson & Elkins in Dallas, said he believes the new rules will chip away at inversion deals but not prevent them. "The rules labeled as earnings stripping seem to have a broad application," Peck said in an email. " While they might make it more difficult to reduce U.S. taxable income following an inversion, the application of those rules is not limited to the context of an inversion."
Another attorney who specializes in inversions said the measures looked tougher than the previous two administrative actions the Treasury Department had taken. He said attorneys were surprised by the level of restrictions that Allergan and Pfizer would face. He added that the two companies might want to re-evaluate their combination in light of the move.

Pfizer and Allergan said late on Monday they are conducting a review of the actions and wouldn't speculate on any potential impact.
However, dealmakers and tax attorneys shouldn't have been surprised by the move. Lew said in November the Treasury Department was exploring the potential for guidance on earnings stripping.
Nevertheless, Lew acknowledged that all of the Obama administration's actions to limit inversions will not have the impact of stopping these kinds of deal outright. "This will have an important effect, but we cannot stop these transactions without new legislation. I urge Congress to move forward with anti-inversion legislation this year," he said.
The move was greeted by Democrats in Congress, as expected, as a positive step, while Republicans were opposed. Rep. Rosa DeLauro, D-Conn., said it was a "welcomed step" and that the move follows her call last year to employ the Internal Revenue Code to curb earnings stripping. 
DeLauro sent a letter to Lew in September arguing that one particular Internal Revenue Service statute gave the Treasury Department broad authority to curb earnings stripping. The measure, she noted, "does just that."
However, House Ways and Means Chairman Kevin Brady, R-Texas, said in a statement the measures were "punitive," which will make it "even harder for American companies to compete and will further discourage businesses from locating and investing in the U.S." 
DeLauro urged the Treasury to annually publish a list of inverted corporations. The agency, however, according to a letter obtained by The Deal, said it couldn't do so, because it is "prohibited from sharing taxpayer-specific information."
She added that Congress should follow the Treasury Department's lead by passing a bill she is spearheading that would prohibit U.S. federal contracts after inversions. DeLauro and a group of Democrats are seeking support for the "No Federal Contracts for Corporate Deserters Act," which would bar federal contracts to businesses that acquire companies overseas, but still are majority-owned by shareholders of the old U.S. corporation. The legislation may have contributed to Walgreen's move to drop its plan to set up an inversion structure for its 2014 deal to acquire European peer Alliance Boots GmBH.