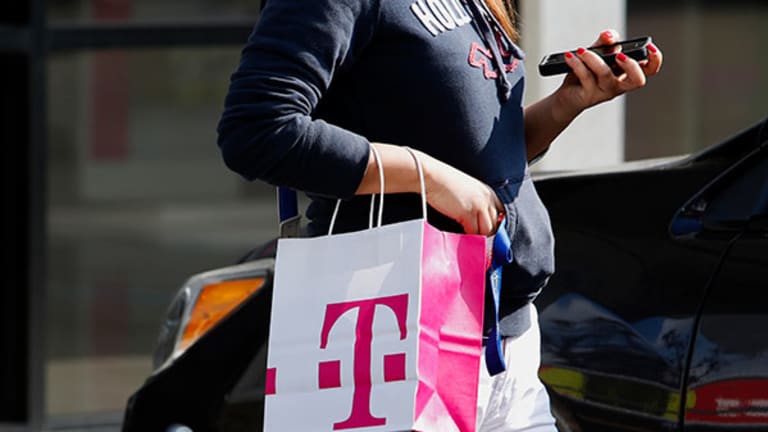 Iliad's Fairytale Bid for T-Mobile at Least $10 Billion Light
Iliad can't pay for T-Mobile. The WSJ should have asked.
Updated from 12:50 p.m. ET to include analyst comments, closing share prices.
NEW YORK (TheStreet) -- The Wall Street Journal has a great scoop on French telecom Iliad's bid to buy U.S. carrier T-Mobile (TMUS) - Get T-Mobile US, Inc. Report. The only problem is they don't know how the company would pay for what would likely be about a $25 billion takeover.
Now we know, Iliad confirmed its bid on Thursday and said it would offer $15 billion in cash for 56.6% of T-Mobile at $33 a share and would pay for the remaining 43.4% of T-Mobile at $40.50 a share on the basis of $10 billion in synergies, leading to an overall share price of $36.20 a share.
Where to start? 
First off, that cash component isn't coming from Iliad's coffers. The company plans to finance its $15 billion cash bid with debt and equity.  Iliad CEO Xavier Niel expects to participate in a 2 billion euro equity offering, with the remainder of the $15 billion cash component financed with debt raised by unspecified "international banks." That's pretty much all Iliad is offering.
The rest of the deal comes in the form of a $10 billion offer of $40.5 in synergy per share for 43.4% of T-Mobile's stock. Put another way, Iliad is offering $0 in cash or stock for 43.4% of T-Mobile, and promising synergy of nearly all of T-Mobile's 2013 operating expense.
Ultimately, Iliad is seeking a controlling stake in T-Mobile without paying a premium. It is then offering an extremely high projection of synergy, especially given that the company acknowledged there is limited overlap between the two telecoms. Perhaps those are revenue synergies and not operating synergies?
Does This Drive Sprint Offer?
S&P Capital IQ analyst Angelo Zino said in a Thursday telephone interview he believes Sprint S will eventually make a bid for T-Mobile, something which may be seen as a better bid for shareholders. "I think Sprint needs T-Mobile," Zino said.
While Zino characterized Iliad's proposal as "a real offer" he questioned the company's forecasts of synergies, in addition to T-Mobile's interest in a $15 billion cash bid for 56% of the company. 
Perhaps, Iliad's emergence will force the hand of Sprint and its owner, SoftBank.
By the Numbers
Iliad's offer, which in many ways relies on pro-forma assumptions of both financing and synergy, appears to reflect that the company may be too small to handle T-Mobile.
T-Mobile's balance sheet is roughly 10 times the size of Iliad's; its customer base is nearly five times larger and its market capitalization is about double the French telecom. Iliad had 3.7 billion euros ($4.95 million) in 2013 revenue and 1.2 billion euros in EBITDA on 14.3 million total subscribers, split between landline and wireless. It's balance sheet contains 4.7 billion euros in assets and just 1.3 billion euros in liabilities.
By contrast, T-Mobile earned $7.1 billion in revenue in the first quarter alone and adjusted EBITDA of $1.45 billion. T-Mobile's customer base now stands at over 50 million total wireless customers. Its balance sheet contains $51 billion in assets and nearly $37 billion in liabilities, including over $14 billion in long-term debt.
Perhaps Iliad can lever up a little, but, its hard to see such a small company raising more than a few billion dollars. T-Mobile would then have to decide that it Iliad can realize synergy amounting to over 43% of its market value. It is hard to understand the form in which Iliad is offering its synergy, however, ultimately the company is a down-market French telecom that operates in challenged regions like Greece and Tunisia.
Even if T-Mobile stockholders owned a significant portion of Iliad, that doesn't seem like a great trade-off. T-Mobile operates in a better market, the U.S., and the company is the fastest-growing and most competitively priced carrier of high-end smartphones.
T-Mobile declined a request for comment for this story. T-Mobile shares gained over 6% on Thursday to $32.94, while Sprint shares fell over 5% to $7.37.
-- Written by Antoine Gara in New York