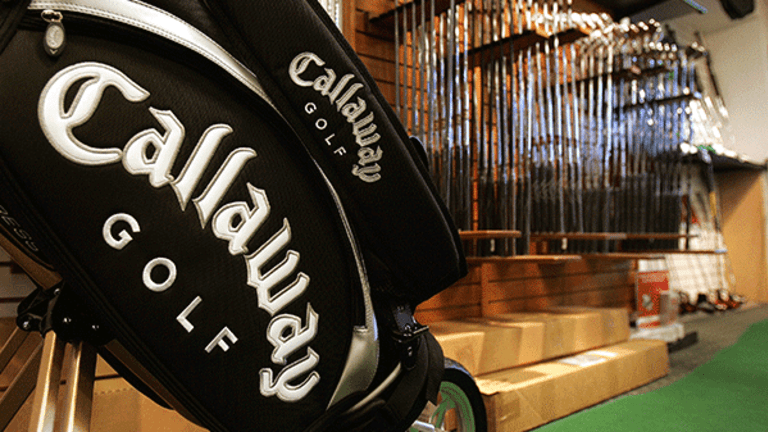 Why Callaway Golf Could Take a Swing at Even More Acquisitions
The company is on the prowl.
Following its acquisition of Ogio International, Callaway Golf (ELY) - Get Callaway Golf Company Report is expected to eye more deals as the golf equipment sector continues to adjust to the sport's waning popularity.
"During the past two years they have discussed looking for acquisitions that are tangentially related to their core golf business," he said by phone, pointing to Callaway's Aug. 29 purchase of Toulon Design, "a very small company that gave them a new niche in the putter category," for undisclosed terms. "This acquisition is a continuation of that strategy of looking at those kinds of businesses."
Callaway announced late Jan. 11 that it has acquired the Draper, Utah-based bagmaker for $75.5 million in cash. The target is expected to generate 2017 revenues of about $45 million and Ebitda of $10 million after the companies realize "the majority of operational synergies," which is expected within two years, Callaway said in a statement. The Carlsbad, Calif.-based buyer also expects "significant value from potential tax benefits."
Golf is a tough business, with both Nike (NKE) - Get NIKE, Inc. (NKE) Report and Adidas announcing in recent years that they would exit their golf equipment lines. Raymond James Financial analyst Dan Wewer attributed Callaway's decision to acquire Ogio to a desire to expand into ancillary categories, noting that Ogio sells bags for several leisure activities besides golf.
The acquisition provides Callaway with "a platform for future growth in the lifestyle category," the company said in a statement. CEO Chip Brewer highlighted "significant overlap in our supply chains and go-to-market strategies, which should allow us to add value and create profitable growth."
"We think the OGIO acquisition is a logical fit for ELY, as it diversifies the company's revenue streams and allows the company to expand into tangential categories," Jefferies LLC analyst Randal Konik wrote on Thursday. "Much like ELY, we also view OGIO as a leader in its respective space, with strong brand recognition, loyalty, and a reputation for best-in-class product. The company also pointed to significant overlap in supply chain and go-to-market strategies, which should allow for both top-line and back-end synergies to be realized."
Callaway's acquisitions in the past year, Konik added, "further puts in context the decision" Callaway announced on Feb. 22 to sell about 10% of its stake in Topgolf International in conjunction with Topgolf's new investment from Providence Equity Partners. Following the investment and stake sale, Callaway held a 14.8% stake in Topgolf, recognizing a gain of just under $20 million.
Nike, which sponsored Tiger Woods and Rory McIllroy, said in August that it would stop making golf equipment in order to focus on golf apparel and footwear. Nike Golf generated 2016 revenues of $706 million.
Germany's Adidas retained Guggenheim Partners in 2015 to explore strategic options for its golf business and announced on May 4 that it would sell its TaylorMade, Adams and Ashworth golf brands. Like Nike, Adidas will keep its branded golf apparel and footwear business. In 2015, the combined TaylorMade-Adidas Golf generated revenue of €902 million ($954 million).
While Nike and Adidas are exiting the golf equipment space, private equity-backed Titleist maker Acushnet Holdings went public in October at $17 per share, below the expected $21 to $24 per share. Acushnet shares fell 2.2%, to $19.16, in midday trading Thursday.
TaylorMade has a No. 1 market share but that's not the type of acquisition that Callaway is looking for--they've publicly stated that those types of major acquisitions in the golf industry have historically ended badly," Wewer said.
Like Nike, Callaway also has a presence in golf apparel, albeit a smaller one. On July 1, it launched a joint venture (of which it owns 52%) with its licensee, Japanese apparel manufacturer TSI Groove & Sports. TSI will manufacture and sell Callaway-branded apparel in Japan, continuing a Japanese apparel partnership that began in 2002.
"US is still over-coursed with further supply reductions likely and rounds played have bottomed but aren't growing materially," Deutsche Bank Securities analyst Bill Schmitz wrote in a Nov. 22 note initiating coverage on Acushnet. "Moreover, millennials don't have the time or money (yet) to embrace the game and the sport lacks a dominant, iconic player (like Tiger Woods) to spur consumption."
Schmitz found that golf courses grew 40% from 1986 to 2006 but fell 6% from 2006 to 2015, "roughly tracking trends in golf participation." The average golfer, he wrote, is a 43-year-old man with an annual household income of $96,000.
In his latest Callaway note, Konik said that golf rounds played have risen 1% year-to-date, creating "an improving picture unfolding for golf (the sport) and golf equipment manufacturers."
Callaway said it financed the transaction with cash on hand and existing asset-backed credit facilities.
Callaway shares fell 0.3%, to $11.24, in midday trading Thursday.
Callaway took financial advice from Lazard and retained Latham & Watkins as its outside counsel. Robert W. Baird & Co. acted as financial adviser to Ogio, which tapped Snell & Wilmer for legal advice.
Callaway also used Lazard and Latham & Watkins when it acquired Top-Flite Golf in 2003 for $175 million.
Callaway and Ogio representatives could not be reached for comment.
Action Alerts PLUS, which Cramer co-manages as a charitable trust, has no positions in the stocks mentioned.