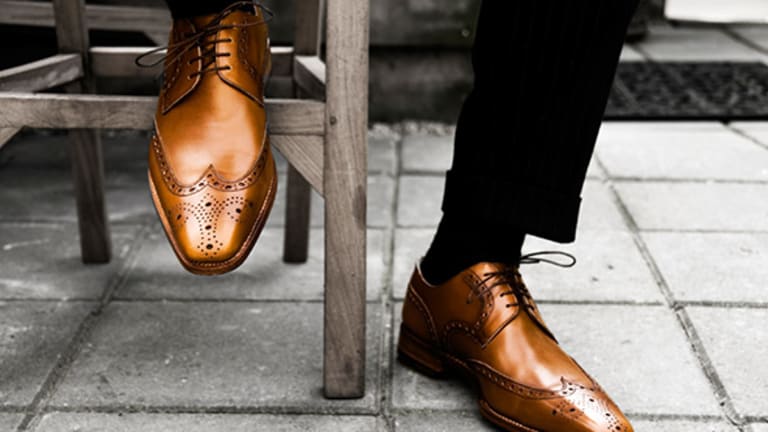 Caleres Acquires Allen Edmonds, May Now Rule Men's Footwear
Shoe company Caleres paid $255 million for venerable American menswear brand Allen Edmonds.
Shoe company Caleres (CAL) - Get Free Report announced late Tuesday that it acquired Allen Edmonds from Brentwood Associates for $255 million.
Caleres, which was known as Brown Shoe Co. until last year, said it would describe the acquisition in greater detail in its fourth quarter earnings conference call.
Founded in 1922, Allen Edmonds is a men's shoes specialist. Presidents Ronald Reagan, George H.W. Bush, Bill Clinton and George W. Bush all wore Allen Edmonds shoes at their respective inaugurations.
Brentwood acquired Allen Edmonds in November 2013 for a reported $180 million from Minneapolis private equity firm Goldner Hawn Johnson & Morrison.
Brentwood said in a statement that while it owned Allen Edmonds, the Port Washington, Wisc.-based company increased its store count to 70 from 45 and grew its ecommerce business 20% per year.
Prior owner Goldner Hawn acquired a majority stake in Allen Edmonds in 2006, and business development company Gladstone Capital (GLAD) - Get Free Report invested an additional $19.5 million in December 2012 through a loan purchase from one of the company's existing lenders.
"By the time of the financial crisis of 2008, the company had lost major market share and roughly 30% of its 2006 revenue, and it was unable to pay the interest on its LBO debt," CEO Paul Grangaard told Forbes last year. "The short story is that as one of the last remaining U.S. manufacturers of high quality, handcrafted shoes, the company tried too hard to look European and failed at it."
"We are enthusiastic about the transaction's implications for CAL," Jefferies analyst Randal Konik wrote in a note. "We believe the acquisition of Allen Edmonds will strengthen its Brand Portfolio (currently 164 stores and $264M in revenues), specifically in the men's footwear category, with gained knowledge and expertise. Further, we believe Caleres will be able to leverage its experience with George Brown Bilt, Vice, and Dr. Scholl's Shoes to aid in brand development, materials sourcing, product development, and design capabilities for Allen Edmonds."
Similarly, Susquehanna Financial's Sam Poser expects that St. Louis-based Caleres will grow the brand by "expanding the Allen Edmonds' casual footwear offerings and expanding distribution beyond the U.S.," while, in turn, "the Allen Edmonds brand will provide a solid base for Caleres' men's business."
Caleres said in the statement that it is funding the acquisition with existing cash and a revolving credit facility. Konik noted that as of its third quarter of fiscal year 2016, which ended Oct. 31, Caleres had $173 million in cash and equivalents and $531 million in total borrowing availability under the revolving credit line.
Caleres stock rose 2.5% to $35.93 in midday trading Wednesday.
Caleres and Brentwood did not respond to requests for comment.