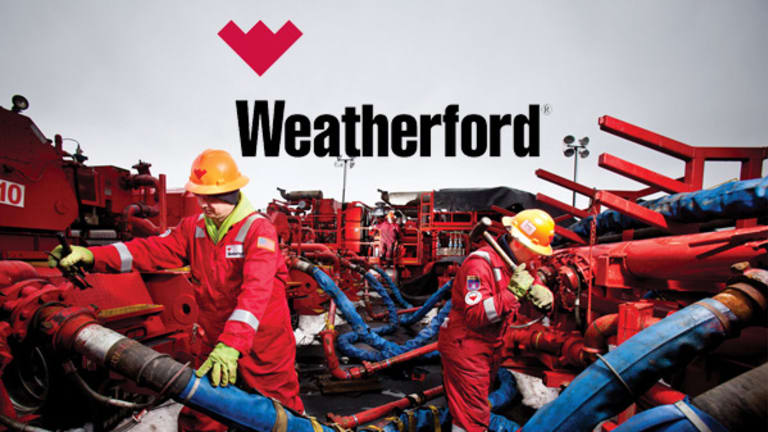 Publish date:
Buying Weatherford Isn't Halliburton's Best Move
The chatter surrounding Halliburton CFO Mark McCollum's appointment as chief executive of Weatherford does not mean a deal between the two companies is imminent—not by a long shot.
The chatter surrounding Halliburton CFO Mark McCollum's appointment as chief executive of Weatherford does not mean a deal between the two companies is imminent—not by a long shot.
Following the announced appointment of Halliburton's (HAL) - Get Report CFO Mark McCollum to the post of CEO at Weatherford International (WFT) - Get Report , it's no surprise that at least one analyst is speculating an often talked about merger between the two companies could be on the horizon. But that speculation seems off the mark.
To be sure, Halliburton can't sit idly by forever while its competitors make strategic moves to diversify and bulk operations.
A recently announced tie-up with General Electric's  (GE) - Get Report oil and gas unit will see Baker Hughes (BHI) leapfrog Halliburton as the world's second-largest oilfield services provider. And industry front-runner Schlumberger (SLB) - Get Report has not let off the gas during this downturn, quietly executing one bolt-on transaction after another in an effort to dive head first into the deepwater drilling industry. 
But a move to acquire Weatherford, while admittedly plausible down the road, is likely a far way off at best for the Houston-based oilfield services behemoth, given the potential target still hasn't truly proven it's a turnaround story, and Halliburton isn't exactly swimming in cash at the moment or in need of a surplus of idled hydraulic fracturing equipment. 
Moreover, there may be better options lurking abroad for Halliburton, as well as closer to home. 
Nevertheless, when Weatherford said on March 6 that Mark McCollum would step down as CFO at Houston-based Halliburton and take over as Weatherford's CEO in late April and grab a seat on the company's board, Weatherford's shares were sent skyrocketing more than 12 percent during the trading day.
There's no doubt from the post-announcement stock reaction that McCollum is well regarded on Wall Street for his term at Halliburton.
"McCollum brings his 'Big Two' experience to the transitioning company along with a blueprint to remake the culture in the mold of the more successful peer, Seaport Global Securities analysts said in a March 7 research note. "At the same time, this will be a new challenge for McCollum (which we believe he is up to) as he has become accustomed to the role of representing a dominant leader without the adversity that he will need to overcome at WFT."
Megamerger speculation also could have played a role in the run up, however. 
"We believe the appointment of Mr. McCollum increases the likelihood that Halliburton will acquire Weatherford down the road," Gabelli's Simon Wang said in a research note following the company's announcement. "We always believe that Halliburton is the most logical acquirer as Weatherford's portfolio of products fit Halliburton's strategy of mature fields, deepwater and unconventionals."
But while a deal between these two oilfield services giants might indeed pair Halliburton's market leadership in pressure pumping, drill bits, wireline services and completion services with Weatherford's strong market position in well construction, tubular running services and artificial lifts, as Wang argues, there are certainly deals for Halliburton that make more sense in this downturn than another multi-billion dollar merger among industry majors. 
After all, Halliburton is still working to recover from the $3.5 billion breakup fee associated with its botched deal with peer Baker Hughes. Arguably, with total debt of $12.4 billion at year-end 2016—a leverage ratio of 6 times trailing 12-month Ebitda—the company should be considering asset sales of its own, not adding on to its debt pile or diluting its shares.
The cycle has still not fully turned around for oilfield service providers, either, with some industry followers calling for a flat year in 2017. Halliburton reported a full-year net loss of nearly $6 billion in 2016, slashing its cash and cash equivalents from over $10 billion to about $4 billion. Another year like 2016 could theoretically break the bank. 
Editor's note: This article was originally published by The Deal, a sister publication of TheStreet that offers sophisticated insight and analysis on all types of deals, from inception to integration. Click here for a free trial.
Editors' pick: Originally published March 21.
And while a deal with Weatherford would likely be less of a sticking point for regulators than a deal with Baker Hughes—a company with a market valuation that's nearly 5 times that of Weatherford—a transaction could still face some scrutiny if a pending deal between Baker Hughes and General Electric goes through, effectively taking one major competitor off the market.
Weatherford was after all once a referred to as a "Big Four" oilfield services company before the onset of the commodity downturn and its suffocating debt load sent the company's stock plummeting from north of $22 per share to below $4 per share. 
Some would argue a more likely scenario would be for Halliburton to acquire the U.S. hydraulic fracturing unit Weatherford is said to be shopping. 
But many analysts, including those at Seaport, noted it might behoove Weatherford's new chief executive to take that asset off the block altogether so that the company doesn't completely abandon any hopes of competing with the likes of Halliburton. 
And it's debatable how strategic a move Weatherford's fracking unit would be for Halliburton, as it might prove cheaper to build a new fleet of the company's Q-10 pumps than it would be to buy a fleet of older, idled equipment from Weatherford and upgrade it to the Q-10 standard. The company has said its Q-10 pumps require 30-40% less maintenance costs and have a longer useful life.
All-told, it seems Weatherford needs a deal with Halliburton more than Halliburton needs a deal with Weatherford. 
Meanwhile, there are other more sensible transactions out there that could fill strategic gaps in the portfolio for Halliburton. For example, Halliburton could choose to pick up a unit that would allow it to break into the North Sea like Aker Solutions ASA, a Norwegian oil services company based in Oslo. 
Norwegian financial daily Finansavisen last week reported that Halliburton was close to signing a deal to buy Aker Solutions or its key deepwater unit, though neither company has confirmed a deal is in the works. 
Such a move would help diversify Halliburton's offerings away from its predominant North American land exposure, where it is widely viewed as the market leader. 
Halliburton also has mentioned bulking it's presence in production chemicals and artificial lifts. 
If it's serious about chemicals expansion, Halliburton need look no further than its very own hometown, where one potential target in the production chemicals space resides: Flotek Industries (FTK) - Get Report . 
Halliburton, as a major customer of Flotek, is already familiar with the company's product offerings. And Flotek may never be more of an attractive target now that its shares have taken a 20% beating over the past 6 months since activist investors have called into question the effectiveness of its products. 
Either deal would fill some gaps, but more importantly, both would make more sense from a financial standpoint at this point in the cycle than a deal for Weatherford, which would likely cost Halliburton north of $10 billion, when accounting for the likely assumption of Weatherford's debt.