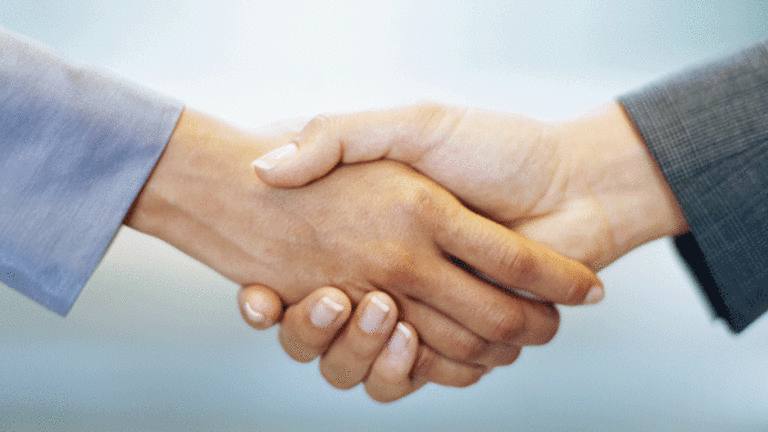 Burger King in Talks to Buy Tim Hortons
Burger King Worldwide said it is in talks to acquire Canadian coffee and doughnut chain Tim Hortons.
NEW YORK (The Deal) -- Burger King Worldwide (BKW)  said Sunday it was in talks to acquire Canadian coffee and doughnut chain Tim Hortons (THI) , in a deal that would relocate the buyer north of the border, into a lower rate of taxation.
Burger Kind and Tim Hortons both declined to comment on the talks, first reported late Sunday by the Wall Street Journal, but they did release a joint statement confirming the discussions.
3G Capital, a Brazilian private equity firm that took Burger King private in 2010, and currently owns a 70% stake, will continue to retain a majority stake should the deal be completed. A merged Burger King-Tim Hortons would encompass more than 18,000 locations in more than 110 nations, generating $22 billion in revenue annually. The combined entity would also be the third-largest quick service restaurant in the world.

The Deal's Jon Marino and Sarah Pringle talk Burger King in Monday's Merger Talk:

WATCH: More market update videos on TheStreet TV
The merger talks have proved immediately accretive for both companies. Going into Monday's market open, shares of both companies were up more than 10 percent and moved even higher once the market opened.
Burger King shares traded up 15.5%, to $31.31 on Monday morning. Tim Hortons shares traded up 19.5%, to $75.10.
While Hortons stock rose on expectations of a premium payout, Burger King shares also rose on the expectations that its buying the Canadian coffee leader would reduce its tax rate. An inversion deal, similar to those being pursued in the pharmaceutical industry, would reduce its tax rate by more than 9%, compared to what the company pays now. The U.S. corporate tax rate is 40%; the Canadian regulations tax at a rate of 26.5%, according to KPMG LLP.
One of the things that could impact the transaction is an attempt by U.S. lawmakers to dissuade so-called inversion tax deals via new legislation, but there are no laws currently in place yet to disrupt these inversions. Already, drugstore Walgreen (WAG)  opted to not do an inversion deal, despite striking an agreement to buy Alliance Boots GmbH, a transaction that would have enabled the company to move out of the U.S. to a more friendly rate of taxation.
AbbVie Inc.'s $54 billion agreement to buy Shire plc and Medtronic Inc.'s proposed $43 billion tie-up with Covidien plc, which like Shire is based in the tax haven of Ireland, are among the largest so-called inversion deals announced this year.
But, according to industry analysts, Burger King isn't just looking to buy its way into a tax discount with the Tim Hortons talks. The breakfast segment of fast-food chains' menus has for the most part been valuable to their top line as of late, thanks to consumers' growing need for a quick meal to begin the day.
Industry figures show that the $27.4 billion last year spent on fast food breakfasts represent an increase of about 5% from the prior year. Burger King has lagged behind leading industry titan, McDonald's Corp., which has been a top-line leader selling coffee and breakfast sandwiches for years. The company, which generated more than $27 billion in sales in 2013, drew $10 billion in revenue the prior year through its breakfast menu alone.
Thanks to Tim Hortons being a market leader in Canada, particularly in the coffee segment of the breakfast market, the deal also has the potential to reverse Burger King's struggles in this segment, where new competitors have emerged.
Tim Hortons is named for its founder, a former Toronto Maple Leafs player in the National Hockey League.
While the inversion angle of the deal is compelling, the restaurant industry itself has seen a substantial amount of M&A this year, by corporates and strategic alike. Private equity firms have been eager to get deals done in the middle market, including transactions this year for TGI Friday Inc., Darden Restaurants Inc.'s Red Lobster and On the Border Mexican Grill and Cantina, among others by LBO shops.
Burger King itself returned to the stock market in April 2012, less than two years after 3G Capital took the chain private for $4 billion. 3G Capital sold a 29% stake in Burger King to acquisition vehicle Justice Holdings Ltd. for $1.4 billion as part of the deal. The transaction valued Burger King at about $8 billion and gave it a New York Stock Exchange listing.