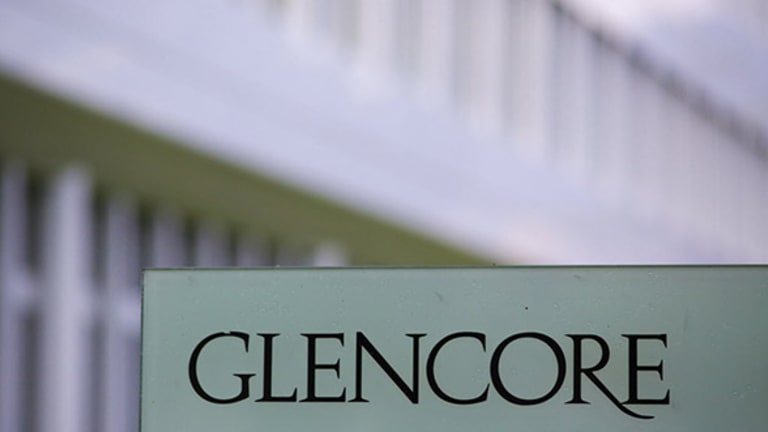 Bunge Says There Are No Talks with Suitor Glencore
Shares in the grain trader are likely to open lower after it played down the prospects of a deal following an approach from the Swiss mining and trading group.
NYSE-listed grain trader Bunge (BG) - Get Bunge Limited Report said it is not in talks with Glencore (GLNCY) after the Swiss commodities trader and mining company on Tuesday lit a fire under Bunge's stock by revealing that it had made an informal approach for the business.
"Bunge...is not engaged in business combination discussions with Glencore Agriculture or Glencore plc," said the White Plains, NY-based group. "Bunge is committed to continuing to execute its global agri-foods strategy and pursuing opportunities for driving growth and value creation."
Bunge shares leaped 16.6% on Tuesday to close at $81.70 after the Wall Street Journal revealed the approach from Glencore. Glencore later confirmed its interest in "a possible consensual combination" with Bunge. Glencore gave no details of its approach and warned that a deal may not eventuate.
Bunge's apparent reluctance to pursue a tie-up had a sobering effect on its stock, which fell 4.7% to $77.85 in after hours trading. Bunge has a market capitalization of $11.53 billion based on the group's closing price on Tuesday.
Glencore's approach lines up with a statement made by its largest shareholder and CEO Ivan Glasenberg, who in February said he wanted to grow the groups agricultural trading operations in the US where he felt that Glencore was underrepresented.
"Strategically, an acquisition of Bunge would provide Glencore with a strong footing in the US agricultural market (Bunge is among the biggest grain trading companies; active in the flow of crops from farmer's fields to food plants and livestock operations)," Goldman Sachs analysts including Eugene King noted on Wednesday.
A bid for Bunge would mark a return to big-ticket deal making for Glencore following a spate of asset sales designed to strengthen a balance sheet that as recently as 2015 had risked being overwhelmed by debts. Amongst those disposals was the sale of a 49% stake in Glencore Agricultural Products to two Canadian pension funds for a total $3.1 billion in 2016.
Glencore's interest in Bunge will stoke simmering expectations of a spate of looming consolidation amongst grain traders. Bunge's CEO Soren Schroder said earlier this month that his sector was ripe for deal making and that he did not intend to sit on the sidelines.
Grain traders have struggled in recent years as margins have shrunk as bumper crops led to oversupply and declining prices. Prior to Tuesday's spike in its share price, Bunge shares had added just 8% over the past year, while its listed rival Archer Daniels Midland Co. (ADM) - Get Archer-Daniels-Midland Company Report had remained unmoved over the past 12 months, before closing Tuesday almost 4% higher at $43.04.