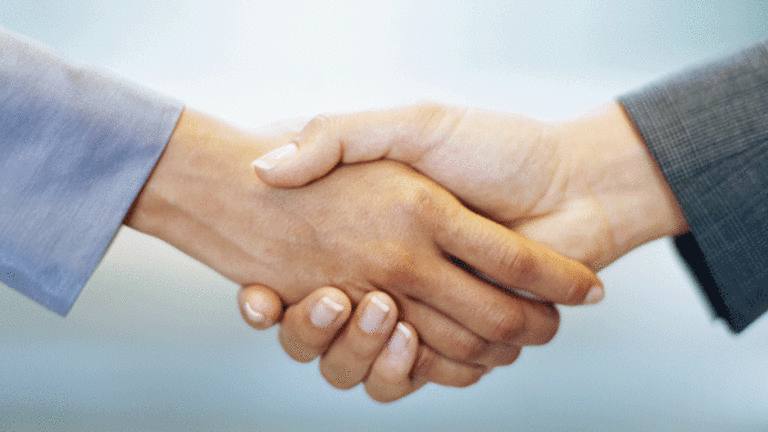 Buffett's Solar Play Signals Green Light for Investors (Update 1)
Buffett watchers shouldn't be surprised by Berkshire-owned MidAmerican's solar energy push.
Story updated to reflect analyst ratings and 2012 estimates in seventh paragraph.
NEW YORK (
) -
-owned MidAmerican Energy is making a big bet on the solar industry by buying a $2 billion project called Topaz from
First Solar
(FSLR) - Get First Solar, Inc. Report
, signaling that the legendary investor is becoming increasingly green minded and bullish on the sector.
Other solar energy stocks are benefiting from the news. Shares of
SunPower
( SPWRA),
Suntech
(STP)
and
Canadian Solar
(CSIQ) - Get Canadian Solar Inc. Report
, among other global solar players saw shares rise sharply, as the deal shows support for a sector that has suffered from a wave of bankruptcies like government-supported
Solyndra
and
Evergreen Solar
, a former
Nasdaq
member, among others.
The project, one of the largest photovoltaic solar energy developments in the world, will be integrated into
Berkshire Hathaway's
MidAmerican energy business, according to a release announcing the deal that didn't indicate a purchase price. For Buffett's mix of businesses, which began with an insurance focus, the move isn't so surprising.
"It's a twenty five year annuity, perfect for an insurance company," says Aaron Chew a solar analyst at the Maxim Group about the Topaz project that MidAmerican is buying, regardless of whether Buffett was personally involved in the investment decision. That's because MidAmerican can expect a steady stream of income from solar panels and distribution contracts, which have multi-decade lives and require little maintenance.
MidAmerican is buying a $2 billion thin-film photovoltaic solar energy development, which currently has a 25-year power contract with
Pacific Gas and Electric
, one of California's largest energy providers. The energy distribution contract, which will help Californians meet a mandate to receive a third of their energy from renewable sources by 2020, was signed prior to a collapse in energy prices and will give MidAmerican solar returns above current market prices, according to Chew of Maxim Group. "Whatever way you look at this, it is a positive for First Solar," adds Chew.
First Solar shares rallied nearly 11% in early trading, but gains eased in afternoon trading to 7%, or $49.35 a share. The rally is stemming an over 60% plummet in its stock price year-to-date. First Solar, the largest U.S. solar company and other members of the 17-member
Bloomberg Industry Global Leaders Large Solar Energy Index
have been hit by a fall in solar panel prices and uncertainty over government loan guarantees for plant development.
On news of MidAmerican's investment, none of the 44 analysts polled by
Bloomberg
changed their ratings or price targets on First Solar. Currently, analysts expect that First Solar will earn $7.44 a share on revenue of just over $4 billion in 2012, warranting a $63 a share value, according to
Bloomberg
data. It also shows that the company gets a "Buy" rating from 17 analysts, while 27 recommend either a "Hold" or "Sell."
MidAmerican's buy comes at an opportune time for both First Solar as a seller and for Berkshire as an investor. After failing to get a $1.9 billion loan guarantee from the U.S. government to develop Topaz in September, First Solar shares were halved to prices as low as $40 a share, the lowest for the company since just after its 2006 initial public offering. Investor's biggest short-term fear was that the company would have trouble funding the Topaz project, which is expected to generate 550-megawatts of solar energy and broke ground in November.
In late-September, the Department of Energy approved nearly $6 billion in loan guarantees to projects run by SunPower,
SolarReserve
and
Sempra Energy
(SRE) - Get Sempra Energy Report
. According to its Web site, the DOE has provided $40 billion in loan guarantees to support over 40 clean energy projects across the U.S.
First Solar is also developing the Desert Sunlight and Agua Caliente solar projects, even as the outlook for the solar industry darkens. The company will continue to build Topaz for MidAmerican and provide maintenance for the plant once completed, according to a press release.
When Topaz is complete in early 2015, it will displace 377,000 metric tons of carbon emissions, or the equivalent of 73,000 vehicles, said First Solar in a press release -- and will provide energy to 160,000 California homes. Because of uncertainty over the costs to build Topaz, First Solar management said it was in "advanced talks regarding the sale and financing" after failing to get government loan guarantees for its development. That buyer turned out to be Berkshire -owned MidAmerican Energy.
Calling the move a classic Buffett strategy, David A. Rolfe chief investment officer of Wedgewood Partners, a Berkshire investor, said of the deal that MidAmerican is, "swoop
ing in to buy "distressed assets" when few others can afford them."
For MidAmerican, the move into solar energy isn't so surprising. Currently MidAmerican, natural gas and electricity powerhouse, is the largest wind energy provider in the U.S. with a dozen wind farms that generate over 1.5 gigawatts of power, according to
Bloomberg New Energy Finance
estimates. The energy unit of Berkshire, which generates over $11 billion in annual revenue, is looking at alternative energy as a way to bolster revenue and profits, which are below 2007 levels.
"Adding solar energy to our generation portfolio is a strategic move to invest in yet another renewable energy source," said Greg Abel, Chief Executive of MidAmerican in a statement.
In the Solyndra bankruptcy, the taxpayers are expected to recoup little of its $535 million loan, causing Congress to question the viability of President Barack Obama's strategy to finance the development of alternative energy sources and jobs through federal government investment programs.
"This project also demonstrates that solar energy is a commercially viable technology without the support of governmental loan guarantees and reflects the type of solar and other renewable generation that MidAmerican will continue to seek to add to its unregulated portfolio," said MidAmerican's Abel of the deal.
"MidAmerican's investment institutionalizes the idea of buying solar as an investment," said Chew of the Maxim Group. For Buffett, who has also seen giant investment returns from a $231 million investment in Chinese battery company
BYD
in 2008, the Topaz project may be similar to other Buffett deals like preferred share investments in
Goldman Sachs
(GS) - Get Goldman Sachs Group, Inc. (GS) Report
and
General Electric
(GE) - Get General Electric Company (GE) Report
during the financial crisis because he may be locking in above market returns, according to Chew.
-- Written by Antoine Gara in New York