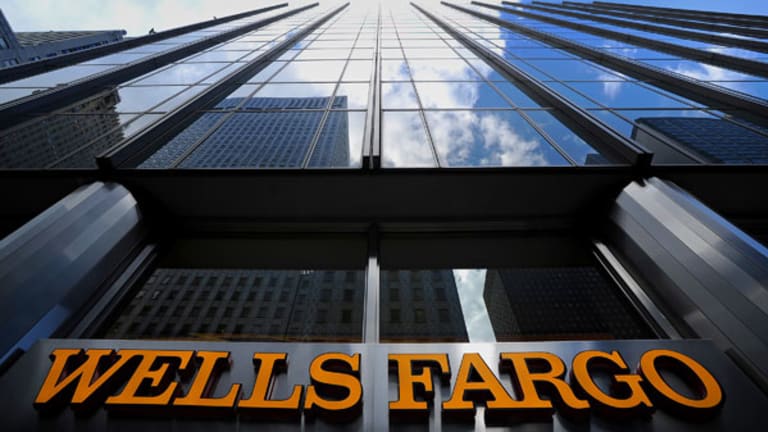 Buffett's Buyout Business Is a Risk for Wells Fargo (Update 1)
The San Francisco lender can boost its profits with Wall Street work -- but at a price.
Updated to include Wells Fargo comments
NEW YORK (
) --
Wells Fargo
(WFC) - Get Free Report
when it won a key advisory and financing mandate on
Berkshire Hathaway
(BRK.A) - Get Free Report
and
3G Capital's
of ketchup maker
Heinz
(HNZ)
.
While Wells Fargo's advisory work on the buyout and a key role in underwriting the $14.1 billion in debt needed to finance the deal could indicate the benefits of having Berkshire and its head, Warren Buffett, as a top shareholder, it also creates new risks, according to ratings agency
Moody's
.
Moody's on Monday said Wells Fargo's role in the takeover of Heinz indicates the increasing presence of the nation's top mortgage lender in risky Wall Street activities such as leveraged buyout financing and debt trading. Such a move, Moody's says, could boost Wells Fargo's risk profile and put its sterling A2 credit rating in jeopardy.
"The financing is credit negative because it highlights Wells Fargo's primary capital market capabilities, which are lucrative but can lead to riskier activities," Peter Tischler, a Moody's senior vice president, said in the note.
"The Heinz credit commitment plays to Wells Fargo's strengths. However, the size of the deal, combined with Heinz's more stressed credit profile as a result of the higher leverage it will take on, poses risks."
Wells Fargo shared Heinz's advisory and underwriting business with
JPMorgan
(JPM) - Get Free Report
, the largest investment bank on Wall Street by revenue.
At issue is whether Wells Fargo benefits from winning mega leveraged buyout mandates, such as the junk-rated debt financing associated with the proposed Heinz deal, or the over $8 billion in financing Berkshire Hathaway needed to buy railroad
Burlington Northern Santa Fe
.
Such work could cause Wells Fargo to increase its presence in debt trading markets, given the seemingly increasing amount of debt that the San Francisco-based lender appears to be underwriting in recent quarters.
Were Wells Fargo to see underwriting mandates like Heinz as a reason to increase its secondary trading businesses, Moody's contends it could distract the bank from its role in retail brokerage and lending businesses.
Meanwhile, holding inventory of high-yield buyout loans such as those needed to fund Heinz's takeover pose obvious balance-sheet risks.
"The residual risk scenario in any large underwriting, which we do not presume in this instance, is that the facilities cannot be sold and become nonperforming," Moody's writes of Wells Fargo's and JPMorgan's underwriting arrangement.
Wells Fargo doesn't see its underwriting work as adding risk for the bank and foresees no change to the way it does business.
"We do not agree with Moody's assertion that participation in capital markets activities necessarily leads to a higher risk profile, and disagree with their characterization of the risk profile of the transaction," Jessica R. Ong, a Wells Fargo spokesman, said in an e-mailed statement.
"Wells Fargo has strong risk management practices and a strong credit underwriting discipline and this transaction is fully in keeping with these disciplines and with our customer-focused business model."
Moody's raised similar comments about Wells Fargo's push onto Wall Street when the bank bought prime brokerage specialist
Merlin Securities
in April 2012. Wells Fargo's acquisition of Merlin targeted the trading needs of hedge funds, such as stock lending, clearing and risk-management work for trades across many asset classes.
The ratings agency characterized that deal as a "credit negative." However, it didn't downgrade Wells Fargo in a June 2012
it said had significant capital-markets businesses.
Even prior to Moody's latest opinions on Wells Fargo, many on Wall Street can't help notice the bank's ascent in activities once dominated by standalone investment banks such as
Goldman Sachs
(GS) - Get Free Report
and
Morgan Stanley
(MS) - Get Free Report
and industry conglomerates like JPMorgan,
Citigroup
(C) - Get Free Report
and
Bank of America Merrill Lynch
(BAC) - Get Free Report
.
As other investment banks have scaled back operations and struggled to increase revenue since the financial crisis, Wells Fargo has consistently been able to grow its investment banking unit, which is part of a larger wholesale banking operation that also includes businesses ranging from corporate banking to insurance.
In 2012, Wells Fargo cracked the top 10 on Wall Street in underwriting high-yield bonds, according to data provider
Dealogic
. It's also the 10th leading player in providing financing to financial institutions. In those parts of Wall Street, Wells Fargo competed with big, but beleaguered, titans like Morgan Stanley and
UBS
(UBS) - Get Free Report
.
In the U.S., Wells Fargo's underwriting prowess often beats European conglomerates as large as
Deutsche Bank
(DB) - Get Free Report
and
Credit Suisse
(UBS) - Get Free Report
.
Wells Fargo falls farther down the list in the white-glove work of providing advice to corporations and financial institutions on mergers, running only in competition with boutique advisory firms.
In late 2011, the bank's
in some Wall Street areas drew the interest of research analysts.
Still, Wells Fargo CFO Tim Sloan told
TheStreet
in a December 2011 interview that the bank remains focused on its
traditional lending businesses
, even if growth rates in wholesale banking surprise some.
Since 2011, Wells Fargo has consistently gained market share in the recovering mortgage market.
Wells Fargo's financing mandate on Berkshire's recent deals provides anecdotal evidence of the benefits of having Buffett as a top shareholder.
In the fourth quarter Berkshire added to an 8% plus holding of Wells Fargo's shares, according to SEC filings.
To be seen is whether Wells Fargo's work in Berkshire Hathaway's acquisition of Heinz gives the bank reason to scale Wall Street businesses such as debt-trading and hedge-fund services. It's also unclear whether Moody's will act on its threats.
Currently, the agency holds a 'negative' outlook on Wells Fargo's A2 bond rating, which is higher than other large cap banking peers.
-- Written by Antoine Gara in New York