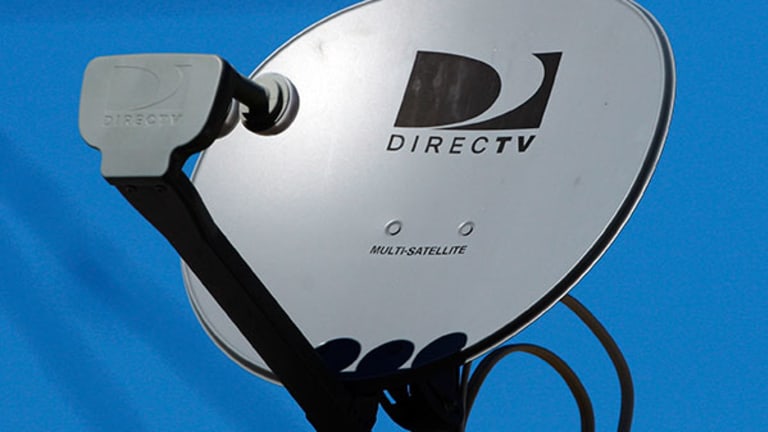 Buffett, Paulson Stakes in Verizon Set High Bar for AT&T
The looming takeover of DirecTV, could create important distinctions between the telecom sector's two Dow Industrial giants, AT&T and Verizon.
NEW YORK (TheStreet) -- There may no longer be a duopoly in the telecom sector given the emergence of T-Mobile (TMUS) - Get T-Mobile US, Inc. Report and Sprint (S) - Get SENTINELONE, INC. Report, but when it comes to 4%-plus dividend yields, there are only two options: AT&T (T) - Get AT&T Inc. Report and Verizon (VZ) - Get Verizon Communications Inc. Report. The looming takeover of DirecTV (DTV) , however, could create important distinctions between the telecom sector's two Dow Industrial giants.
>> Read More: How to Read an AT&T and DirecTV Merger
In recent years, both telecom sector conglomerates have generally moved lockstep in growing their earnings and subscribers amid a surge in U.S. smartphone adoption and a corresponding rise in data usage. However while Verizon has focused its near-term growth efforts on a $130 billion acquisition of a remaining 45% interest in Verizon Wireless, a wireless joint venture the company created with Vodafone (VOD) - Get Vodafone Group Plc Sponsored ADR Report, AT&T may be moving in a different direction.
DirecTV would be a big bet on the future of pay TV bundles and also a deal that could help the company free its broadband networks from U-Verse. The interesting question is whether one company has a better strategy?
Verizon's all-in bet on Verizon Wireless could prove a savvy move if wireless margins hold up. Vodafone was always seen as a seller of Verizon Wireless, and a combination of weak growth in Europe and spongy financing markets may have created the perfect formula for a deal with Verizon. Synergies in the deal are also forecast to boost Verizon's earnings per share (EPS) by about 10% annually, with some analysts and investors expecting even greater EPS growth.
The immediate upside of the deal may come in the form of rising dividends paid by Verizon. However, if wireless margins in the U.S. collapse, Vodafone will be seen as having sold Verizon Wireless at its peak value.
So far, it seems investors as savvy as Berkshire Hathaway (BRK.A) - Get BRK.A Report, Paulson & Co. and Third Point Management either bought Verizon shares in the first quarter, or received stock as part of distributions paid to Vodafone shareholders when the Verizon Wireless deal closed in February.
While Berkshire Hathaway reported an over-half-billion-dollar stake in Verizon in the first quarter, a rare bet in the telecom sector, it may be Paulson & Co.'s disclosure of a 8.7 million-share stake in Verizon that may speak louder. That stake, worth over $400 million, is partly the product of stock distributions received in the Vodafone/Verizon Wireless deal in the first quarter. However, a source familiar with the fund said it also bought Verizon shares on the open market in the quarter.
That Paulson & Co. held onto the Verizon shares it received as a Vodafone investor, and even went out and purchased additional shares, signals confidence in the company's overall strategy.
Paulson & Co. has smartly invested in much of the consolidation running through the telecom sector in recent years. The fund was a large investor in consolidators like MetroPCS, Sprint and Leap Wireless, and continues to hold onto many of its biggest telecom bets including Vodafone, T-Mobile and Sprint.
If the rush of name-brand investors in Verizon shares in the first quarter may be partly a result of the Vodafone transaction, the question is whether the same would hold true in an AT&T and DirecTV deal?
For instance, some current Verizon investors including Berkshire Hathaway could also soon become AT&T shareholders through a DirecTV deal. Berkshire has an over 7% stake in DirecTV, and it seems likely that if a deal is announced, there will be a large stock component to it.
If Berkshire is happy to own Verizon's stock in the wake on its Verizon Wireless deal, would the same be true for AT&T and DirecTV? Only time will tell.
Bottom Line: Blue chip investors appear to have taken Verizon's $130 billion for Verizon Wireless deal in stride. That sets a high benchmark for AT&T if it is interested in moving forward on an offer for DirecTV.
>>Read More: Warren Buffett's Top Lieutenants Eye Malone's Liberty Global
>> Read More: Liberty Global: The Safe Way to Play Netflix Expansion
>> Read More: Verizon Playing Defense In $130 Billion Deal
-- Written by Antoine Gara in New York.