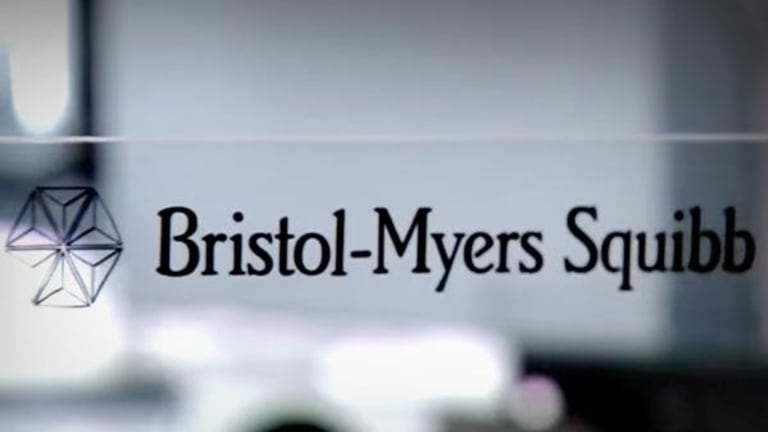 Bristol-Myers Hookup Boosts Array BioPharma
Arrary reacquired MEK inhibitor in 2015 as part of FTC settlement with Novartis.
Array BioPharma Inc. (ARRY) and Bristol-Myers Squibb Co. (BMY) said Tuesday. May 30, they will collaborate on clinical studies for Array's MEK inhibitor, binimetinib, for use in combination with Bristol-Myers' Opdivo and with Opdivo and Yervoy as potential regimens for treating metastatic colorectal cancer in patients with microsatellite stable tumors.
Array reacquired full development and marketing rights to binimetinib from Novartis AG (NVS) in 2015 as part of an antitrust settlement with the Federal Trade Commission allowing Novartis to acquire GlaxoSmithKline plc's (GSK) cancer-treatment portfolio. Array invented binimetinib and had been co-developing it with Novartis. Binimetinib is an MEK inhibitor and targets the mitogen-activated protein kinase enzymes MEK1 and/or MEK2. It is believed MEK inhibitors can be particularly effective against some melanomas and colorectal cancers.
"Based on emerging data, we believe that studying combinations of targeted therapies, such as binimetinib, with immuno-oncology agents, such as Opdivo and Yervoy, could provide important scientific advances for patients fighting cancer," said Ron Squarer, CEO Array BioPharma, in a prepared statement.
Fouad Namouni, head of oncology development at Bristol-Myers added: "Colorectal cancer remains a challenging tumor where immunotherapy benefits have been limited to a subset of patients. We are committed to investigating a wide range of oncology therapies."
The phase 1/2 study is expected to establish recommended dose regimens for further study and explore the preliminary anti-tumor activity of combining binimetinib with Opdivo, as well as binimetinib in combination with the Opdivo plus Yervoy regimen. Results from this first study, which is anticipated to begin in the second half of 2017, will be used to determine optimal approaches to further clinical development of these combinations, the companies said.
Yervoy is an immunotherapy targeting metastatic melanoma. Opdivo targets the PD-1 receptor and is approved for treatment of patients with metastatic non-small cell lung cancer.
Under the terms of the agreement, Array and Bristol-Myers Squibb will jointly support the study with Array acting as the sponsor.
As part of the antitrust settlement, Novartis also provided Array rights to encorafenib, a BRAF inhibitor. The drug targets the B-Raf protein, which  is involved in directing cell growth. Faulty B-Raf proteins are indicated in some cancers.
Novartis was also required to provide Array an $85 million as part of the antitrust settlement.
As part of the settlement involving Novartis, Array agreed to obtain an experienced partner for global development and European commercialization of both binimetinib and  encorafenib.
Despite the assist from Bristol Myers, Array shares fell 3.68%, or 30 cents, to $7.86 Tuesday.
Cantor Fitzerald analyst Mara Goldstein noted in a client alert that Tuesday's announcement is another dive by Array into into combinations with its checkpoint inhibitors for metastatic colorectal cancer. Binimetinub and encorafenib are currently in a phase III trial that combines the drugs with cetuximab, a generic recombinant, human monoclonal antibody. There is also an exploratory trial underway with Merck in combination with that company's Keytruda.
"We think multiple trials couple provide optionality" for Array, Goldstein wrote.
Goldstein has a $13 target on Array shares.
Also on Tuesday Bristol Myers announced  another collaboration with Advaxis Inc. (ADXS). The companies will evaluate ADXS-DUAL, an investigational immunotherapy targeting HPV-associated cancers, and Bristol-Myers' Opdivo as a potential combination treatment option for women that have metastatic cervical cancer.