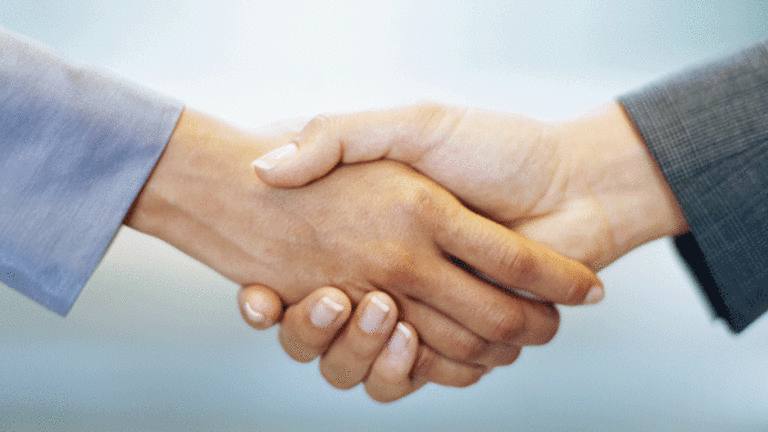 Breitburn Energy acquires QR Energy in Deal Valued at $3B
Transaction will create the largest oil-weighted oil and gas exploration and production master limited partnership.
HOUSTON (The Deal) -- Breitburn Energy Partners (BBEP) said Thursday it agreed to acquire QR Energy (QRE) for $3 billion, creating the largest oil-weighted oil and gas exploration and production master limited partnership.
The deal values QR Energy's equity at $1.6 billion.
Los Angeles-based Breitburn will exchange 72 million of its units for all of QR Energy's common and Class B units at a ratio of 0.9856 of a Breitburn unit for each QRE unit, which works out to $22.48 per unit - a 19% premium over QR Energy's closing price of $18.87 on Wednesday.
The $3 billion transaction value includes QR Energy's debt of around $984 million as of March 31 and outstanding Class C convertible preferred units, the holders of which will get $350 million in cash.
The deal comes with an $80 million breakup fee, Breitburn management said on a conference call with analysts and investors.
Ethan Bellamy, an analyst at Robert W. Baird, said the price is fair to Houston-based QR Energy, but based on a modest 3.5% accretion to Breitburn, QRE holders shouldn't anticipate a material sweetener from here, he noted. However, QR Energy holders will also receive a distribution increase, adding to the attractiveness of the proposal.
"We do not anticipate any problem getting this transaction completed at the current ratio and in the time frame they outlined," he said. "There should not be any HSR or FTC issues, and QRE holders have a nice enough premium here to be satisfied. Both groups of unitholders should be better off in our view with a much more liquid, scaled operation that is better positioned to compete for accretive acquisitions and to high grade their capital portfolio."
The transaction is expected to be tax-free to QR Energy's common and Class B unitholders.
Breitburn's board will expand by one member, with that director agreed upon by Breitburn and QR Energy.
The deal will create an MLP with an enterprise value of $7.8 billion with average daily production of 57,300 barrels of oil equivalent, 67% of which is liquids.
Breitburn said the combination enhances its ability to generate greater cash flow and creates significant incremental near-term and long-term value for unitholders, including accretion to distributable cash flow per unit when the deal closes.
The acquirer has agreed to recommend to its board a distribution increase to $2.08 per unit per year.
Breitburn CEO Halbert Washburn said in a statement that QR Energy is a company that it has always admired given its enviable MLP-friendly assets and engineering-focused operating strategy that's similar to its own.
"This world-class portfolio of conventional properties in large, oil-rich basins fits perfectly with our asset base and improves our ability to deliver shallow, predictable decline rates that generate industry-leading margins," he said.
Washburn added that the combination offers immediate general and administrative expense savings, which could reach $13 million in the year after close. "Even more importantly, our enhanced scale, diversification and intellectual capital will better position Breitburn to efficiently use its capital to create long-term value for unitholders," he said.
QR Energy CEO Alan Smith called Breitburn "an ideal merger partner" and believes the combination creates an "unrivaled operator" of mature assets with exposure to nearly every conventional basin in the U.S.
"Breitburn has a proven 26-year track record of making big oil fields bigger and we are excited to see that trend continue with the addition of our extensive inventory of organic growth projects," he said. "We believe the immediate premium enjoyed by our unitholders will be surpassed by the value shared by all unitholders participating in the future success of the combined company."
On a conference call with analysts and investors, Breitburn management called the deal "transformative" and "game changing." They said they had been looking for an acquisition for a while, but it's a "competitive marketplace" and prices have been high, especially in West Texas' Permian Basin. QR Energy's operations lie in and around Breitburn's, including the Mid-continent and the Permian.
Going forward, Breitburn said it would continue to look at third-party acquisitions and at some point will "high grade" its porfolio, including buying and selling assets, but it doesn't have any specific plans at the moment.
Both companies' boards have approved the deal as well as QR Energy's conflicts committee and QR Energy unitholders owning 37% of the votes of the outstanding QRE units have agreed to vote for the deal. Holders of QRE's Class B contingent units have agreed to reduce the outstanding number of such units by 42%.
The deal has to be approved by QR Energy unitholders and regulators but is expected to close in late 2014 or early 2015.
Breitburn's senior management team will lead the combined company and intends to employ all of QR Energy's engineering, operations and support staff, excluding those that are being retained by Quantum Resources Management LLC, an affiliate of private equity firm Quantum Energy Partners.
Breitburn has received a commitment from Wells Fargo Bank NA to increase the borrowing base under its credit facility to $2.5 billion in connection with the deal. Breitburn said it will continue to monitor market conditions for "opportunistic refinancing transactions" over the coming months.
In December 2010 the principals of Quantum Resources' general partner formed QR Energy LP and took it public.
UBS Investment Bank's Rob Pierce and Carlos Rivero advised Breitburn and provided a fairness opinion to Breitburn's board. Latham & Watkins LLP provided legal counsel, including Sean Wheeler, Michael Dillard, Steven Stokdyk, Chris Little, Ryan Lynch, Jayne Wabeke, David Taub, Joel Mack, Tim Fenn, Laurence Stein and Dennis Lamont.
RBC Capital Markets' Brian Akins and Joseph Meisner and Greenhill & Co. LLC's Aaron Hoover advised QR Energy and Greenhill also provided a fairness opinion to QR Energy's board. Vinson & Elkins LLP's Jeff Floyd, Jeff Malonson and Shaun Mathew represented QR Energy.
Tudor, Pickering and Holt's Lance Gilliland and Scott Simmons provided a fairness opinion to the conflicts committee of QR Energy's board while Bracewell & Giuliani LLP's Gary Orloff was legal counsel.
Gibson, Dunn & Crutcher LLP represented UBS, including Eduardo Gallardo and Evan M. D'Amico.
This article is commentary by an independent contributor, separate from TheStreet's regular news coverage.