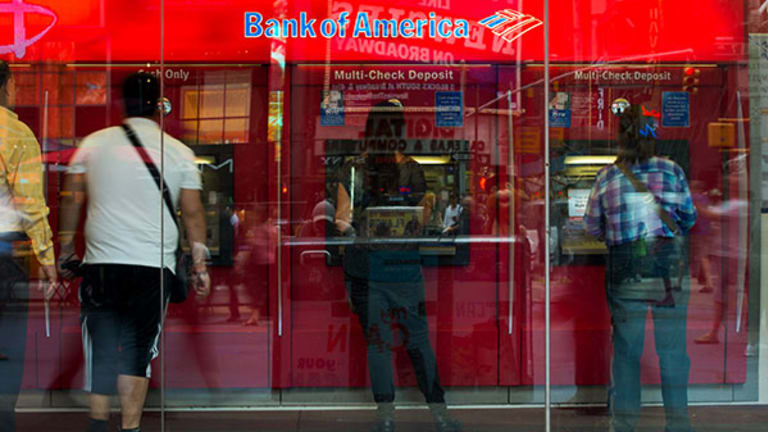 Breaking Up Big Banks Is Hard to Do. But Not Impossible
Small activist funds are talking to larger peers. A major regulatory action, perhaps a rejected "living will" might be the catalyst these insurgents need. We're looking at you, J.P. Morgan.
NEW YORK (The Deal) -- Bart Naylor, Public Citizen's financial policy adviser, is hoping the second time is the charm when it comes to getting the Securities and Exchange Commission to approve his shareholder proposal to have Bank of America (BAC) - Get Bank of America Corp Report explore a breakup.
Last year, the SEC sided with efforts by three big banks to remove similar proposals for consideration by Bank of America, Citigroup (C) - Get Citigroup Inc. Report and J.P. Morgan Chase (JPM) - Get JPMorgan Chase & Co. (JPM) Report shareholders. The agency found the proposals were too vague. Neither "shareholders nor the company would be able to determine with any reasonable certainty exactly what actions or measures the proposal requires," the SEC said in response to a plan Naylor drafted for another investor in 2014.
Must Read:Big Banks Back Away From Mortgages; Nonbank Lenders Pick Up Slack
This time around, Naylor is hoping his more detailed version, seeking to have Bank of America appoint a committee of independent directors to develop a plan for divesting all noncore banking businesses will win out at the SEC.
"This year I've tried to tweak it," Naylor said.
The agency is likely to decide soon. If Naylor's proposal gets on the ballot it will join more than a dozen other measures introduced by a handful of gadfly investors and labor-backed pension funds trying for change at the biggest U.S. banks through nonbinding shareholder proposals.
Though companies aren't compelled to actually do anything about these proposals -- they are, after all, nonbinding -- any large negative vote by a company's shareholder base could become a signal to an activist fund that its fellow investors feel they are being disenfranchised and may welcome a public campaign.
Chief among activist strategies that the largest banks have the most to fear from is a movement to break up the banks that has gained steam since the financial crisis.
"I do think activist hedge fund managers will get involved in the largest banks," said Ryan Mendy, COO of boutique research firm Edge Consulting Group. "You've got damaged investors and pension funds at these big banks who would support an activist campaign."
Such a proxy fight would coincide with an anti-bank regulatory environment where the wind is at the back of anyone hoping to pressure a large financial institution into breaking up. A perfect storm of a Federal Reserve initiative to raise bank capital buffers and pressure from a handful of high-profile lawmakers led by Sens. Elizabeth Warren, D-Mass., and Sherrod Brown, D-Ohio, eager to make hay in the debate to break up the banks, could act as highly flammable kindling for any activist battle.
Must Read:Warren Buffett's Top 10 Dividend Stocks

"Nobody really thought that we would see such a surge in large cap activism that we have seen in recent years, but now we are finding that large companies once viewed as untouchable are vulnerable," said Keith Gottfried, a partner with Morgan, Lewis & Bockius and the head of its shareholder activism practice. "There are numerous ways that an activist can bring pressure on a large cap bank, not only by accessing the typical tools that an activist uses, but also by lobbying regulators to bring regulatory pressure to bear on the bank."
The rules of activism are different when it comes to big banks. In other industries, large negative votes on nonbinding proposals are often followed by activist hedge fund insurgencies. For instance, in 2012 investor John Chevedden submitted a nonbinding proposal at Allergan (AGN) - Get Allergan plc Report asking the company to allow for special shareholder meetings, a proposal that received 55% of the vote. Last year, an unusual combination of activist Pershing Square Capital Management and Valeant Pharmaceuticals International (VRX) went after Allergan with a hostile takeover bid. Allergan eventually went to Actavis (ACT) - Get AdvisorShares Vice ETF Report for $66 billion instead.
When it comes to the biggest banks, success with those sort of nonbinding proposals or efforts to embarrass incumbent directors into stepping down haven't yet convinced activist funds to jump in the fray.
In May 2013, after J.P.Morgan's "London Whale" derivatives debacle, two of the bank's directors, Ellen Futter and David Cote, received the backing of only 53% and 59% of shareholders respectively, a huge vote of no confidence at the $212 billion market cap company.
Both subsequently resigned.
A labor-backed pension fund group's effort to remove Jamie Dimon from his post as J.P. Morgan's chairman, however, only received 32% of the vote. No activist funds have followed up their efforts, and Dimon remains as chairman and CEO.
Nevertheless, recent developments suggest that activism at the biggest U.S. banks could be one scandal away. Goldman Sachs (GS) - Get Goldman Sachs Group, Inc. (GS) Report on Jan. 5 issued an analyst report on J.P. Morgan that looks like it could have been written right out of an activist fund's playbook. Breaking up J.P. Morgan could unlock substantial value with a 5% to 25% "potential upside" to cutting the business into two or four parts, the report said. The valuation suggested that at least a short-term share price improvement would occur if an activist were ever successful at getting on the board and forcing a spinoff or breaking up a big bank.
Must Read:10 Stocks Carl Icahn Loves for 2015: Apple, eBay, Hertz and More
One smaller bank activist familiar with J.P.Morgan agreed with the report, adding that he has been in early-stage discussions with a bigger activist fund about potentially taking on a major bank. "It is a worthy exercise to consider," the person said. "J.P.Morgan is undervalued and has a big bank conglomerate discount."
Still, it may take more to drive a substantial activist into action. Karen Petrou, managing partner at Federal Financial Analytics in Washington, said she can't imagine an activist scenario unfolding at a large bank absent a "profound" regulatory push.
It could happen. Big U.S. banks have until July 2015 to rewrite their so-called living wills -- plans the institutions must prepare to explain how they would dismantle themselves if they failed. The biggest banks are under a lot of pressure from bank regulators to establish "rational and less complex" legal structures to improve their ability to reorganize in a Chapter 11 bankruptcy. Determinations by two major regulators that a particular big bank's will is "not credible" could be the catalyst needed to draw out an activist.
The two regulators, the Federal Reserve and the Federal Deposit Insurance Corp., will likely decide in the fall or in early 2016 whether big bank living wills pass or fail. The FDIC has already said older wills were not credible though it takes a negative determination by both agencies to force a bank to begin a two-year process to address the problem or sell assets.
"The activist would need to be backed up by the kind of breakup forces resulting from a major regulatory catalyst, such as one of the big banks failing their living will and then be required to restructure," Petrou said.
The Goldman report also suggested that big bank capital requirements could move higher again if the Fed added a new global systemically important bank capital buffer surcharge, which was set up by the latest Basel accords, into stress tests the institutions must implement. That could lead to more limits on distributions to shareholders -- sure not to be a crowd pleaser -- and might make a big bank consider breaking itself up.
Goldman indicated that the regulatory change is something the Fed is thinking about, and if it were to unfold, J.P.Morgan and "other money centers" would strongly consider strategic alternatives by providing shareholders with a breakup "put option" if capital requirements got tougher.
Must Read:Banks Have Been Nationalized -- Asset Managers Next: Analyst Bove

Dimon, for his part, continues to show bitterness about how much regulatory and investor scrutiny J.P. Morgan has endured, telling analysts on a recent conference call that the bank is "under assault" by regulators. Asked for more details, Dimon said, "You've got to be kidding me."
Of course, another major scandal at a big bank could also reignite the debate on Capitol Hill to break up the banks and at the same time stimulate an activist play. "Our risk as always is another 'London Whale,' which can change the political dynamic around these issues very quickly," said one bank lobbyist privately about efforts to force big banks to split apart.
Any breakup effort would still face significant investment barriers. Only the largest and most-respected activist hedge funds can acquire the kind of stakes that other passive institutional and retail investors would consider credible. An informal survey of advisers to activists suggested that only a small group of elite funds can take on a bank with more than $100 billion in market capitalization: Carl Icahn, Nelson Peltz's Trian Fund Management, Paul Singer's Elliott Management, Barry Rosenstein's Jana Partners, Jeff Ubben's ValueAct Capital Partners, Corvex Management and Jeff Smith's Starboard Value.
One midsized activist fund manager suggested that the size of the stake acquired by the activist isn't as important as the ideas and trustworthiness of the activist investor and the quality of the director candidates the activist puts up. He cited Trian, an activist that specializes in targeting regional midsized banks, as one of the most likely activist funds to enter the big bank space, largely because of its experience with insurgencies at regional midsized banks, like its most recent campaign at Bank of New York Mellon (BK) - Get Bank of New York Mellon Corporation Report .
Bruce Goldfarb, CEO of proxy solicitor Okapi Partners, suggested that for an activist investor to have a "relevant" institutional stake, say 2% to 5%, would require billions of dollars. For example, to accumulate a 1% J.P.Morgan stake, with its $209 billion market capitalization, would require a $209 million investment, not the kind of cash most activists have lying around.
"There are very few activist investors who have the financial resources to acquire a significant position," he said. "To wage an effective and competitive campaign at one of the six biggest banks is a difficult prospect."
In addition to having a "relevant" stake to get the attention of other investors, the activist itself must also be credible. "For other investors to really pay attention to the message of a large bank activist investor, the activist should have a track record of creating value that can be explained in a compelling manner," he said.
Goldfarb said he had been approached during the height of the financial crisis in 2008 and 2009 to provide proxy solicitation services for a "just vote no" campaign targeting then-Bank of America CEO Ken Lewis.
Must Read:January Effect: What the Market's Wild Month Means for Rest of 2015
He said Okapi decided to stay out of that effort. "To do an outreach campaign to the investors of one of these big banks requires a significant commitment," he said. "In addition to all the institutional investors, these banks can have hundreds of thousands of retail investors."
Nevertheless, there may be ways to launch a grassroots movement to get the message out to retail and institutional investors. Goldfarb suggested that since the banks are so large, both retail and institutional investors pay attention to media reports about what the campaign is about, a prospect that could attract more voting. However, he added that outreach to retail investors, through mailings and other means, is expensive and time consuming. "Some will vote, but many others won't," he said.
One proxy solicitor who has worked on dissident campaigns said some activists have the capability to do the research and analysis to find ways to push for improvement even at the biggest banks. However, he suggested that it could also be a difficult story to explain to other investors, which would complicate a campaign. "These are really big complex organizations," he said. "An activist's plan for unlocking value may not get traction."
He also sought to distinguish between the "just vote no" campaign against two directors on J.P.Morgan's board and the less successful but ultimately more important campaign to oust Dimon from his chairman position. "Separating the role of chairman and CEO is more a campaign about how the bank is run, while the campaign against the two directors is about whether the board needs some refreshment," he said.
Morgan Lewis' Gottfried said he expects big banks will continue to be inundated with shareholder proposals from pension funds and corporate activists on a whole host of governance, social and quasi-operational issues. While he expects a number of these proposals to be excluded from the banks' proxy statements through the SEC's review process, many proposals such as those related to lobbying and executive compensation, will be sent to shareholders for consideration.
Gottfried noted that the governance activists, through their nonbinding proposals, have been successful in recent years in "softening" up the large cap banks by forcing them to make changes that make them more vulnerable. He pointed to such governance changes as the elimination of classified boards, the adoption of majority voting for director elections and lowering the ownership threshold for shareholders to call special meetings as examples of changes that could help activists. Citigroup in 2007, for example, changed its bylaws to allow for special shareholder meetings after a small cap activist investor's proposal seeking the bylaw changes received a majority backing from shareholders.
Must Read:16 Rock-Solid Dividend Stocks With 50 Years of Increasing Dividends and Market-Beating Performance
All directors are elected annually at J.P.Morgan, Citigroup and Bank of America, which suggests that they could be vulnerable to a change-of-control proxy fight. Bank of America shareholders need a 10% stake to call a special shareholder meeting. However, 20% of share capital is needed to call a special shareholder meeting at J.P.Morgan, and 25% is needed for Citi, both red flags according to their ISS QuickScore reports, which were obtained by The Deal.
There are other governance vulnerabilities, typically involving investigations and fines, which can expose big banks to criticism from their institutional investor base. For example, Bank of America and J.P.Morgan have poor ISS scores when it comes to their "audit and risk oversight." ISS raised a red flag noting that a regulator has taken an action against both J.P.Morgan and Bank of America in the past two years that has resulted in a material penalty. Citi's report said that a regulator has taken an action against it in the past two years though, "It has not resulted in a material penalty."
If the stage is not set for insurgencies at the biggest banks, midsized regional banks may find themselves in a more intense activist spotlight. Richard Lashley, co-founder of bank-focused activist fund PL Capital, said he expects a rise in midsized bank deals over the next few years, enticing activists that have never invested in banks. "You'll potentially see dedicated bank activists like us teaming up with larger investors to pursue these regional bank names," Lashley said. "These banks are undervalued because they're trading at low multiples of earnings and have little or no takeover premium in them. There is a great opportunity to unleash value in this space."
And some activists have already tried to take advantage of that opportunity. In December, Trian settled with Bank of New York Mellon in a deal that put the fund's co-founder Ed Garden on the midsized bank's expanded 14-person board. Two other activists, Marcato Capital Management and Southeastern Asset Management, were also urging change there, according to people familiar with the matter, and had hoped Trian would hold out for more. Other activist campaigns involved Trian at State Street (STT) - Get State Street Corporation Report in 2011, AFL-CIO and AFSCME at Citi in 2008 and 2010 and CTW Investment Group at Bank of America in 2009 in a campaign that contributed to the eventual departure of CEO Lewis.
Lashley said he had been waiting for the Fed to give a "green light" to regional midsize bank mergers. However, he suggested that in light of two recently announced deals -- BB&T's (BBT) - Get BB&T Corporation Report $2.5 billion acquisition of Susquehanna Bancshares (SUSQ) and RBC's (RY) - Get Royal Bank of Canada Report $5.4 billion City National (CYN) acquisition -- a "long awaited thaw in regional bank M&A" has begun. Lashley said a few regional banks are potential candidates for breaking up and activist campaigns, including First Niagara Financial Group (FNFG) , Zions Bancorp (ZION) - Get Zions Bancorporation (ZION) Report and Comerica (CMA) - Get Comerica Incorporated Report .
Gottfried and others agree that activism and M&A will expand at regional midsized banks, which are often stuck with the same regulatory responsibilities as their bigger rivals even though they don't have the heft.
As Gottfried put it: "Regionals have some vulnerability."
Must Read:3 Stocks Pushing The Banking Industry Downward
Read more from
:
Editor's Note: This article was originally published at 12:55 p.m. EST on The Deal on Feb. 6.