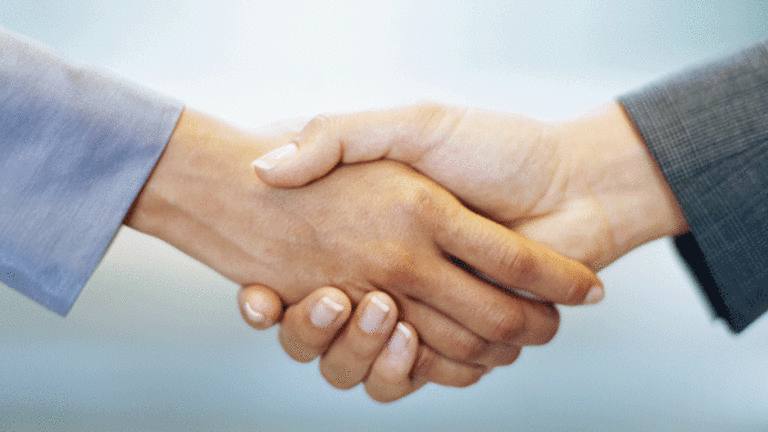 BP's $24B Sale Doesn't Mean a Russian Retreat
By exiting a decade long Russian joint venture, BP is maintaining its exposure to the energy rich region.
By exiting a decade long Russian joint venture, BP is maintaining its exposure to the energy rich region.
Updated to reflect Morgan Stanley, UBS analyst estimates.
NEW YORK (
) - Although
BP
(BP) - Get Report
is selling its stake in Russia's TNK-BP, in a deal that amounts to the British oil giant's largest ever asset sale, the company looks to be doubling down on its investment in Russia's oil and gas resources where political squabbles have hindered previous efforts.
On Monday, BP
said
it will sell its 50% stake in TNK-BP to
Rosneft
for $17.1 billion in cash and a share stake in the Russian driller worth $7.13 billion, as of Oct. 18. BP will then use $4.8 billion of the cash to build its stake in Rosneft to 19.75%.
In total, BP will get $12.3 billion in cash and a large minority stake in Russia's largest private oil company by way of Monday's deal.
While investors may look at BP's stake sale in TNK-BP - a near decade long partnership with Alfa Access Renova -- as evidence that the oil driller is exiting the politically complicated region, they may be surprised to see Russia account for a similar share of the driller's profit in coming years.
That's because the 19.75% stake BP is taking in Rosneft will allow the company to account for its share of the company's profits on an equity basis, thus giving it roughly the same profit and loss exposure to Russia it had prior to Monday's sale.
Were regulators to sign off on the deal, BP's financial statements will show a near 20% stake in Rosneft's earnings, which totaled $10.8 billion in 2011. Had BP taken its sake in Rosneft last year, it would derive roughly $2.15 billion in net income from the investment. But that's not the end of the story.
Given that Rosneft will be acquiring Russia's third largest oil company in TNK-BP after buying out 50% stakes held by BP and Alpha Access Renova in 2012, it will nearly double its profit to $19 billion, if one simply adds up both company's most recent annual earnings disclosed on a Monday press release.
BP's 20% share of Rosneft's future earnings indicates the driller's exposure to Russia could be roughly $3.75 billion, not far below the $4.1 billion 2012 profit attributable to its 50% stake in TNK-BP.
Morgan Stanley analysts calculate that divesting TNK-BP will lower BP's free cash flow to $7 billion, from previous forecasts implying as much as $9 billion. Meanwhile, the company will be losing 29% of its daily 2011 oil and gas production, and 27% of the company's energy resources, tilted towards oil.
Bloomberg
calculates after the deal closes, Rosneft will have 4.5 millions of oil and gas production, matching that of
ExxonMobil
(XOM) - Get Report
, the largest oil company in the U.S.
Meanwhile, the $12.3 billion in net cash BP is receiving as part of the two-step deal may help the oil company put claims from a 2010 Macondo oil spill in the Gulf of Mexico behind it. Already, BP's been the most active deal maker in the energy business in 2012, selling assets spanning a sprawling global oil empire to raise nearly $40 billion in cash to meet spill liability.
In a press release on Monday, BP indicated it could also use newfound cash to boost dividends or buyback shares to compensate investors for whatever profit hit the company will take by selling its TNK-BP stake.
"BP intends to retain the shares resulting from the proposed transaction, and will evaluate how the cash proceeds will be utilised. At minimum BP's intention is to offset any dilution to earnings per share as a result of the sale of its interest in TNK-BP as well as continue with its progressive dividend policy," said BP in a statement.
In spite of a stated commitment to keep disposals from diluting investors, UBS analyst Jon Rigby calculates Monday's deal may cut BP's earnings per share by 5% and its annual dividend-based earnings by $1 billion. The cash piece of the deal and an expected write up of TNK-BP based on a higher than accounted for selling price may help the driller cut its debt levels significantly.
"On cash, we expect around $1bn of lower dividendincome and provisionally estimate forecast net debt falling from $27.9bn to$16.6bn and with a $17bn capital gain, gearing falls from 18% to ~10%," writes Rigby.
Monday's sale comes at a time when BP is cleaning house on non-strategic midstream and oil drilling assets - in addition to foreign joint ventures -- to wean the British oil giant from tricky relationships with foreign governments and to help it raise billions to repay its liability to the 2010 Macondo oil spill.
Already in October, BP's M&A work has been on full display. The company recently sold its Texas City refinery
Marathon Petroleum
(MPC) - Get Report
for $2.5 billion, in a deal expressly designed to raise capital for spill claims. Meanwhile, BP's negotiations with
Rosneft
on its TNK-BP stake have been a front-page deal intrigue for much of the fall.
Throughout 2012, BP's been doing heavy lifting selling refineries, pipelines and oil fields it sees as not crucial to the company's future, in an effort to sell down a forecast $38 billion in assets by 2013. Were the $12.3 billion in TNK-BP cash to be considered part of that asset sale figure, BP would already be complete on its M&A goals.
In September, BP
to sell $5.5 billion in Gulf of Mexico oil drilling assets to
Plains Exploration and Production
(PXP)
. The assets being shopped already produce roughly 59,500 barrels a day and hold a reported 120 million barrels of oil in production reserves.
BP had sold over $24 billion in midstream assets, and $10 billion in oil exploration and production assets, according to data compiled by
Bloomberg
through the end of 2011.
Still, the oil giant has run into problems as it looks to sell non-core assets, notably in years of speculation on how it would exit Russia after company executives were kicked off of TNK-BP's board - and on its stake in an Argentinean oil venture that's suffered from changing political winds.
In November 2011, BP saw a $7.1 billion deal to sell a majority 60% stake in an Argentinean oil venture called
Pan American Energy
fall through when its partners,
Bridas
of Argentina and
CNOOC
(CEO) - Get Report
of China, objected to negotiations. The move was a hit to BP, which in October announced it would raise $45 billion through divestitures by 2013.
After CNOOC and Bridas walked away from BP's Pan American sale, the company indicated in a statement that it would be "happy to return to long-term ownership" of the assets after its finances improved. In November, BP said that its sale program is focused on eliminating "non-strategic assets and not driven by a requirement to raise cash."
BP returned quickly to the deals table,
its natural gas liquids business in Canada to
Plains All American Pipeline
(PAA) - Get Report
for $1.67 billion at the end of 2011.
In mid August, BP said it would sell its California oil refinery and 800 statewide gas stations to refining giant
Tesoro
(TSO)
for $2.5 billion.
Even with spill-related asset sales hitting a peak in 2012, BP still faces substantial risk when it comes to the lingering legal issues from Macondo.
BP investors and analysts were rattled in late August last week when documents filed by the
Department of Justice
included language saying the DOJ was going to pursue a gross negligence case against BP.
Reports earlier this year -- as well as the findings of a government investigation into the Macondo spill -- suggested that a gross negligence case would be difficult for the government to prove, and that the government and BP were moving closer to a settlement. Nevertheless, the environmental fine associated with gross negligence if proven could be four times as much as the fine otherwise, and could reach $21 billion.
"
Our 'base case' expectation regarding Macondo litigation remains that BP will agree a settlement with the DoJ, which we estimate in the order of ~$20bn," wrote Morgan Stabley analysts led by Martijn Rats, in a Monday note to clients assessing BP's TNK disposal.
-- Written by Antoine Gara in New York