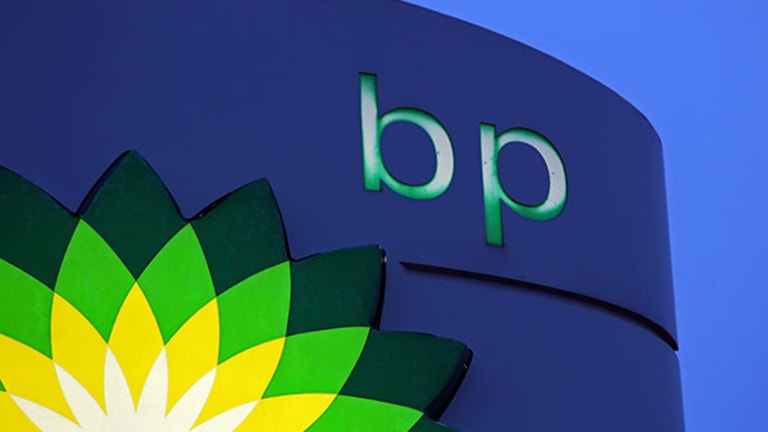 BP Returns to Growth With $3.2 Billion in Deals in 3 Days
The British oil major has snapped up stakes in fields in the Middle East and West Africa, adding to recent investments in the Gulf of Mexico and North Africa.
BP (BP) is back on the acquisition trail and appears determined to make up for lost time, announcing two deals in three days.  
The London-based oil giant on Saturday unveiled a roughly $2.4 billion all-share deal for a 10% stake in Abu Dhabi's largest oil field, then, on Monday, said it will pay $916 million to Dallas-based Kosmos Energy (KOS) for controlling stakes in a handful of deepwater exploration blocks in North West Africa.
BP stock was up 0.82% to 493.70 pence at 11:30 GMT on Monday. Shares have gained almost 40% since the beginning of 2016.
The deals are the latest evidence of a renewed confidence at BP, which has spent years offloading some $40 billion assets to help pay for liabilities arising from the 2010 explosion and oil spill at its Deepwater Horizon rig in the Gulf of Mexico, and then in an effort to cut costs and spending as oil prices plummeted more than 50% from mid-2014.
The first signs of a change in policy and renewed confidence came last month when BP approved a $9 billion development of the Mad Dog oilfield in the Gulf of Mexico. That deal was followed late in November by a $375 million agreement to buy a 10% stake in Egypt's giant Zohr gasfield from Eni (E) of Italy.
Monday's deal, cut with Kosmos, will see BP take 62% of four off shore blocks in Mauritania and 32.49% in two Senegalese blocks, in exchange for a $162 million cash payment, $221 million in payments for development work already carried out and a further $553 million of commitments to future development. All of the blocks are located in the Tortue field, which may hold as much as 50 trillion cubic feet of natural gas, making it one of the world's biggest untapped reserves.
"We believe the basin will become an important profit center for our upstream business," BP's upstream chief executive Bernard Looney said in a statement.
Kosmos will retain a 28% stake in the Mauritania asset and 32.51% of the Senegalese blocks, which is also 25% owned by Timis Corp. and 10% by Senegal's state-owned oil operator Petrosen.
"The transaction strengthens our balance sheet by materially reducing our capital expenditure requirements, effectively funding our Mauritania-Senegal work program for the next several years," Kosmos Chairman and CEO Andrew G. Inglis said in a statement. Kosmos and BP also agreed to work together to acquire new ventures in Senegal, Mauritania and Gambia.
Separately, over the weekend, BP said it had been granted a 10% interest in Abu Dhabi's ADCO onshore oil concession, and will take a 10% stake in Abu Dhabi Company for Onshore Petroleum Operations. BP will pay for the holding with newly issued shares equal to about 2% of its total capital.
The concession includes the Bab, Shah, Asab and Bu Hasa fields and contains estimated total resources of 20 billion to 30 billion barrels of oil equivalent. BP expects production from the field to be about 1.66 million barrels per day in 2016. The British oil company currently produces about 95,000 barrels per day in Abu Dhabi, and expects that figure will grow to around 260,000 barrels per day as a result of the new deal.
"The position provides BP with additional resource and volume growth in a low-cost region that it knows well," noted Goldman Sachs, which gave the deal a lukewarm reception. "The terms of the deal remain unclear from an economic perspective and, whilst volumes are large, the concession is likely to have relatively low unit profitability in our view."
BP had previously owned a 9.5% stake in the concession until it expired in late 2014, so will know the asset well. It joins other international investors in the business including France's Total (TOT) , which recently agreed to take a 10% stake, Japan's Inpex (IPXHY) , which owns 5% an Korea's GSEnergy with 3%. Total paid $2.2 billion in cash in return for $2.85 per barrel of oil sold. BP did not say what payment it would receive in return for its investment.
Abu Dhabi is still looking for buyers for a further 12% of the concession.
Kosmos shares closed Friday at $5.73, down $0.08 or 1.4%.