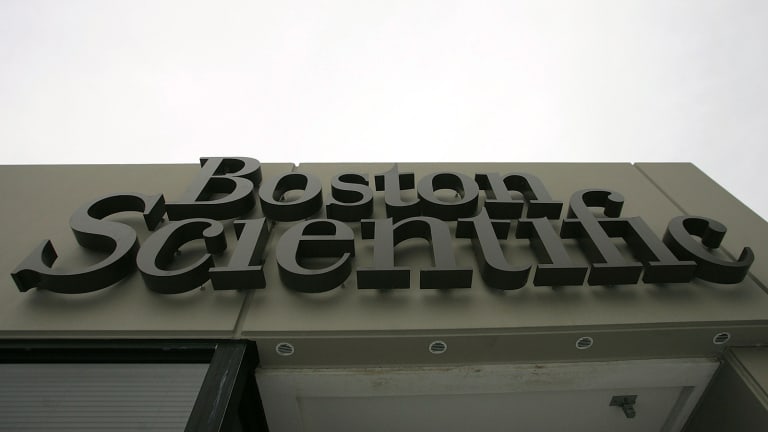 Boston Scientific Remains Disciplined Buyer in Light of Large-scale Industry Consolidation
The medical devices company is likely to stick to small- to mid- sized M&A unless it finds itself the target.
Having steered clear of megadeals ever since its highly controversial purchase more than a decade ago of Guidant Corp., Boston Scientific Corp. (BSX) - Get Boston Scientific Corporation Report  is likely to stick to tuck-in transactions for the foreseeable future-that is, unless the medical device developer were to find itself the target of M&A.
As peers, including Abbott Laboratories (ABT) - Get Abbott Laboratories Report , Medtronic Inc. (MDT) - Get Medtronic Plc Report  and Johnson & Johnson (JNJ) - Get Johnson & Johnson Report , continued to fork out several billions of dollars for large acquisitions, Marlborough, Mass.-based Boston tended to pick up smaller companies that it could fold into its infrastructure and leverage cross-selling opportunities, as it touches virtually all of the gastrointestinal (GI) treatment market.
Company followers suspect that Boston's management team still hasn't built quite the appetite for transformative M&A, which is partly because it's not really the company's modus operandi and partly because the company has been working to de-lever its balance sheet and overcome litigation.
"There are companies that believe scale and breadth are important," Raj Denjoy of Jefferies LLC said. "The idea is that if you can offer a whole suite of products, you can offer unique solutions for customers. Then there are other companies-Boston, [Zimmer Biomet Holdings Inc. (ZBH) - Get Zimmer Biomet Holdings, Inc. Report ] to an extent-that believe if you stick to your knitting, you can still do quite well, and so far Boston has demonstrated that. The jury is still out in terms of what strategy is going to prove most successful."
CEO and chairman Mike Mahoney doesn't seem to believe that adding another vertical would really help them, added Needham & Co.'s Mike Matson: "I think we'll see more of the same," he agreed.
Boston, which reports its third-quarter results Wednesday morning, has seen a reacceleration of top-line growth in recent months, fueled by areas outside of cardiology, including urology, endoscopy and women's health. Shares are up about 22.7% year to date and have appreciated 35.24% over the last 12 months.
Boston's latest deal came in late September, when it agreed to spend about $210 million for EndoChoice Holdings Inc. (GI)  to expand its endoscopy franchise. The company's last billion-dollar-plus deal was its $1.6 billion purchase of the urology portfolio of Endo International plc's (ENDP) - Get Endo International Plc Report , under American Medical Systems. That included its men's health and prostate health businesses and was completed in August 2015.
Those are just a drop it the bucket compared to Abbott, which is working to complete two pending deals--St. Jude Medical Inc. (STJ)  and Alere Inc. (ALR) --worth nearly $40 billion combined. Medtronic, meanwhile, completed its $49.9 billion takeout of rival Covidien plc in January 2015.
The last time Boston did a deal close to that size, it didn't bode well for the company. In fact, Boston's current management team is arguably still feeling a little bit of a hangover from the actions taken several years ago by their predecessors.
Boston spent about $26 billion in April 2006 to trump Johnson & Johnson in the bidding war for troubled cardiac-device company Guidant. The transaction, which Fortune magazine and others called the second-worst deal in history (behind the $164.7 billion fusion of AOL and Time Warner (TWX) ), left Boston with a massive debt load, plus plenty of other problems. The target faced litigation and government investigations around failing cardiac devices that led to more than 50,000 product recalls or warnings around safety.
While it's paid down much of that debt in the years since, Boston still had about $5.4 billion in total debt as of June 2016. The company total debt-to-Ebitda ratio was just shy of 3 times at the time, as opposed to about 3.6 times as of December 2015.
Besides working to deleverage in the years since Guidant, Boston has also had to deal with other issues, including ligation related to its pelvic mesh business as well as a tax dispute with the Internal Revenue Service, said senior credit officer Diana Lee of Moody's Investors Service Inc., noting that it continues to make progress on both disputes.
"The point is, the company is trying to clean up some of these issues, which would certainly help provide it with greater flexibility, including for other investments and M&A," she noted. "It just comes down to the magnitude."
Matson expects Boston will likely limit itself to acquisitions valued below $1 billion and added that a transformative transaction involving Boston would more likely be one in which it was the target of a takeover."
"If there's a large deal, it's more likely them getting bought," Matson said.
This article was originally published by The Deal, a sister publication of TheStreet that offers sophisticated insight and analysis on all types of deals, from inception to integration. Click here for a free trial.
The most logical buyer of Boston Scientific would be Johnson & Johnson, given that it has largely gotten out of cardiovascular, said Matson. He sees it as a great fit given that the latter's device business has been a drag for them while Boston has been steadily growing.
While Johnson & Johnson is among the few companies that would even have the capacity to swallow Boston-with a current market cap of about $31 billion-Jefferies' Danhoy noted that it's "impossible to define what they'd want to do."
Indeed, the healthcare conglomerate also includes pharmaceutical and consumer segments. Despite an ability to act, it depends on its commitment to the medtech space.
Interestingly, Boston's Mahoney previously served as worldwide chairman of medical devices and diagnostics and worldwide group chairman of the DePuy orthopedics and neurosciences businesses at Johnson & Johnson from April 2007 through October 2011.
Theoretically speaking, if Boston did want to do something transformative it could look to Edwards Lifesciences Corp. (EW) - Get Edwards Lifesciences Corporation Report , which specializes in artificial heart valves and hemodynamic monitoring, suggested Venkat Rajon of Frost & Sullivan Inc. The two minimally overlap from a product standpoint and Edwards is first in market with its transcatheter heart valve, which Rajon noted has significant advantages to traditional valves. Boston is still developing a similar product, leaving Edwards and Medtronic as the two main providers.
Rajon added that what he'd really like to see Boston do is make a disruptive play that captures the growing evolution toward the internet of medical things, perhaps by pursuing an opportunity in information technology, consumer health, artificial intelligence or robotics.
"We have this wealth of data," Rajon said. "But how do we find out what's actionable? This 'insights as a service' type of model is where we're seeing healthcare try to make a pivot towards."
Representatives of Boston did not return a request for comment, while representatives of J&J and Edwards declined to comment.
This article was originally published by The Deal, a sister publication of TheStreet that offers sophisticated insight and analysis on all types of deals, from inception to integration. Click here for a free trial.