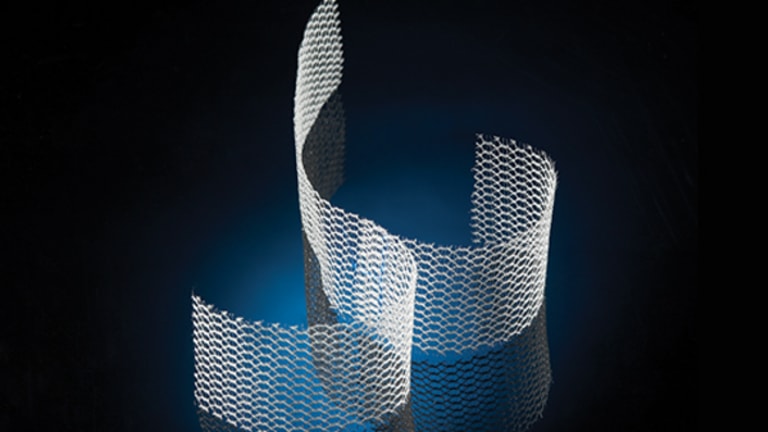 Publish date:
Boston Scientific Buys Endo's Urology Device Business in $1.6 Billion Deal
Sale of its men's urology portfolio continues Endo's move into pharmaceuticals.
Sale of its men's urology portfolio continues Endo's move into pharmaceuticals.
NEW YORK (The Deal) -- Boston Scientific (BSX) - Get Boston Scientific Corporation Report agreed to acquireEndo International's (ENDP) - Get Endo International Plc Report divestiture of its American Medical Systems' urology portfolio, which includes its men's health and prostate health businesses for up to $1.65 billion.
The deal, announced on Monday, calls for a $1.6 billion upfront cash payment as well as an additional $50 million milestone based on 2016 sales. The transaction is expected to close during third-quarter 2015.
The Minnetonka, Minn.-based businesses that are being purchased have generated 2014 sales of approximately $400 million with adjusted operating income of $130 million, according to a statement from Boston Scientific. The purchase is poised to have annual pretax synergies of more than $50 million by the close of 2018. The deal will be funded through a combination of existing and new committed credit facilities.
The acquisition is made up of the AMS product portfolio for treating urologic conditions, male stress urinary incontinence and erectile dysfunction. After the deal closes, the men's health portfolio will become a part of Boston Scientific Urology and Women's Health. Boston Scientific has a strong kidney stone, pelvic organ prolapse, abnormal uterine bleeding treatment and female stress urinary incontinence treatment -- a portfolio of treatments the acquirer aims to complement with its purchase in men's health.
According to a statement by Endo, the company is currently evaluating strategic alternatives for its AMS Women's Health Business. Its portfolio includes treatments for pelvic organ prolapse and urinary incontinence. Both the divestitures of the men's health and the women's health businesses are aimed at hastening Endo's transition into a global pharmaceuticals business.
Both Endo's men's and women's health units have seen decreases in revenues lately. Endo said in a regulatory filing in March 2014, that revenues for AMS decreased 2% to $492.2 million in 2013 from $504.5 million in 2012, mostly due to lower sales in the women's health line. The decrease was attributed to a reduction in pelvic mesh procedural volumes for women, but was offset by increased volumes in the men's health business at the time.
Endo purchased American Medical Systems Holdings for $2.9 billion in cash and debt in April 2011, in a move to strengthen its medical devices unit especially its urology franchise.
Speaking on a conference call about the transaction, executives from Boston Scientific noted that the company plans to build on the AMS portfolio's top line synergies, adding that the acquisition gives it the largest commercial footprint in the industry. Executives also noted that Boston Scientific will continue to look at acquisitions consistent with its strategy in a way that will allow the company to maintain its investment grade rating.
"We believe this strategic acquisition will strengthen Boston Scientific's global leadership in the urology device category while delivering a strong return to our investors," said Mike Mahoney, president and CEO of Boston Scientific, in a statement. "The combination of Boston Scientific's Urology and Women's Health and AMS' urology portfolios will create a business with nearly $1 billion in annual sales and enable significant synergies and strong future growth prospects through portfolio innovation and international market expansion."
In its most recent quarterly report, Boston Scientific noted that worldwide sales of urology and women's health products were $535 million for 2014 -- increasing $30 million, or 6%, of sales for the year. The increase was attributable to growth in the urology franchise, as Boston Scientific expands its international business.
Both companies have been active on the acquisition trail. During the fall of last year, Endo convinced Auxilium Pharmaceuticals (AUXL) to abandon its acquisition of QLT (QLTI) and merge with Endo in a $2.6 billion deal. Earlier last year, Boston Scientific agreed to purchase the interventional devices business of Bayer for $415 million in order to expand its options for vascular disease.
Boston Scientific retained JPMorgan Securities as its financial adviser on the deal. Endo retained Bank of America Merrill Lynch for financial advice. It retained a team from Skadden, Arps, Slate, Meagher & Flom including Eileen Nugent, Brandon Van Dyke and Katherine Ashley, Maxim Mayer-Cesiano, Jeffrey Goldfarb, Colleen Lee, Cara McGarian, Matthew Zisk, Ingrid Vandenborre and Erica Schohn as its legal counsel.
Read more from
: