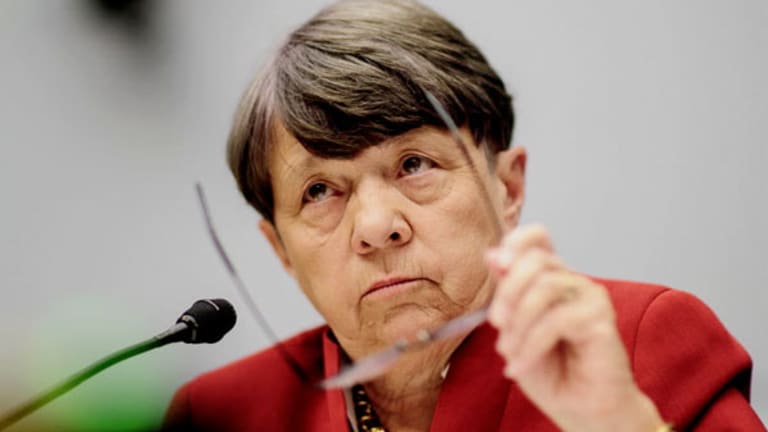 Publish date:
Boost in Activist-Driven Buybacks Makes It to SEC's Radar
The federal agency is examining whether to mandate daily capital distribution disclosure requirements. Insurgent funds, institutions and corporations are pushing back.
The federal agency is examining whether to mandate daily capital distribution disclosure requirements. Insurgent funds, institutions and corporations are pushing back.
In a blockbuster settlement announced Feb. 11, American International Group (AIG) - Get Report struck a deal with billionaire insurgent Carl Icahn that authorized a $5 billion stock repurchase program and installed two new dissident directors onto the mega-insurer's board. The whole deal came after AIG -- responding to Icahn efforts to break the company up -- already repurchased about $11 billion in shares in 2015 and $2.5 billion in 2016. 
On a much smaller scale, last month online food-order platform GrubHub (GRUB) - Get Report announced it had authorized a $100 million stock buyback program and the addition of two new independent directors after Pelham Capital late last year launched an activist campaign seeking talks about capitalization, strategy (a sale?) and future plans.
In the midsized company territory, Marcato Capital Management last year urged Lear LEA to split into two companies and buy back about $1 billion in shares. A few days later, the automotive seating and electrical distribution company hiked its buy back plan from $339 million to $1 billion.
These are just three of dozens of recent situations that have emerged where activist funds have agitated for change driving corporate executives -- worried about losing their jobs in some cases -- to respond with a hike in capital distributions.
The number of activist campaigns where a key dissident objective is returning cash via a dividend or buyback is on the rise in recent years. There were 69 campaigns in 2015 that involved the insurgent pushing for some sort of capital distribution, up from 51 in 2014 and 60 in 2013 and 39 in 2012, according to Factset.
Activists also have been having more success lately convincing companies to dish out. Of those campaigns, activists succeeded at convincing targeted companies to launch or expand a repurchase program or set up or increase a dividend program at 29 companies in 2015, 19 in 2014, 23 in 2013 and 19 in 2012. This year activists have already launched three campaigns urging capital distributions -- with more expected to be announced shortly.
In addition, companies are employing stock buybacks or issuing dividends even if the activist doesn't appear to want them as a means of appeasing a disgruntled institutional investor base that might otherwise be tempted to back an insurgent investor's slate of directors.
This comes in an environment where total buybacks at S&P 500 companies surged to a record $246 billion in the third quarter of 2015, up 4.9% from a year earlier, while dividends reached the $95 billion mark in the same period, according to Aranca Investment Research.
The increased pressure by activists on stock buybacks is driving some corporations and high-profile institutional investors to push back, arguing that distributions provide a short-term share price boost at the expense of long-term value creation. At the forefront of this campaign is Lawrence Fink, the CEO of the largest U.S. money manager, BlackRock (BLK) - Get Report . He has argued in highly publicized letters that short-term activists and a 24/7 news-cycle push corporate leaders to engage in capital distributions while "underinvesting" in innovation and workers.
However, activist funds complain that it doesn't make sense to vilify buybacks. They insist the distributions are sought as part of a broader campaign to hike a company's share price value over the long term and ensure its future earnings are distributed to a narrower ownership group.
"This isn't about physically boosting a company's stock price," said one activist investor. "That's a short-term boost. The real impact is that the future earnings of a company are now distributed to a narrower group of owners so there is a larger piece of the pie for everyone around."

Activists will get the support of institutional investors to push for buybacks in situations at companies with good future prospects that are trading at "ridiculously" low valuations, he added. "Funds don't target companies they think will go down the drain after the buyback," he said. "You would not be supported by long-term institutional investors if you did."
Finding itself in the middle of the corporate-activist squabble over buybacks is the Securities and Exchange Commission. The agency has been under increased public pressure to take some action to quell the recent hike in activist-driven capital distributions. Sen. Tammy Baldwin sent a letter in November urging the agency to take steps to improve its collection of data on buybacks and convert a more-than-decade-old quarterly reporting regime for distributions into a daily one "in the interest of understanding the causes and effects of the buyback phenomenon." The Wisconsin Democrat also urges the SEC to require annual disclosures of performance metrics used by firms to compensate executives, including information about stock-based metrics such as earnings per share.
Decision makers on Wall Street (read: activists, analysts) and in C-Suites, she argues, have a role in the growing phenomenon of stock-based compensation "encouraging executives to favor stock-price inflation over product investment."
In an interview with reporters earlier this month, SEC Chairman Mary Jo White said the agency is "looking at the frequency" of disclosure issue as part of a much larger transparency initiative. In a letter to Baldwin, White noted agency staffers are seeking input from companies and market participants "about the need for more frequent and granular information about stock buybacks."
In addition, a person familiar with the SEC told The Deal the concept of more frequent buy-back disclosures is something the agency is actively examining. The SEC is asking questions to find out the costs and benefits of any change and whether more details should be required beyond existing obligations to reveal the total number of shares repurchased and the average price paid. "There is a fair question about what intervals are necessary for buyback disclosure and how much information [the SEC] has," he said.
In any event, such a modification to the disclosure regime would need to be completed within a proposal and rule-writing approach, requiring the approval of a majority of the agency's oversight panel.
The prospects for more reporting on buybacks -- not surprisingly -- isn't being met enthusiastically by the corporate community already besieged by buyback demand. One former SEC staffer who now advises corporations on disclosure argues that companies already have a variety of rules they need to abide by when it comes to buy backs including a series of anti-manipulation restrictions.
"Companies can't just willy-nilly buy shares the day before they are about to release material non-public information about a blockbuster quarter," he said.
Business critics argue there would be tangible and intangible costs associated with a daily reporting regime. "Public companies have enough reporting requirements and having a daily buyback reporting system, one more thing to do every day, would divert management attention from overseeing the company," said the ex-SEC staffer.
As a middle ground, the agency could require companies to report when they conduct a significant buyback as part of a "material disclosure" 8-K filing. "This way if you only buy back two shares on one particular day you don't have to report it," he said. "I don't think it's necessary but it could be a realistic compromise between imposing a serious drain on company resources and letting the market know what is going on."
Not all buyback initiatives in response to activists are genuine. One corporate adviser to companies targeted by activists notes that on some occasions executives will authorize a large buyback program to appease an activist and disgruntled shareholder base even though they don't have any intention to do a distribution in the short term. A daily or at least more frequent reporting regime would alert activists to that phenomenon.

Andrew Freedman, a New York partner at Olshan Frome Wolosky who advises activist funds, argues that more transparency in the form of more frequent buyback disclosure updates would be a good thing. "We see companies all the time that announce an increased authorization of their buyback program as a reactionary move to appease shareholders with little to no assurance about when the company will actually conduct the share repurchases," Freedman said.
Phil Goldstein, founder of activist fund Bulldog Investors, notes that in his experience companies will give "lipservice" to activists by authorizing buybacks without follow up distributions.
"You see a buyback announcement and then bupkis," Goldstein said. "They should be held accountable for not doing a buyback when there is an authorization."
Nevertheless, activist investors are split about whether more disclosure of buybacks would be helpful - though they generally agree with corporations that daily disclosure would be too much.
Goldstein argued monthly disclosure would be better than daily. "Companies don't want to have people trading against them and doing some sort of arbitrage," Goldstein said. "They should be opportunistic when they do buybacks. I would say monthly disclosure is reasonable because you want to see that they are serious about it."
Jim Mitarotonda, chairman and CEO of activist fund Barington Capital Group, agrees a daily reporting requirement may hurt companies' ability to buy back stock at the right prices. Nevertheless, he argued that companies often don't conduct buybacks at the right time.
"The problem you get on buybacks is that most of the time they are done at market highs," Mitarotonda said. "When markets decline, executives often become fearful and don't go and buy back stock. But that's exactly when they should be buying."
A top governance official at one of the largest U.S. public pension funds agreed daily disclosure of buybacks would be bad for companies and their investors. The unintended consequence, he suggested, would be for companies to hire brokers to buy back shares at automatic regular intervals so as not to send a message to the markets that they believe their stock is always undervalued.
"If you make them disclose every day it is too much of a signal to the market and you would be taking away their flexibility to buy shares at the best prices," he said.
However, at least one activist backs more frequent disclosure because it could put a spotlight on companies that conduct buybacks to offset dilution generated from the issuance of new shares for executives.
"I've seen companies that say, 'Don't worry about the dilution from the new issuances to executives because we've issued a buyback to offset it,'" said Ted White, director at activist fund Legion Partners.
Nevertheless, corporate advisers point out that hikes in stock-based pay is often necessary to "lock down" executives and make sure they don't take other jobs in the midst of an insurgency campaign swirling around a company and that in many cases cash may not be available, making stock-based payments the only route possible for hiking CEO compensation.
"If someone is attacking you and it's a high profile activist you need to try to lock down key employees and that often means stock-based compensation," said one corporate adviser.
In addition, the SEC is in the process of approving a rule that would expand disclosures around stock-based executive compensation metrics. The measure in question, proposed almost a year ago in April and expected to be approved in 2016, would require companies to disclose the relationship between CEO pay and the financial performance of the company, including a new table looking at total shareholder return on an annual basis.
Activists are eager to get more disclosure about metrics employed to determine CEO pay. Barington's Mitarotonda said he believes there should be at least two, possibly three, metrics employed for determining executive compensation, adding that he didn't mind if one of them was based on earnings-per-share.
"It's up to the compensation committee and board to make sure that the proper metric are employed to enhance shareholder value with both short-term and long-term elements," he said.
Activist agitations and their related corporate share distributions aren't expected to let up anytime soon. As pressure mounts watch for the SEC to issue no buyback and CEO pay metric disclosure requirements in the months to come.