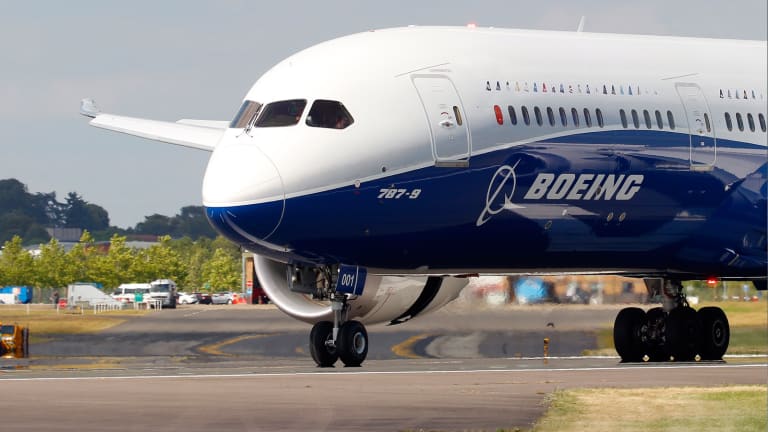 Boeing's New CEO's To-Do List -- Revive the Defense Unit, Control Costs
Current Boeing President and COO Dennis Muilenburg becomes CEO on July 1, and while he's unlikely to make radical changes, he'll have to adapt the company for the challenges ahead.
Current Boeing President and COO Dennis Muilenburg becomes CEO on July 1, and while he's unlikely to make radical changes, he'll have to adapt the company for the challenges ahead.
NEW YORK (The Deal) -- Boeing's (BA) - Get Report outgoing CEO spent his decade in charge revitalizing the commercial side of the business and shepherding the 787 Dreamliner aircraft into production. His successor's task is to continue to bring down costs at the ever-expanding commercial arm, while plotting a renewal of the company's lagging defense unit.
The Chicago-based aerospace giant said late Tuesday that CEO Jim McNerney would step down July 1, handing control to current President and Chief Operating Officer Dennis Muilenburg. The transition had been expected, with Muilenburg in 2013 winning what was seen at the time as an internal bakeoff when he was named to his current roles.
The executive, a 30-year Boeing veteran, has long been a feature in company investor presentations and strategy meetings, suggesting that there will be few if any radical changes to the company with the transition.
Boeing plucked McNerney from 3M (MMM) - Get Report 10 years ago when the company was operating under the cloud of scandals. During his time, he oversaw an impressive expansion of the commercial business, but to get there he had to navigate significant cost overruns and product delays made worse by a near-disastrous attempt to build a worldwide supply chain and sour relations between management and labor.
Muilenburg's challenge is to continue to extract costs from Boeing's existing commercial lines, with a need down the line to make difficult decisions on how and when to update or replace the company's 737 narrowbody and 757 midsized jets. He must also balance ever-increasing demand for new jets with fears of overexpansion, with Boeing suppliers in particular beginning to voice doubts over the substantial investment needed to meet what could be a temporary surge in orders.
His job on the commercial side could be made easier if the change marks a reboot in relations between management and labor, where challenges include continued unrest in Seattle over a strike early in McNerney's tenure and more recently attempts to organize Boeing's South Carolina 787 assembly line.
Boeing is unlikely to shed or shrink defense, with the company seeing its diverse business as a strength, and Muilenburg if anything as a former head of the defense side figures to be more of a champion of that business. The Iowa-native has strong ties to St. Louis, where Boeing Defense is based and where Muilenburg serves on the board of both a university and a handful of local civic groups.
Defense faces a pivotal competition later in the year as it battles to win a $50 billion contract to develop and produce a next-generation bomber for the U.S. Air Force. Should the company's bid fail, pressure would increase on Muilenburg to replace the lost revenue, perhaps via a transformational deal.
With fewer and fewer large defense programs to bid on, some in the industry believe the Pentagon would be more open to a massive defense deal than it was only a few years ago. Boeing meanwhile arguably could benefit from a deal-driven influx of new defense-focused expertise and leadership to better compete for future contracts.
Boeing has been mentioned as a potential bidder for the Sikorsky helicopter business of United Technologies , but a demand by the seller for a strategic overpay to offset a potential tax bill makes such a move uncertain. The auction also might come too soon, as United Technologies hopes to decide on what to do with Sikorsky in the coming months and Boeing currently tied up with both the bomber program bid and the CEO transition.
A bigger move would be for Boeing to attempt to merge with Northrop Grumman (NOC) - Get Report, its principal rival in the bomber competition. Northrop is widely seen as the most likely seller among the large U.S. defense firms, and could be the most likely to test whether the Pentagon moratorium on large deals is firm.
Even if Muilenburg doesn't see the need for a transformational deal, defense sources expect Boeing to be an active acquirer of smaller firms that could help round out its expertise in areas like sensors and technology, and could seek opportunities to bring parts of its commercial and defense supply chain back in-house.
Michel Merluzeau of Frost & Sullivan believes Muilenburg is up to the challenge, saying he has been "very impressed" with what he has seen from the new CEO, noting the executive's broad knowledge of the company's different pieces and the one-time engineer's focus on operations.
"McNerney's legacy was reshaping Boeing into a more global, financially focused and engineering-driven organization," Merluzeau said. "The challenge now is where to take the organization, and I think Dennis Muilenburg brings a skillset which is exactly what Boeing needs."
This article was originally published at 3:32 p.m. ET, June 24, 2015 on The Deal.