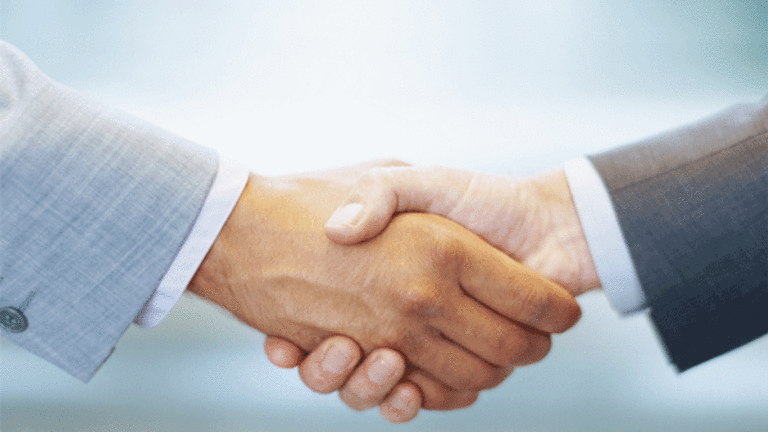 BMC Software Caught Between Cloud Boom and Tech Gloom
Takeover target BMC Software may serve as a bellwether for the M&A strategy of the technology sector's biggest companies.
NEW YORK (
) -- If you discount
Facebook's
(FB) - Get Meta Platforms Inc. Class A Report
lackluster first days of trading, the social network's record $16 billion internet initial public offering and the listings of
LinkedIn
(LNKD)
,
Zynga
(ZNGA) - Get Zynga Inc. Class A Report
and
Pandora
(P)
show that tech is in the midst of a valuation boom not seen since the late 1990s.
Life in the technology sector is far from coming up all roses, though. Web pioneers like
AOL
(AOL)
and
Yahoo
(YHOO)
, PC titans such as
Hewlett Packard
and
Dell
(DELL) - Get Dell Technologies Inc Class C Report
, and business services giants
Cisco
(CSCO) - Get Cisco Systems, Inc. Report
and
Oracle
(ORCL) - Get Oracle Corporation Report
are trying to tweak their businesses to keep step with rapid change that's chipped away at growth prospects and share prices.
Amid a contrasting outlook for tech's hardware and software giants, and a new set of nimble and fast-growing peers, investors may want to focus on an activist investor push for a sale of
BMC Software
(BMC)
as a read on just how aggressive blue chips can be in using M&A to brace for an onslaught of competition coming from clouds, smartphones and digital startups.
Will BMC Software be the next big tech deal?
Earlier in May, activist hedge fund and experienced tech investor
Elliott Associates
unveiled a bet on what would be the biggest U.S. software takeout since the financial crisis in pushing for a sale of
BMC Software
(BMC)
, whose market cap stands at $6.9 billion. The move is notable because, at once, Elliott Associates is making a $350 million-plus stock bet on M&A interest in the enterprise software space, while it's targeting a deal at the upper end of what may be conceivable in the sector.
At BMC's $6.9 billion market value,
Bloomberg
calculates that an acquisition would be the eighth-largest U.S. software acquisition on record. But open-ended and large-cap M&A expectations have so far disappointed, even amid a land-grab for cloud assets.
Bloomberg
data also shows that a deal for a U.S. listed software company of BMC's size hasn't happened since 2007. Simply put, tech giants have been reluctant to cut mega-deals, instead putting near record cash to work in many small and midsized acquisitions.
Weaker than expected first quarter earnings reports from Dell and Cisco and a pivotal year for Hewlett Packard signal that there is a limit to just how bold tech turnaround efforts can be. Still,
SAP's
(SAP) - Get SAP SE Report
$4.3 billion acquisition
of
Ariba
(ARBA)
on Tuesday shows that appetite for enterprise software and cloud-based solutions remains among cash rich IT giants.
Even after Tuesday's deal, high technology M&A is down 29% year-to-date when compared to 2011, according to
ThomsonReuters
data.
Elliott Associates 5.45% stake in BMC Software and its repeated calls for the company's management to initiate a sale process has many torn over whether it is a credible prospect. BMC's shares are up less than 10% to $42.90 since Elliott unveiled its hostile stake on May 14.
Houston-based BMC Software sells products to keep large corporate IT departments current on software updates and mainframe maintenance. It also offers businesses a way to plan, build and run cloud solutions, and has inroads to thousands of the largest corporate IT departments in the U.S.
BMC could be an attractive asset for the likes of Hewlett Packard and Dell as they try to shift from manufacturing PCs and into integrated business service providers -- in the mold of a multi-decade turnaround at
IBM
(IBM) - Get International Business Machines Corporation Report
. IT hardware and software giants Cisco and Oracle could also find BMC's software services and cloud assets attractive as they brace for competition from the likes of
salesforce.com
(CRM) - Get salesforce.com, inc. Report
and peers such as SAP.
"It is Elliott's firm belief that BMC is currently attractive to multiple strategic acquirers," wrote Elliott Associates portfolio manager Jesse Cohn in a May letter to BMC Software's board of directors. "We believe BMC could be attractive to private equity firms, and that such a transaction could serve as another pathway to deliver certain, premium value to stockholders."
Elliott Associates has also asked for five of its directors to be nominated to BMC's board, citing its lagging stock performance, late start with cloud offerings and weak overall enterprise revenue growth.
BMC quickly rejected Elliott's advances but said it "always is open to alternatives that fully reflect the value and prospects of the company." It also enacted a poison pill provision that will prevent Elliott from acquiring over 10% of the company's' shares.
Elliott's comments raise differing views on whether a strategic tech acquirer would want to swallow BMC software, or if a private equity firm could handle its mainframe-based operations, which account for 38% of the company's $2.2 billion in sales and over 60% of operating profit, as of its most recent fiscal year.
BMC's enterprise service management division accounts for 62% of its sales and houses its software and cloud services; however, the units' profitability has underwhelmed on sales force attrition and competition from firms like ServiceNow. While Elliott points out those shortfalls as reason for a sale, it may not impress prospective acquirers like Dell.
BMC 's exposure to mainframe businesses may also make it less attractive to tech giants, but Elliott argues that those assets could be sold to private equity firms, who like to stomach steady or declining businesses that plow out consistent cash flow. Performance at the division is solid, which, ironically may make it less attractive for a private equity firm seeking to profit from operational fixes.
"We do not view BMC as a compelling strategic or financial acquisition at this time," wrote JPMorgan analyst John Difucci in a May 15 note reacting to Elliott's BMC stake disclosure. "We believe that BMC's past restructurings have helped the company reconcile the vast majority of its inefficiencies." Difucci holds a neutral rating on BMC's shares and a price target of $34.
Others are more sanguine about the prospect of a sale process and even a bidding war on the heels of Elliott's stake and BMC's quick refusal to launch a sale process or take on a slate of board directors. "If this development sparks a bidding war, we believe several high profile tech names, as well as some private equity investors, could be drawn in," writes Oppenheimer analyst Shaul Eyal, who rates shares outperform with a $46 price target.
Elliott's argument and its stake in BMC is enticing and potentially timely, especially after SAP's acquisition of Ariba on Tuesday, which upped the ante in Big Tech's race to the cloud.
Dell, for instance, cut a string of
that may help it shift to business services. After reporting weaker than expected first quarter sales and profits on diminishing demand for its PC-based consumer products, a need to shift may into IT services may be all the more acute. However, an over 30% share slide since it reported full year 2011 earnings in February could also draw M&A caution from the world's third largest PC-maker.
Meanwhile, Oracle's recent billion dollar-plus acquisitions in fast growing cloud specialists
RightNow
(RNOW)
and
Taleo
(TLEO)
, and similar-sized moves by IBM and
SAP
(SAP) - Get SAP SE Report
for
DemandTec
(DMND)
and
SuccessFactors
(SFSF)
, may prove to be the M&A model for tech's largest players.
Hewlett Packard's $10.3 billion acquisition of British software giant
Autonomy
could help the world's largest computer maker leverage a previous string of IT security and analytics acquisitions to shift into business services and software. However, HP's Autonomy acquisition and a plan to spin the company's PC unit cost former CEO Leo Apotheker his job and places the computer pioneer at a critical juncture as it tries to weather the threat of
Apple's
(AAPL) - Get Apple Inc. Report
iPad and iPhone. So far, tech giants have been unwilling to follow suit on a "transformational" deal.
Previously reported interested parties include
EMC
(EMC)
,
CA
and
Symantec
(SYMC) - Get Symantec Corporation Report
, according to JPMorgan's Difucci, who sees a low prospect of a deal from any of the three companies, but highlights EMC as the strongest candidate.
With that in mind, Elliott's stake in BMC Software's sale is a bold tech M&A call. It's also one that goes beyond previous its activist pushes within the industry.
Elliott has led activist charges at large tech companies like
Iron Mountain
(IRM) - Get Iron Mountain, Inc. Report
that netted it board seats, it made a bid for
Epicor
that resulted in board seats and its eventual sale to
Apax Partners
and in 2010, Elliott made a $2 billion bid for
Novell
, which eventually prompted its sale to
Attachmate
.
Elliott is also well aware of private equity's appetite for tech deals after it made an over 8% non-activist investment in networking equipment specialist
Brocade
(BRCD)
in mid-2011, as the company's shares and earnings plummeted. Since then, Brocade has launched a sale process that's bolstered shares, but at a market cap of nearly $2.7 billion, recent reports indicate that private equity interest in its hardware-based earnings is limited.
In a fast changing tech landscape, and amid an uncertain economic outlook, BMC may be a bellwether when it comes to sizing up the M&A model for struggling tech giants, who are faced with a choice between cutting small-sized deals and betting on incremental turnarounds as IBM did a decade ago or large-cap, transformational M&A.
Spokespeople for BMC Software and Elliott Associates declined to comment for this article, pointing instead to recent letters and filings.
For more on Tech M&A, see
in the sector, and why
cloud deal premiums are falling
.
--
Written by Antoine Gara in New York