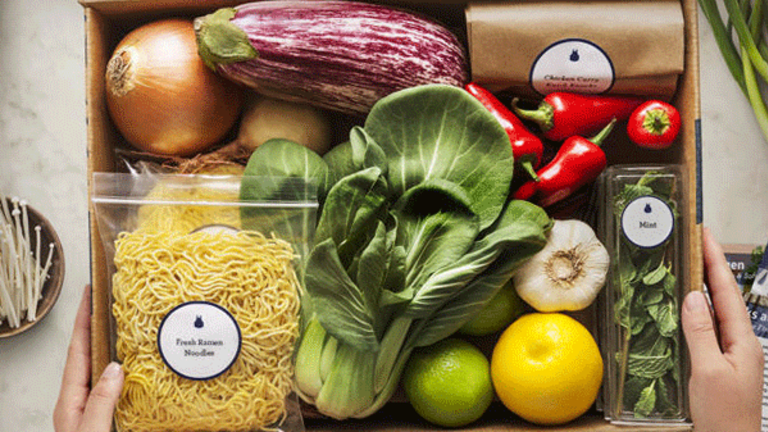 Blue Apron's Debut Shaken By Amazon-Whole Foods Deal
The offering comes at an unsettling time for the New York-based meal kit delivery service as the markets contemplate the impact of the "800 pound gorilla" on the food industry.
Blue Apron, a New York-based meal kit delivery service, plans to IPO later this month seeking a valuation of as much as $3.2 billion.
However, the public offering comes at an unsettling time for the New York-based service as the markets begin to digest Amazon.com Inc.'s (AMZN) $13.4 billion acquisition of Whole Foods Market Inc. (WFM) and that deal's impact on e-commerce, food delivery, and grocery stores.
"Amazon hasn't been clear as to precisely what its strategy is for Whole Foods, and as a result, the deal has people speculating as to its potential impact on e-commerce, traditional grocers, real estate and...businesses like Blue Apron," said Bob Profusek, partner and head of M&A at Jones Day.
Blue Apron, issued an amended prospectus on Monday, noting that it hopes to sell at least 30 million shares at between $15 and $17 a share. The company was founded in 2012 based on the concept of delivering meal ingredients and recipes to households. According to its prospectus, Blue Apron has delivered over 159 million meals since its inception.
Over time, the company has increased its revenues, generating $78 million, $341 million and $795 million in sales in 2014, 2015 and 2016 respectively. Nevertheless, it doesn't yet have any profits, recording a net loss of $54.9 million in 2016. Also, the company faces competition from a myriad of other meal kit service companies, including HelloFresh, Plated, GreenChef, Sun Basket, Purple Carrot and Home Chef.
And now, analysts speculate that Blue Apron and other companies like it could soon potentially face competition -- and collateral damage -- from Amazon-Whole Foods.
"The collateral damage from this [Amazon-Whole Foods] deal could potentially be huge," CB Insights said in a recent report. "Meal kit players like Blue Apron and HelloFresh could also see competition as Amazon could easily use Whole Foods and its supply chain to get into this area as well."
Wedbush analyst Aaron Turner said it's possible that Amazon could use Whole Foods to get into the meal kit delivery business, particularly because it is not an industry that has insurmountable barriers to entry. "Amazon bought a grocery store chain, so nothing surprises me," Turner said. "Anyone can put food in a box, but Amazon and Whole Foods would have to be creative enough to produce recipes and the cooking experience."
However, he doesn't expect Amazon-Whole Foods to impact Blue Apron's business anytime soon. "It will create a lot of noise around the IPO," Turner said. "However, Blue Apron's secret sauce is the cooking experience and quality of the meals and recipes that Amazon would have to replicate."
Jones Day's Profusek suggests that the impact of Amazon-Whole Foods won't be felt immediately by Blue Apron and other meal kit companies. However, he noted that Amazon had already begun experimenting with technology and grocery chains, before the Whole Foods acquisition. For example, the e-commerce giant had already been working on a yet-to-be-ready for primetime Seattle convenience store with automated checkout procedure. All this suggests that the e-commerce giant already has some ideas for how to expand its service. Will meal kit delivery be one of those?
"The ultimate impact will be more gradual than revolutionary," Profusek said. "Until there is some clarity, other channels may be a bit unsettled since Amazon is, of course, the 800-pound gorilla at the moment."
The Blue Apron offering is being led by Goldman Sachs & Co. LLC (MS), Morgan Stanley & Co. LLC (MS), Citigroup Global Markets (C) and Barclays Capital Inc. Blue Apron plans to list on the New York Stock Exchange under the ticker symbol APRN.