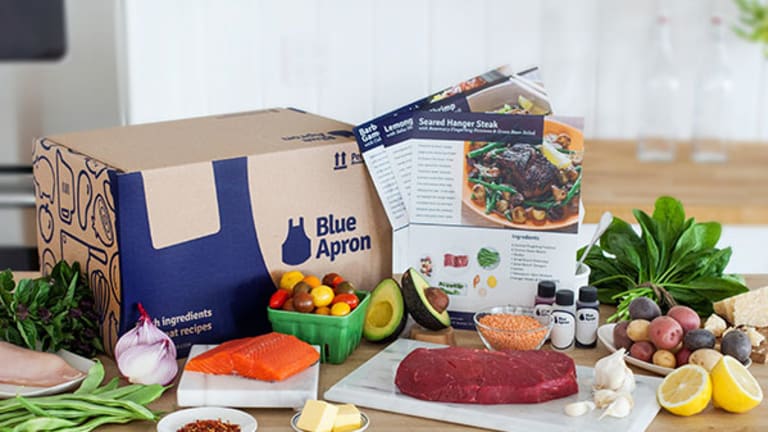 Blue Apron Reduces IPO Price to $10 a Share
The meal kit service company's IPO has become the latest focal point in an emerging battle between institutions and hedge funds and technology-focused businesses.
The meal kit service company's IPO has become the latest focal point in an emerging battle between institutions and hedge funds and technology-focused businesses.
Blue Apron plans an initial public offering on Thursday seeking a valuation of about $2 billion.
That's down significantly from a $3.2 billion valuation it had previously hoped to achieve. In the public sphere, the New York-based meal kit delivery service's IPO comes at an unsettling time as the markets begin to digest Amazon Inc.'s (AMZN) - Get Report  industry-transforming $13.4 billion acquisition of Whole Foods Market Inc. (WFM) .
On Wednesday evening Blue Apron priced 30 million shares at $10 a share. At that price the IPO is at the lower end of an already revised lower valuation Blue Apron floated earlier in the day of between $10 and $11 a share. And in the wake of Amazon's Whole Foods buy, it is down significantly from its previous valuation expectation of between $15 and $17 a share.
In addition to the Amazon-Whole Foods deal, other behind-the-scenes issues may be hampering Blue Apron's public offering. Consider that the meal kit delivery service company's IPO has become the latest focal point in an emerging battle between activist institutions on one side seeking to hold technology companies accountable and technology-focused businesses and their backers pushing to give insiders and founders control at all costs.
At issue is Blue Apron's share structure. The business plans to issue three classes of stock, including one that gives its CEO and other insiders shares with ten votes each and another that is made up of only-non-voting shares that could give the company's C-Suite even more control later.
The company's prospectus notes that after the IPO, Blue Apron CEO Mathew Salzberg will control about 30% of the voting power while Robert Goodman, a director, and partner at Bessemer Venture Partners, a VC firm, will have about 23%. Together they will control a majority of the voting power with Salzberg's influence likely increasing in the years to come if, as many expect, Blue Apron relies on its Class C non-voting shares to raise more capital.
Big institutional investors argue that the insider-controlled company will be permanently unaccountable to shareholders, especially if the company doesn't perform well in the public markets. And their concerns about the votes may be at least one factor weighing down Blue Apron's IPO.
Nevertheless, the structure was set up partly as a defense mechanism against activist hedge funds, who have besieged technology companies in recent years driving a wave of M&A and other transactions. The structure will allow Blue Apron's management to grow the business in the public markets without having to worry about shareholder efforts to drive it into a sale. Insurgent fund managers, for example, won't be able to install directors onto Blue Apron's board through a director-election battle, a major impediment to their M&A and share-price improvement agendas.
At the same time, the Council of Institutional Investors, which represents over $3 trillion in assets, sent a letter to Blue Apron last week arguing that its three-class share structure severely limits accountability to shareholders. At the very least, notes CII chief, Ken Bertsch in an interview, Blue Apron should transition to a one-share-one-vote structure over five years.
And Blue Apron isn't alone. Cable provider Altice USA Inc. (ATUS) - Get Report , the U.S. division of Netherlands-based telecom company Altice, on Tuesday closed its IPO with a similar three class share structure, including one with non-voting shares and another that comes with twenty-five votes per share. Altice USA raised over $1.9 billion in its IPO, making it the second largest public offering of the year so far.
The issuance of a third class of non-voting shares in an IPO is an escalation of an ongoing effort by companies in recent years to give founders and insiders control of the votes. Other companies, such as Facebook Inc. (FB) - Get Report  and Alphabet (GOOGL) - Get Report ), have issued non-voting share classes well after entering the public markets. Also, there are roughly 255 companies in the Russell 3000, around 8.7% that have classes of stock with different voting rights, notes Institutional Shareholder Services Inc., giving insiders control.
"With Altice and Blue Apron issuing IPOs with three classes, the trend is concerning to us," Bertsch said. "It permits the controlling shareholder to dilute the voting power of everybody including other shareholders [by issuing non-voting shares] and maintain control even as the shareholder base of the company expands, and the controlling holder's ownership declines."
Even so, the two IPOs, on one level, also suggest that institutional investors and activists may have achieved a modicum of success in their efforts to shift votes back to their side. Neither are as aggressive as the March IPO of Snap Inc. (SNAP) - Get Report , the developer of the popular disappearing messaging app Snapchat, which issued only non-voting shares, a move that stunned the big investor community, some of which have begun calling it "junk equity."
Bertsch acknowledges that, unlike Snap, both Altice USA and Blue Apron will issue proxy statements, allowing shareholders a chance to have a non-binding vote on executive compensation and to submit non-binding shareholder proposals for consideration at annual meetings. Investors can still launch "vote no" campaigns against incumbent directors in uncontested elections to embarrass companies into making changes.
"The difference is that Snap doesn't have to publish a proxy statement and they don't have to have a say on pay," Bertsch said.
Why no more Snap IPOs? The answer may lie with efforts underway at the major indices. Big index funds, exchange-traded funds, and public pension funds have been forced to buy shares in companies with diminished voting power because they invest passively following major indices, such as the Russell 3000.
They haven't been happy with the situation. However, Snap's IPO may change everything, well at least for Snap. The FTSE Russell, which is owned by the London Stock Exchange, has at least for now temporarily excluded Snap from the Russell 3000 as it reviews whether changes should be made to the characteristics of companies that are permitted to participate in its indices. The index firm, which expects to reach a decision in July, has issued a proposal that would require at least 5%, 10% or 25% of the votes be in the public sphere. If passed, Snap would not be included. 
Also, the S&P Dow Jones Indices, which produces the S&P 500 index, recently issued a series of questions to investors on the issue of non-voting shares, including one that asked whether a company listing shares with no voting rights should be eligible for an index. The deadline for comments is June 30, but the questions suggest to some that the S&P appears to be moving in the direction of excluding a company from their indices if they only issue non-voting shares. Again, no Snap. 
That may be a big reason why other companies aren't following in Snap's footsteps. And we may not see much in the way of existing publicly traded companies issuing non-voting shares after a recent litigation win on the subject for the California Public Employees' Retirement System. IAC Interactive (IAC) on June 21 changed its mind and decided that it would no longer be pursuing a plan to set up a new class of non-voting stock in a move that comes after CalPERS filed a suit against IAC and its controlling shareholder, Barry Diller, in Delaware Chancery Court to block the effort.
The success will likely discourage companies that are already public from issuing a third non-voting share class, but it won't have much of an impact on companies that set up before their public offering with such an approach. Also, a lawsuit is still pending at Facebook over its move to authorize a non-voting share class.
"IAC was changing the rules in the middle of the game," Bertsch said.
For now, companies may not add a non-voting share class well after they are public. However, expect companies to follow the model laid out in the Altice and Blue Apron IPOs to be the public offering model going forward -- unless institutions step up their fight.