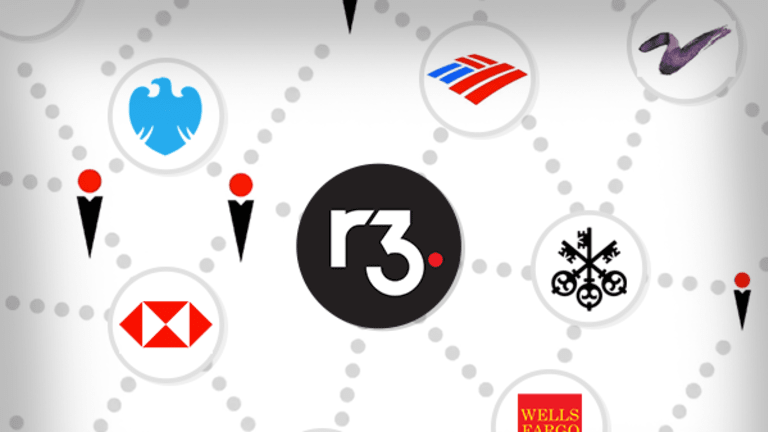 Blockchain Startup Catches Eye of Intel, Big Banks
How one privately held blockchain turned an advisory services agreement into $107 million in equity financing from some of the world's top financial institutions and tech companies.
The finance technology industry is hot right now, with a plethora of strategic and financial players delving into businesses from payment processing to virtual currency and trading platforms.
That's why New York-based R3 CEV LLC, or R3, had no trouble attracting equity investors when it began looking for funding to expand and develop its 3-year-old distributed ledger, or blockchain, technology.
The company, which also has offices in London and Singapore, announced Tuesday that it has closed on $107 million in financing from big name investors in 15 different countries including Bank of America Merrill Lynch (BAC) , HSBC (HSBC) , Intel (INTC) , Temasek and SBI. R3 had initially sought to raise $100 million in the first two tranches of its Series A, but was over-subscribed. Look for a third tranche of the Series A to close sometime this year.
In the meantime, don't lump R3 in with the swarm of upstart financial technology companies out there seeking growth investors. And don't chalk up the mix of big name funders to a spiffy deal-book, shiny data room and a flashy presentation from an investment bank. R3 and CEO David Rutter began working toward this investment years ago, just after creating the company and its Corda software in 2014.
Rutter and his team started by reaching out to financial players and offering them an advisory services agreement, in which R3 would sign banks up for its technology with no upfront investment. Parties who agreed to use Corda would be given first crack at an equity investment in R3.
"We worked with R3 to explore the technology and eventually, 42 banks from around the world signed up," said Mitch Rabinowitz, a partner at Washington, D.C.-based law firm Crowell & Moring who advised R3. "That soon ballooned to over 80, though with the 42, we gave them the right to participate in an equity financing."
Additional major investors and deal leads include ING (ING) , Banco Bradesco, Itau Unibanco, Natixis, Barclays (BCS) , UBS (UBS) , Citigroup (C) and Wells Fargo (WFC) .
Citi and Wells Fargo are holdings in Jim Cramer's Action Alerts PLUS Charitable Trust Portfolio. Want to be alerted before Cramer buys or sells C and WFC ? Learn more now.
Charley Cooper, managing director at R3, said that the initial goal was to get banks to use the technology so that the firm could build an expansive network. The company aggregates thousands of functions that banks performance on a daily basis with myriad programs onto a single platform.
Use of a single, secure ledger by counterparties has the potential to eliminate duplicate bookkeeping in the industry, enabling banks to save on overhead costs including personnel. The more companies that can use the software, the more attractive it becomes.
"The thing with distributed ledger technology is a network play, its operational power grows as you add members to the network," Cooper said. "Rather than push [banks] into an equity investment, we decided to come into it with an advisory services agreement and then prove it. We decided we would come back to the banks with more credibility."
Talks on an equity investment from the 42 banks in the current funding round began in earnest 10 months ago, said Rabinowitz, who joined Crowell in 2005 from Cleary Gottlieb Steen & Hamilton. The team at Crowell also included Jenny E. Cieplak and Masha Smith. 
"Innovation in digital technologies is reshaping the banking industry, and this investment is reflective of our belief that distributed-ledger technology and smart contracts have the potential to significantly enhance capital markets infrastructure," Andrew Challis, managing director of strategic investments at Barclays, said in a statement.
The deal comes as other finance technology, or fintech, companies are also garnering attention. Earlier this month New York-based Axoni received a $20 million Series A funding round from financial institutions including Wells Fargo, JPMorgan Chase (JPM) , Goldman Sachs (GS)  and Citigroup's Citi Ventures. Venture firms Andreessen Horowitz and F-Prime Capital as well as data and news company Thomson Reuters, also chipped in.
This article was originally published by The Deal, a sister publication of TheStreet that offers sophisticated insight and analysis on all types of deals, from inception to integration. Click here for a free trial.originally publishe
Read More Trending Articles:
Why Alibaba's Founder Jack Ma Thinks You Will Eventually Only Work Four Hours a Day
Now We Have an Idea When the iPhone 8 Will Launch, Thanks to Vacationing Apple Employees