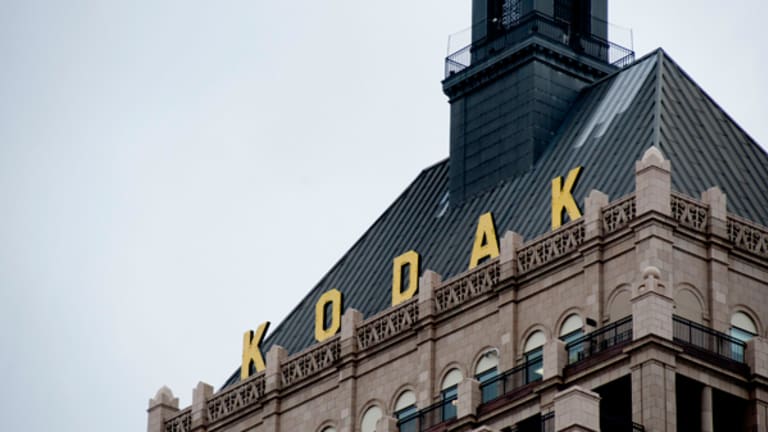 Blackstone's GSO Tops Among New Kodak Shareholders as Listing Looms
Kodak is preparing to return to public stock markets, nearly two years after filing for bankruptcy
NEW YORK (
) --
Eastman Kodak's
new owners are poised to bring the former corporate titan back to public stock markets after the company of 8,500 workers was transformed in a bankruptcy process that took more than 18 months until it
emerged from Chapter 11 protection
on Sept. 3.
Kodak's equity holders disclosed on Friday their ownership in new shares of the more than 130-year company. Private-equity giant
Blackstone Group
(BX) - Get Report
, through its
GSO Capital Partners
credit investing arm, headlines Kodak's new list of shareholders. The fund reported a 22.6% stake in Kodak's new shares. GSO also disclosed that in August it transferred a portion of its shares to
Serengeti Asset Management
.
Hedge fund
BlueMountain Capital Management
reported a 19.2% stake in Kodak shares on Friday, while Moses Marx of
United Equities
reported a 12.6% stake and
Contrarian Capital
reported a 12.1% holding. George Karfunkel will hold a 3.1% stake.
Most of Kodak's new shareholders are secured creditors who backstopped a $406 million rights offering in June that converted secured and unsecured creditor claims into new equity in the company.
Forty million shares were sold overall through the rights offering. Roughly 75% of Kodak's new shares will be held among six investors, while 23% to 24% of the company's remaining shares were distributed to unsecured creditors who received about 4 cents on the dollar for their claims when the company emerged from bankruptcy.
Kodak's old shares were cancelled when it emerged from bankruptcy.
Since its post-Labor Day emergence, Kodak has also filed with the
Securities and Exchange Commission
by way of a small company offering and sale of securities without registration.
The company expects to list on a major exchange shortly. A source familiar with the matter said Kodak will re-list its shares with the
New York Stock Exchange
, where the company previously had been listed.
Kodak will be a dramatically different firm when it returns to public stock markets. The company has divested most of its best-known consumer products such as photographic film and digital cameras, and it is now a specialized player in
high-tech manufacturing businesses
that include commercial and functional printing. In contrast to the multi-decade decline of Kodak's once-dominant film business, the company expects its remaining lines of business to be positioned for sustainable growth.
The bankruptcy process also cut Kodak's legacy costs, while allowing it to spin off non-core assets and gain a new foothold at the convergence of technology and manufacturing, as one investor said. The new Kodak is expected to be attached to markets as high-end as the manufacturing of touch screens, semiconductors, battery technologies, holographic images and circuitry.
Kodak divested its once-dominant film business to the firm's U.K.-pension plan while in bankruptcy this summer. It also sold Kodak Gallery to
Shutterfly
(SFLY) - Get Report
and a portfolio of digital imaging patents to a consortium of technology industry giants such
Apple
(AAPL) - Get Report
and
Google
(GOOG) - Get Report
.
The company
said
in a recent investor presentation that it had 8,500 worldwide employees as of September 2013, and is on track to earn $167 million in 2013 earnings before interest, taxes, depreciation and amortization (EBITDA). Kodak forecasts it may earn nearly $500 million in EBITDA by 2017.
The company expects to have approximately $500 million in equity and debts of $695 million as a result of post-bankruptcy financing arranged by
JPMorgan
,
Bank of America
and
Barclays
.
"We have been revitalized by our transformation and restructured to become a formidable competitor -- leaner, with a strong capital structure, a healthy balance sheet, and the industry's best technology," Antonio Perez, Kodak chief executive, said in a statement when the company exited bankruptcy on Sept. 3.
Check out TheStreet's series about Kodak's fall, its bankruptcy and Rochester, N.Y.'s ability to avoid Detroit's fate.
-- Written by Antoine Gara and Joe Deaux in New York.