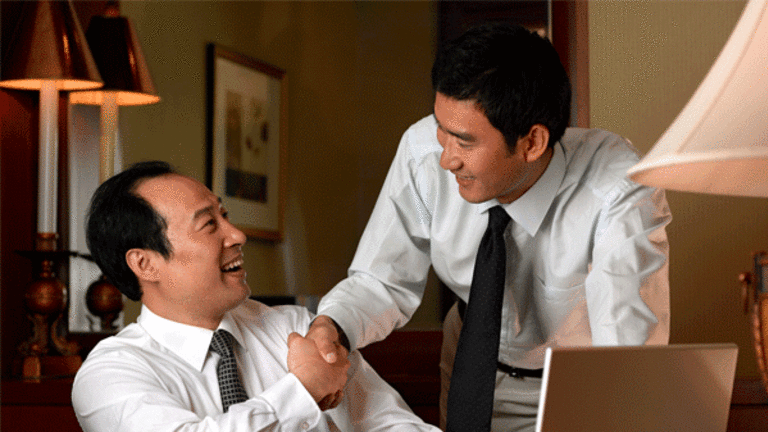 Blackstone's Dell Bid May Just Prevail
Blackstone's offer for Dell may prevail even though recap bids don't often come out winners.
NEW YORK (
) --The risk arbitrage market is betting the Blackstone Group LP offer for Dell Inc. may prevail even though recapitalization bids often increase a buyout price rather than end in an alternative deal.
Dell was down 0.6% to $14.25 in mid-day trading. Shares have gained 41% this year.
As investors await a next move, there appears to be doubts that Silver Lake and Michael Dell will counter-bid with an offer that has a public equity stub. The logic of the Silver Lake deal is that Dell should be taken private to execute its strategy, an arb said. In addition, the Dell board has considered like alternatives in the recent past and said they were not attractive, he said.
The end game might be a topping bid from Silver Lake that makes the special committee look like it did its job, but the shareholder vote could remain risky in that scenario, an arb said.
Silver Lake, offering $13.65 per share, is going to have a difficult time bidding the deal up past the $14.25 per share Blackstone bid, and offering a public stub after it has basically argued that Dell is a troubled company that needs to be private, a banker said.
Silver Lake seems to have banked on launching the buyout that they could get to a shareholder meeting without anyone showing up in the go-shop and force the deal through, the source said. But it is clear that shareholders Southeastern Asset Management Inc. and T. Rowe Price Group Inc. are not worried about there being no deal because they are unconcerned about the downside that the only deal that is likely to happen will be a recapitalization that allows shareholders to roll their equity, the source said.
This does put Silver Lake in a tough spot as a bidder, according to the source. The Blackstone offer is a good start toward addressing what shareholders have said they want -- a recapitalization of some sort that allows them to continue to participate as public shareholders, the banker said. Blackstone -- not incidentally having hired David Johnson, who led Dell's project of acquiring companies to reform Dell on the server and service end of the business -- sees that the Silver Lake deal offered a low multiple and they are willing to share the equity risk with the public holders who remain, he said.
Southeastern has said it is pleased that the alternative proposals submitted to the special committee are structured to give shareholders the opportunity to continue to participate in the company, while also providing a higher cash component for shareholders who choose to exit.
One reason Dell shares, at $14.27 on Friday, March 28, are not trading much above the Blackstone offer is there is a fear that Dell will participate with Blackstone and undercut any bidding war, an arb said. There is little thought that the Carl Icahn offer will be in the final running.
The 16% of Dell shares rolling over into the Silver Lake buyout that are represented by Michael Dell and insiders must, under the Silver Lake agreement, be voted in proportion to other shareholders if the Dell board recommends an alternative transaction. In addition, the Michael Dell shareholders must work in good faith with alternative bidders if requested by the special committee, which some observers of the situation assume has become the case.
The situation will not play out for another three to five weeks, a source said. Silver Lake has only one matching right, which could be an advantage to Blackstone. The firm's offer is designed to ensure the bid was considered viable and an excluded party under the go-shop so further negotiation could occur. Blackstone could firm up the offer on the low end -- perhaps pennies over its indicated interest -- to get Silver Lake to make a best and final bid.
In the end, the deal looked like it would play out between $14.50 and $14.75 or not at all, and that still seems to be the case, an arb said.
-- Written by Scott Stuart in New York.