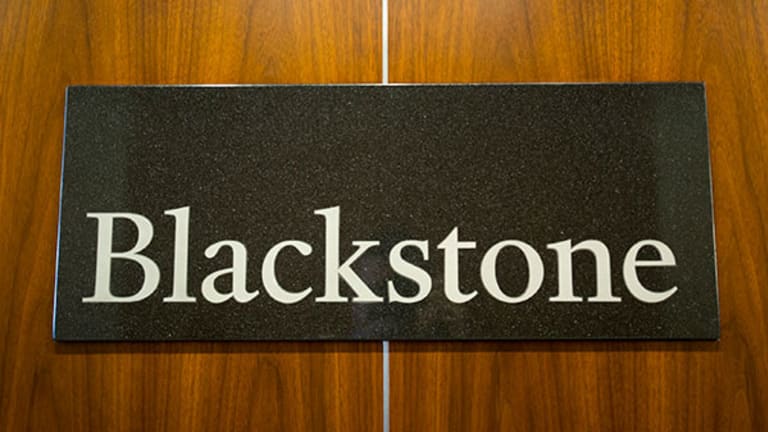 Blackstone Posts Sharp Year-Over-Year Improvement With Third-Quarter Results
Blackstone, the largest alternative asset manager, reported more growth in the quarter, with record assets under management of $361 billion.
Blackstone (BX) reported sharply better-than-expected results for its third quarter on Thursday, rewarding investors who have bid its shares up 12% in the week prior to the earnings release, despite the pessimism of analysts weighing in on the stock.
The world's largest alternative asset manager grew its assets under management to a record $361 billion -- including nearly $100 billion in its private equity investment instruments. Blackstone said it was sitting on $98.5 billion of dry powder. It recorded $3.8 billion in realizations in the quarter, meaning that the third period of the year alone represented more than half the $5.9 billion in realizations Blackstone posted in the first nine months of the year.
Blackstone posted $687 million in economic net income -- the  metric that accounts for unrealized investment gains or losses -- a reversal of the $416 million loss in ENI that the firm recorded in the prior year's third quarter. Last year's third quarter was hobbled by losses recorded by its investments, including holdings in assets it had brought public in which it still held substantial stakes, when the public markets last year were experiencing high volatility.
The results translate to an economic net income of 57 cents a share, well ahead of the 47 cents that analysts had been projecting. Over the course of the week leading up to the release of results, sell side analysts had reduced their projections for Blackstone's results by nearly 5%, though investors, seeming to ignore the pessimism, bought stock and pushed the share price higher over that period.
Granted, Blackstone, like other asset managers, does not have a constructive history of earnings surprises - in three of the preceding four quarters, the firm posted results that fell short of projections. However, it should be noted that the relative opacity of asset managers' operations makes the task of projecting performance a difficult one for the analyst community.
Both the steadiness of the stock market and the rebound in oil prices contributed to Blackstone's performance in the quarter. Essentially all of Blackstone's main businesses - buyouts, credit, hedge funds and real estate - recorded improved performances versus a year ago, when the weakness in the public markets essentially contaminated the entire capital market structure.
Blackstone shares ticked up 3% in Thursday's intraday trading, to reach $26. Shares, though, remain down 11% year to date. Blackstone, like several other alternative asset managers, have argued that the public markets are greatly undervaluing their public shares, and have set on a course of buybacks. However, there was no mention of a new share repurchase initiative in Blackstone's press release Thursday.