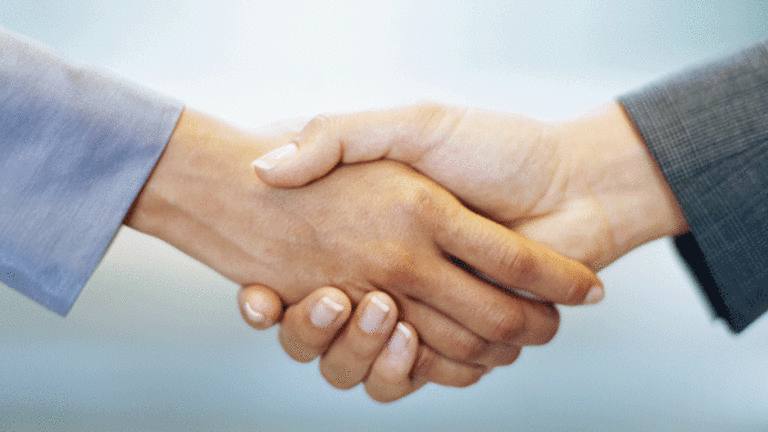 Blackstone Boosts Dividend While Profits Fall
Blackstone more than doubles its quarterly dividend as its GAAP earnings loss widens.
NEW YORK (
) -- The world's largest private equity fund,
Blackstone
(BX) - Get Blackstone Inc. Report
, reported a 12% fall in fourth quarter profits on Thursday as fees and income on investments declined in the quarter.
Blackstone reported a net income of 40 cents a share, meeting analysts' estimates, according to data compiled by
Bloomberg
.
The results capped a year where the firm's assets under management rose 30%, to $166 billion, while fees increased 25% to $137 billion. However, even with strong fund inflows and a rise in assets hitting a fee earning mark, the company reported a GAAP loss for the year on IPO and acquisition-related charges to its investment portfolio. The firm also boosted its quarterly dividend to 22 cents a share from 10 cents.
"Despite volatile markets and struggling economies, Blackstone had strong performance in 2011," said Blackstone Chief Executive Stephen A. Schwarzman in a statement. "During 2011, we invested or committed over $16 billion from our drawdown funds, which we believe will yield attractive results for our investors as well as provide capital that is critical to spurring economic growth, supporting job creation and restoring confidence in our nation's future," added Schwarzman.
The private equity firm founded by Schwarzman and Peter Peterson in 1985 is currently diversifying its business mix from traditional private equity buyouts, raising $6 billion for a distressed property real estate fund and an additional $10 billion for a fund called Blackstone Real Estate Partners VII,
Bloomberg
reports. In addition, it's bolstered its hedge funds unit, credit management business and advisory team, further diversifying from buyouts.
Blackstone reported economic net income of $450 million in the fourth quarter, a 12% year over year drop. Under generally accepted accounting practices, Blackstone reported a fourth quarter loss of $123 million compared with a $11 million loss a year earlier. For 2011, Blackstone reported a narrowing GAAP loss of $269 million, down from the $370 million 2010 loss.
Blackstone shares fell nearly 4% to $16.02 in early Friday trading after its earnings were released. In 2011, the firm lost over 3%, underperforming the
Standard & Poor's Index
.
For more on private equity, see
Blackstone's big retail contrarian bet
.
The firm's GAAP loss in 2011 was largely a result of a drop in unrealized gains on its existing investments. In 2011, the firm reported $83 million in unrealized gains on investments, a 84% drop from the $502 million reported in 2010. Blackstone however more than doubled its realized investment gains to $103 million in 2011.
In 2011, Blackstone IPO'ed investments like
Freescale Semiconductor
undefined
,
Vanguard Health Systems
(VHS)
and
Kosmos Energy
(KOS) - Get Kosmos Energy Ltd. Report
.
Blackstone continued to see a lift in the value of its private equity investments in 2011 on rising stock prices of its recently IPO'ed investments. The carrying value of assets in its private equity funds increased by 5.3% in driven by an increase in the value of the firm's energy holdings and publicly traded investments, particularly those that had initial public offerings in 2011, the firm said.
Even with heightened risk aversion late in 2011, the carrying value of Blackstone's private equity investments increased by 3.3% in the fourth quarter of 2011 on a rise in the company's privately held energy and retail investments. Overall, the firm reported that companies within its private equity portfolio averaged a near 10% growth in earnings before interest taxes and depreciation
Blackstone and its private competitors are under increasing scrutiny as presidential candidates question Republican presidential front-runner Mitt Romney's record running private equity firm Bain Capital. Earlier in January, Romney reported that his personal income tax rate was 13.9%, benefitting partly from the "carried interest" tax treatment to his earnings when heading Bain Capital's.
Private equity competitors
KKR
(KKR) - Get KKR & Co. Inc. Report
and
Apollo Global Management
(APOL)
report earnings next week.
In 2011, Blackstone led the private equity industry in buyout investments, putting $17.1 billion to work on 18 deals, according to data firm
Dealogic
. KKR and
Apax Partners
followed Blackstone's investment lead, each cutting over $10 billion in acquisitions, while
Bain Capital
and
The Carlyle Group
put $9.2 billion and $8 billion to work, respectively.
With $32.9 billion in uninvested client funds that it calls "dry powder," Blackstone could continue its deals lead in 2012.
-- Written by Antoine Gara in New York