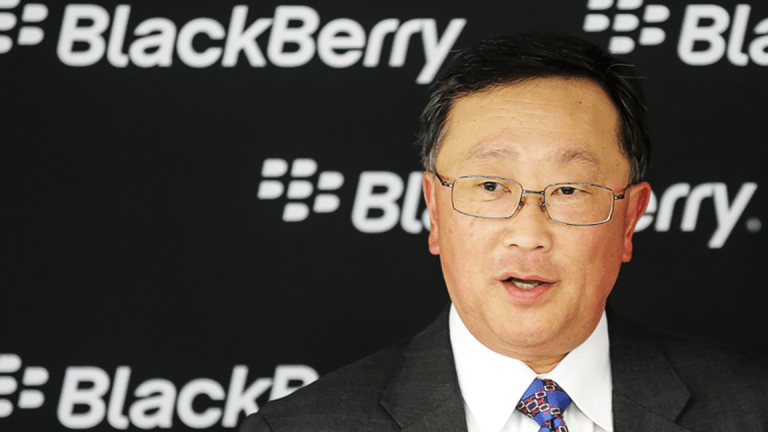 BlackBerry Is Starting to Look Like the Last Company CEO John Chen Turned Around
Following its latest earnings beat, it's hard not to see the parallels between BlackBerry's turnaround and that of software firm Sybase. Will this turnaround also end in a sale?
In the late 2000s, BlackBerry (BB) - Get BlackBerry Limited Report  CEO John Chen turned around a tech company that was depended heavily on a declining "legacy" business and had missed the boat on major industry trends by betting on several growth opportunities, including some in mobile software. He then sold the company in 2010 at a price that was more than twice the levels its shares had traded for most of the prior decade.
Is history repeating? While a future sale of the company definitely isn't a given, BlackBerry's recent top-line and bottom-line improvements, as driven home by its latest earnings report, do have a lot in common with the improvements enterprise software firm Sybase showed in the years before Chen sold it to SAP (SAP) - Get SAP SE Sponsored ADR Report .
Three months after handily beating August quarter estimates, BlackBerry reported November quarter (fiscal third quarter) GAAP revenue of $226 million (down 22%) and adjusted EPS of $0.03, topping consensus analyst estimates of $216.2 million and $0.00. The company also slightly tweaked its fiscal 2018 (ends in February) revenue forecast, stating it now expects sales to come in the "mid to higher end" of a guidance range of $920 million to $950 million.
Other fiscal 2018 forecasts were left unchanged. BlackBerry is still guiding for 10% to 15% adjusted (non-GAAP) software and services revenue growth, along with positive EPS and (not counting the impact of arbitration rulings and hardware restructuring costs) free cash flow.
Shares rose 12% to $12.17 in response, and have hit their highest levels since 2013. They're still of course far below the levels BlackBerry traded at before Apple (AAPL) - Get Apple Inc. (AAPL) Report and Alphabet/Google (GOOGL) - Get Alphabet Inc. Class A Report decimated its older mobile businesses.
The withering of those businesses are the reason sales are still declining on an annual basis. With BlackBerry having ceased hardware development in favor of licensing deals with Asian OEMs, handheld devices revenue plunged to just $9 million from $62 million a year ago. An service access fee (SAF) revenue, linked to a rapidly-declining BlackBerry OS user base, fell to $27 million from $67 million.
But BlackBerry's enterprise software and services revenue, the focus of much of its turnaround work, grew 11% to $97 million. The segment's non-GAAP revenue, which includes deferred revenue related to past acquisitions, grew 7% to $106 million.
Just as importantly, Chen mentioned on the earnings call that BlackBerry's enterprise billings grew at a double-digit clip. After being pressed by an analyst, he suggested the growth was in the 20% range, while asking the analyst not to raise that question again. This comes after BlackBerry reported 19% August quarter billings growth for its Unified Endpoint Management (UEM) business, which covers numerous enterprise offerings for managing and securing mobile apps, devices and content.
Though the UEM business competes in a hotly-contested enterprise mobility management (EMM) software market featuring the likes of VMware (VMW) - Get VMware, Inc. Class A Report  , Microsoft (MSFT) - Get Microsoft Corporation (MSFT) Report , IBM (IBM) - Get International Business Machines (IBM) Report and Citrix Systems (CTXS) - Get Citrix Systems, Inc. Report , it seems to be faring well with enterprises and government agencies with strict security/compliance needs. In the U.S. federal vertical, BlackBerry inked 36 $100,000-plus deals and 7 $1 million-plus deals last quarter, respectively up from 23 and 5 in the August quarter.
And three months after Deutsche Bank announced it's finally replacing BlackBerry phones supplied to its workforce with iPhones, BlackBerry says it inked an EMM software deal with the German bank, one that includes the displacement of 5,000 end-user seats in the Asia-Pac region from a rival solution.
Also lifting the quarter's sales: BlackBerry's Licensing, IP and Other reporting segment, whose sales can fluctuate a lot based on the timing of patent-licensing deals, saw revenue rise by $20 million to $50 million. BlackBerry is betting a recent deal with patent-assertion firm Teletry to sub-license part of its giant patent portfolio will boost its licensing revenue and make it more predictable.
Revenue for the BlackBerry Technology Solutions (BTS) segment, which covers the popular QNX automotive OS as well as IoT and RF antenna tuning solutions, was flat at $43 million. On the call, Chen expressed optimism that a flurry of QNX-related design wins and partnerships over the last two years will boost BTS revenue in 2019 and 2020. The deals, some of which are related to autonomous driving and/or more advanced dashboard interfaces, include ones with Ford (F) and Qualcomm (QCOM) , as well as with auto parts giants such as Delphi, Bosch, Denso and Visteon.
All of this brings to mind how Sybase, which sputtered for much of the 2000s as its core database business became an also-ran relative to Oracle (ORCL) and Microsoft's and the company failed to become a major player in big enterprise application and middleware markets, improved its fortunes towards the end of the decade. The turnaround had much to do with Sybase's emergence as a major supplier of EMM, mobile messaging and mobile app development solutions for enterprises and carriers. As well as its investments in analytics tools that run on top of corporate databases.
Enterprise software giant SAP saw a lot of value in all of this. $5.8 billion worth, to be precise. Will a suitor feel the same way about BlackBerry on account of its recent moves? With a current enterprise value (market cap minus net cash) of $4.6 billion, BlackBerry isn't as cheap as it was at the beginning of the year. But that valuation is still only equal to about 5 times expected fiscal 2018 sales -- arguably not high enough to prevent M&A interest, should a firm see a lot of strategic value in BlackBerry's assets.
Given the number of deals they've struck in recent years for enterprise software companies, private-equity firms could conceivably show interest. Cisco Systems (CSCO) - Get Cisco Systems, Inc. Report , which has been hungry to grow its software/services exposure, wants to be a top provider of solutions for managing and securing enterprise hardware and has a large offshore cash balance to pay for BlackBerry with, is another potential buyer.
Whether or not a P-E firm or tech giant is willing to give BlackBerry a look, the company has done a lot in 2017 to put its well-documented mobile blunders behind it. And just as they once did regarding Sybase, markets have gradually come to appreciate how much the company has changed.
Jim Cramer and the AAP team hold positions in Apple, Alphabet and Microsoft for their Action Alerts PLUS Charitable Trust Portfolio. Want to be alerted before Cramer buys or sells AAPL, GOOGL or MSFT? Learn more now.
More of What's Trending on TheStreet: