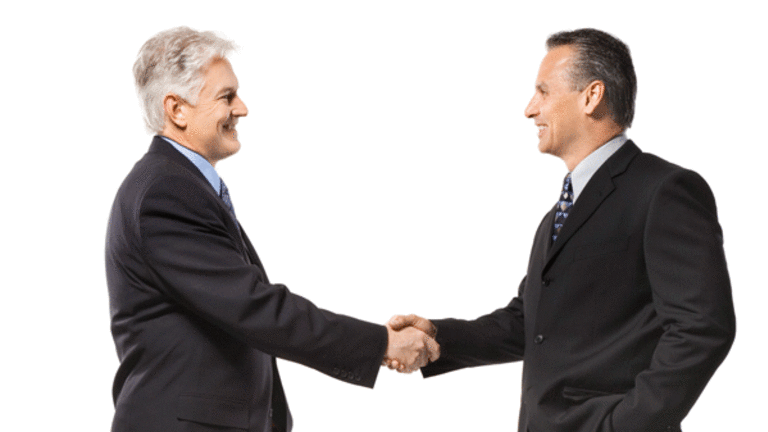 Blackbaud to Snatch MicroEdge for $160M
Private equity firm Vista Equity Partners paid $30 million for the philanthropic technology provider in 2009.
NEW YORK (The Deal) -- Blackbaud (BLKB) - Get Blackbaud, Inc. Report scored a surprise acquisition Tuesday, Sept. 2, by agreeing to acquire philanthropic technology provider MicroEdge from private equity owner Vista Equity Partners for $160 million.
The Charleston, S.C., nonprofit software provider said in a statement it will finance the deal with cash and its credit facility. It expects the transaction to close in the fourth quarter. The purchase would mark the software maker's first sizable deal since its acquisition of Convio for $275 million in 2012.
As for Vista of Austin, Texas, the deal's valuation is far above the $30 million the firm paid to Advent Inc. in 2009 for MicroEdge. PE firm Bregal Sagemount also has been a minority owner in MicroEdge since early 2013.
"MicroEdge is a great story of a business transformation: taking a solid, but orphaned, franchise within a larger organization and revitalizing its mission," Vista Equity Partners principal Alan Cline said in an e-mail. "MicroEdge clients and employees alike have benefited from our investments over the years, in addition to the innovation that MicroEdge products now provide their clients."
MicroEdge spokeswoman Kathy Krais declined to comment further on the deal, but she said MicroEdge is excited to move forward with the agreement.
"It's a nice deal for everybody, especially for Vista," said Gene Ramirez, a managing director of New York investment bank Morgan Joseph TriArtisan.

MicroEdge is a healthy, growing business, with the majority of its revenue coming from the Software-as-a-Service space, Ramirez said, adding that the two companies were ultimately competitors in some ways. MicroEdge is a leader in the grant management solutions sector, and Blackbaud is a leader in the nonprofit software industry, he added.
The New York target does not disclose its financials, but according to Ramirez, who is familiar with the company, it posted revenue of $40 million and had Ebitda margins of 35% to 36% in 2013. Blackbaud, which has a market capitalization of around $1.81 billion, generated $503 million in revenue and $271 million in gross profit last year, according to the company's 10-K filing with the Securities and Exchange Commission.
"If you look at MicroEdge, it's a reasonable price for this asset," he said, adding it is a "good strategic buy that [came to] fruition."
The deal came as a surprise from Blackbaud, however, which welcomed a new chief executive less than a year ago and is in the process of streamlining its offerings, said Peter Wahlstrom, an analyst at Morningstar  (MORN) - Get Morningstar, Inc. Report .
Though Blackbaud scooped up WhippleHill Communications in June, Wahlstrom pointed out that WhippleHill was more of a tuck-in acquisition that didn't move the needle for the company and also had a much more modest price tag of $35 million.
While Wahlstrom doesn't think Blackbaud has the financial flexibility to carry out other acquisitions of this size, he said the transaction is "a complimentary deal that fits pretty nicely into Blackbaud."

MicroEdge has a large number of enterprise-type customers that serve organizations, which will allow Blackbaud to sell products and services to larger customers and bring up average revenue per customer, Wahlstrom explained.
This also could be a sign that new CEO Michael Gianoni may be more acquisitive in an effort to increase the size of the company, Ramirez explained, pointing to Sage Software Inc. as a potential takeover target for Blackbaud. Gianoni declined further comment on the transaction, but he said via e-mail that Blackbaud's growth strategy combines a "focus weighted on organic revenue growth derived from providing existing solutions to currently served markets, together with complementary acquisitions."
Ramirez added that Blackbaud itself ultimately could end up on the radar screens of larger peers such as Microsoft (MSFT) - Get Microsoft Corporation Report , SAP (SAP) - Get SAP SE Report and Oracle (ORCL) - Get Oracle Corporation Report . Microsoft has a market cap of $376 billion, SAP of $96 billion and Oracle of $186 billion. Oracle has been particularly acquisitive, most recently agreeing in June to pick up Micros Systems (MCRS) for $5.3 billion.
"It has a nice margin profile. I think they've managed the business well over the years," Ramirez said, adding the nonprofit space has been a fairly active market with the growth of crowd-funding and crowd-sourcing players such as Indiegogo Inc.

Scott Kamran, George Farber, Sunil Koshie, Edward Martin and Harrison Lieberfarb of Evercore Partners Inc. served as financial advisers for Blackbaud, which received legal counsel from Martin Wellington, Craig Phillips, Cynthia Akard, Arthur Burke, Michael Sohn and Stephen Pepper of Davis Polk & Wardwell.
MicroEdge received financial advice from Jeff Bistrong, Mike Wilkins, Tyler Dewing, Andy Leed and Matt Volinsky of Harris Williams & Co. and legal advice from David Breach and David Dixon of Kirkland & Ellis.
Bregal Sagemount did not return requests for comment Tuesday.
Shares of Blackbaud, which trade on the Nasdaq under the ticker BLKB, are up 4.5% year-to-date, closing at $39.32 on Tuesday, up 1.11% from their Friday close.