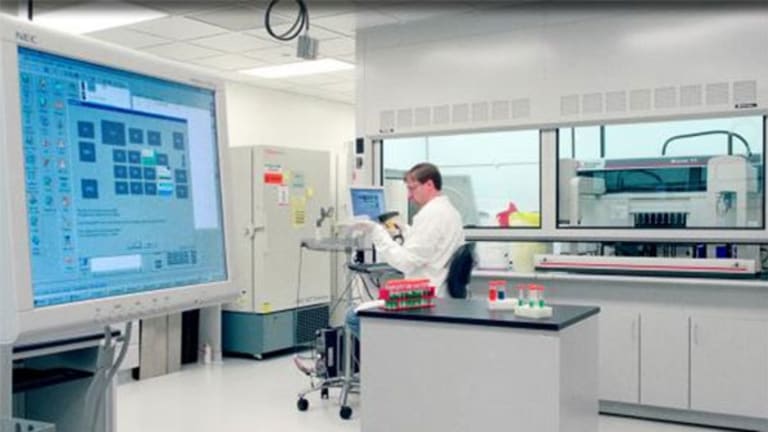 NEW YORK (The Deal) -- For pharmaceutical and biotech companies, 2014 is going to be a hard year to beat. With the window wide open for initial public offerings, a number of successful IPOs including that of cancer drug developer Juno Therapeutics (JUNO) and endocrine-mediated disease pharmaceutical company Radius Pharmaceuticals (RDUS) - Get Radius Health Inc Report stood out along the crowded public landscape.
Last week's successful debut of Spark Therapeutics (ONCE) - Get Spark Therapeutics, Inc. Report  -- which began trading on Jan. 30 and soared 95% on its first day-- underscores how attractive the public markets can be to companies that can raise money without actually turning a profit.
Going public is an established path for promising, young, private companies looking to raise money and profiles -- and in the case of biotech and pharmaceuticals -- often to fund the expensive road to Food and Drug Administration approval. But industry watchers expect that mergers and acquisitions may begin to gain a foothold as the wave of public offerings slows down in 2015.
The possible slowdown is likely due to perceived risk from macroeconomic issues -- such as those in Europe -- as well as changes in both interest rates and oil prices, according to Les Funtleyder, a portfolio manager at E Squared Asset Management. Industry watchers have also noted that 2014 was a blockbuster year in the volume of IPOs and that it would simply be hard to beat.
"If you look year to date with IPOs, it's been a mixed bag in terms of first-day performance than it was last year when IPOs went up a lot on the first day," said Funtleyder. "A lot of us are looking at the longer-term prospects of these companies."
According to a report by Silicon Valley Bank, 41% of IPOs involved companies in Phase II trials and 28% in Phase I. These early-stage IPOs may soon revert to 2003 levels after a frenetic 2014. As a result, M&A may be an attractive option for early stage companies and for suitors that may be interested in purchasing a novel technology at a lower price. It is also possible that early stage companies may opt to enter more rounds of funding in order to continue advancing themselves.
"M&A seems like a reasonable strategy," Funtleyder said, of the possibility of an uptick in M&A activity in pharma this year. "Yes there will be M&A, and it tends to be adjacencies."
The year so far has been marked by several large pharmaceutical deals, with Shire (SHPG) - Get Shire PLC Sponsored ADR ReportacquiringNPS Pharmaceuticals (NPSP) for almost $6 billion and Pfizer (PFE) - Get Pfizer Inc. ReportacquiringHospira (HSP) for $17 billion. More consolidation in the space is possible as companies look to build out in adjacent areas. For example, an antibiotic company may buy an antiviral, according to Funtleyder.
The portfolio manager also suggested that many pharmaceutical companies may think more about capital reallocation, with larger companies purchasing minority stakes as opposed to buying an entire company.
With 2015 still young and a successful 2014 still in the foreground, it is unclear what pharmaceutical IPOs and M&A will look like. However, if last year was any indication, dealmakers will be busy.
Read more from: